We care
At Develtio we're focused on your business objectives. If you're looking for bunch of hired cogs that will ask no questions you're in the wrong place. We care about what we do and about the people we work for.
That means:
We ask difficult questions
We're commited to understant the project that we are working on
We will provide you with surprising and sometimes controversial insights
We try to provide you not only with web development but also with technical and business advice
We'll help you to deliver your next web application
Frontend
is for the user
For your user, everything starts with experience. He doesn't care what kind of magic is happening behind the scenes. He just wants to get stuff done or to be entertained and to do it in the easiest way possible. In order to achieve that we're striving to create great user experience using modern JavaScript frameworks like React or Vue.JS. Your next application can be light, fast, easy to use and beautiful.
That's what we call good UX.
Backend
-the kitchen of your business
It's very important to select the right technology for the right project. Backend of your application or website will stay with you for a while so it's important to think about it and make it right. We perceive backend development as a true inner mechanism of your company – place where most important processes and value generation is being done. We develop our web apps in PHP, Python and Node.js.
Check our technologies below.
Almost every app that is being created needs to be integrated with different APIs and systems. We cover you in that field.
Quality Assurance
Everything we do is thoroughly tested, checked and well documented. Our approach to quality assurance in web applications was developed while working with financial institutions and health care – in these industries there is no place for mistakes and poor quality.
What does it mean?
Yes, you got it right!
We can build your next web app or website from the ground up. Check our process to see when we can strat.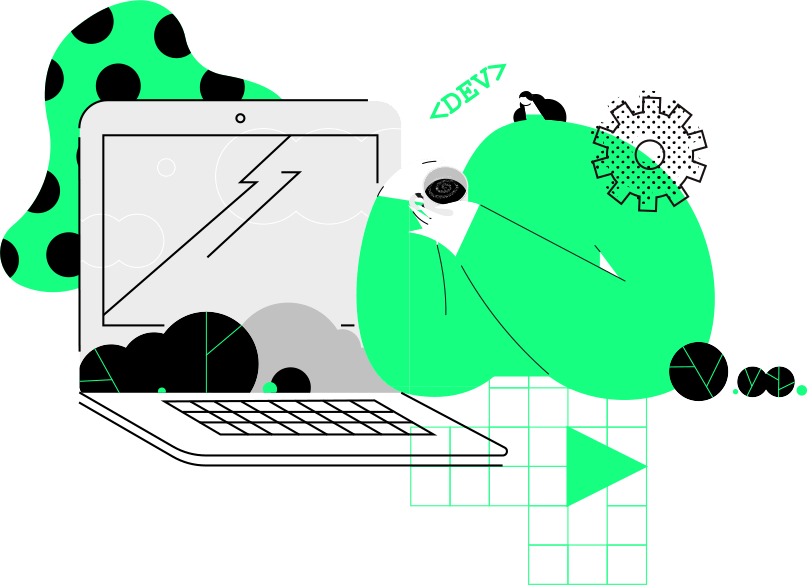 What is

most important

in the process
of Web Development with Develtio
Most of the web applications or websites that we develop are build from ground up. That means that company is starting cooperation with Develtio from scoping of the project and then we're going through all of the stages of development. However we also help companies that already started to create their project and need support. Sometimes we're hired just to speed up delivery of the final product. In many cases our clients reach out t us because of some insurmountable challenge that they faced in their project and they need high-end experts in the specific field or just great problem solvers. In these cases process of cooperation with is usually quite different and tailor -made to the needs of specific company.









…and they lived happily ever after
Check out full description of development process with Develtio.
web app
Workflow Management System
Skills
Product Management

PHP Symphony

JavaScript

UX / UI Design
web app
Workflow Management System
Cost analysis and workflow system connected with accounting software and project management suite that aggregates all the financial data of projects run by the company across multiple business entities.
Time
17 weeks
Documentation

Testing

Development

Design

Wireframing
iOS Application
CLM Platform Medpad
Skills
Objective C

HTML5

PHP

JavaScript
iOS Application
CLM Platform Medpad
iPad Closed Loop Marketing platform is being used by sales reps in pharmaceutical companies like Thea or Boehringer Ingelheim. At the heart of MedPad there is a unique product presentation feature that allows company to remotely upload and manage interactive presentations to sales reps iPads and monitor the performance of different presentations in terms of meeting effectiveness. MedPad app also contained a CRM system that automated processes of sales force management.
Time
16 weeks
Documentation

Testing

Development

Design

Wireframing
WEB APP
Certificate Management Platform
Skills
HTML5

PHP Symfony

JavaScript

UX Design
WEB APP
Certificate Management Platform
Certification management system for the International Project Management Association that is used by IPMA partnering organizations in more than 70 countries worldwide. Platform developed by Develtio became the backbone of international IPMA operations and is the main source of information about their products, licensing and financials.
Time
28 weeks
Documentation

Testing

Development

Design

Wireframing
Technologies that we use are dictated by current state of our client's needs, our experience and high performance and scalability. If you're not a tech-geek we're going to recommend you which technological stack would be optimal for your business needs. Selection of particular programming languages, frameworks and solutions is being done on the Scoping Stage of our cooperation.
React

React Native

Angular

Node.js
WordPress

Symfony Sonata

Laravel Backpak

Strapi

WooCommerce

Sylius

Magento

PrestaShop
Most standard team is composed of:
Requirements/Business Analyst

Project manager

Key Designer

One or two frontend developers

One or two backend developers
Teams compositions
Teams working on your projects might have different composition, depending on the the particular needs of the project. What they have in common is that all of them are run by seasoned project manager – you don't have to coordinate work for our developers or designers (unless you want to).
This standard team uses UI/UX designers, testers and other specialist from Develtio as a service -they are joining the team for particular tasks and serve as a support for your project. This way you pay only for people that you really use at any particual stage of development.