The Backbone of Your Crowdfunding Platform
There isn't a single software solution that works for every crowdfunding platform. Your company's requirements determine the robustness of the software you'll need. Smaller companies can get by with ready-made solutions, but serious businesses demand more than just the basics. For that, you need powerful and well-designed software as the foundation for your crowdfunding platform.
The following are just some of the multifaceted systems implemented to make excellent crowdfunding platforms:
Payment processing and e-wallets
Data security
Comprehensive financial reporting
Finance and transaction management
Know your customer (KYC) and anti-money laundering (AML)
Powerful building blocks are essential to creating a solid base for your crowdfunding platform, but it needs more than that to be truly effective.
What is
most important

in the process of Web Development with Develtio

…and they lived
happily ever after









…and they lived happily ever after
What Makes an Effective Crowdfunding Platform?
The primary difference between a crowdfunding platform that's effective and one that isn't is how well it functions for its users. Therefore, ease of use and functionality should always be at the forefront when designing your platform. The best crowdfunding platforms will always have the four following qualities:

1. Intuitive Design
Intuitive design is the basis for any good platform — it makes it easy for the user to know where they are on the platform and navigate to where they want to be. This is especially important for crowdfunding because it often relies on our impulsive nature. We usually decide on the spot to support a cause or project that we like. If it takes too long to show our support or if it isn't easy to get to the actual transaction, we're likely to lose that impulse. However, intuitive design allows us to quickly respond to our whims.

2. Easy Donations
As donations are the foundation of crowdfunding platforms, they should be as simple as possible. There are many ways the payment process can be simplified — for example, not requiring users to create an account to donate and offering them multiple payment methods, such as PayPal, PayU, and other gateways.

3. Useful Functionalities
Crowdfunding platforms need to have extensive functionality based on their unique goals. For example, fundraisers should generally be able to make posts on the platform, and users should be able to comment on and share that content. However, there should also be functionality tailored to your platform specifically to make fundraising and donating more efficient for your users.

4. SEO Implementation
SEO is essential for any fundraiser to get noticed online, so fundraisers must be able to easily implement SEO on the platform. This can be accomplished simply by making it easy for users to add content and images to the platform, as that would allow them to take advantage of keyword searches and image SEO.
What About Open-Source Crowdfunding Platforms?
With all the open-source crowdfunding platforms currently available, are those a good option for you? That depends on how much work you're able to put in yourself. While it is cheaper to put up a platform in this way, it also requires debugging and customisation to make sure your platform works well. If you do want to take this route, Catarse and Selfstarter are both good options.
The Non-Technical Challenges
There are other challenges to creating your own crowdfunding platform on top of all the tech and software you'll need. Creating a new crowdfunding platform entails all of the following:
Finding a profitable niche
Choosing a crowdfunding and monetisation model
Meeting regulatory requirements
Building trust with potential users
Choosing a development approach
Defining the features and functions of your initial release
Developing a successful marketing campaign
Partner with Develtio for Efficient Results
If that all sounds like a lot, that's because it is. Partnering with the right team can make this entire process much quicker and easier for you. At Develtio, our team of experts will provide solutions to both the technical and non-technical challenges of creating a crowdfunding platform. 
Contact us
 today to learn more about how we can help you.
What can we do for you?
Talk to us about your project and let's start building it together!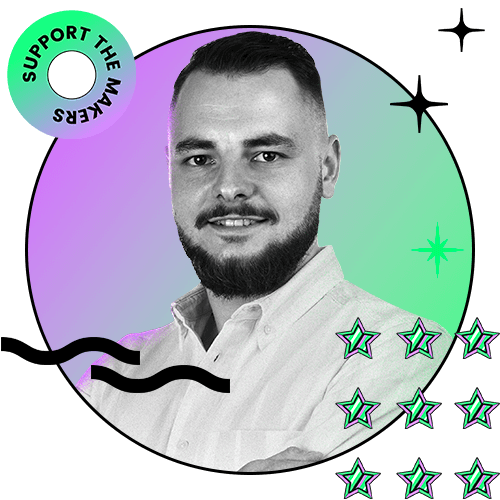 Robert Juszczyk
Managing Partner, Develtio