Great hiring starts with a great job board platform
Take control of recruitment by using a custom job board. The top tech talent at Develtio can create the perfect job board solution for you, tailored to your specific hiring needs. No matter how general or niche you want your job board to be, our development team can deliver an easy-to-use product.
For employers
Our job board platform enables organisations to source top talent using highly effective tools. It allows employers to easily and quickly:
Create an employer profile
Advertise job positions attractively
Pay for advertisements
Manage candidates
Chat with candidates
Take ownership of data
Promote products and services
For candidates
Our job board solution gives job seekers a more personal and responsive experience. The platform allows candidates to:
Create a candidate profile
Apply to an employer advertisement with a candidate profile
Send a resume to a job advertisement
Chat with an employer
Experience a company's culture first-hand
What is
most important

in the process of Web Development with Develtio

…and they lived
happily ever after









…and they lived happily ever after
Who needs a job board platform
Anyone who's hiring can benefit from a custom job board platform.
The best job boards today enable interactive connections between candidates and employers. They're also optimised for all devices, meaning they can be used anywhere, anytime. In short, a custom job board platform is an extremely convenient and flexible hiring tool.
The best job board platforms can be used for all types of postings, too – from full-time to contract, temporary and freelance.
Whether you're a start-up, established company, enterprise, non-profit or other, a job board platform can make finding the right talent for your job openings much easier.
Why you need your own job board platform
You're probably familiar with the big-name online job boards. Some of them are great, but they have their downsides. Because of their size, they're impersonal and they're not the best way to find candidates for specific roles. You may even attract a large number of candidates who are not qualified for the positions you're offering. Over time, big job boards can also become expensive to use.
Industry-specific or niche job boards are a better solution for finding candidates with relevant experience and qualifications. They're more affordable, more focused and provide more networking opportunities.
When you run your own job board platform, you gain even more benefits. This option is a lot more affordable and focused, and the networking opportunities are much greater. You'll have much more control over hiring. This is important if you regularly employ contract, temporary or freelance staff. Your own Develtio job board platform also gives you space to be insightful, flexible and unique.
Great job board platforms have great design
At Develtio, we always build platforms with users in mind. Employers and candidates are the end-users of job board systems, so we develop a solution that improves the experience for both parties.
If you'd like extra features and functionalities, whether it's creating a database or integrating third-party APIs, our development team can provide custom solutions as well.
Why partner with Develtio
Develtio is a reliable and experienced digital products developer. With over 5 years in the business, we are driven by an entrepreneurial and market-oriented outlook.
Before embarking on any new project, we dig deep, asking the tough questions to ensure we can deliver a product that goes above and beyond.
We leverage leading technologies to develop innovative platforms, software and apps that empower our clients to digitally transform their businesses with great success.
What can we do for you?
Talk to us about your project and let's start building it together!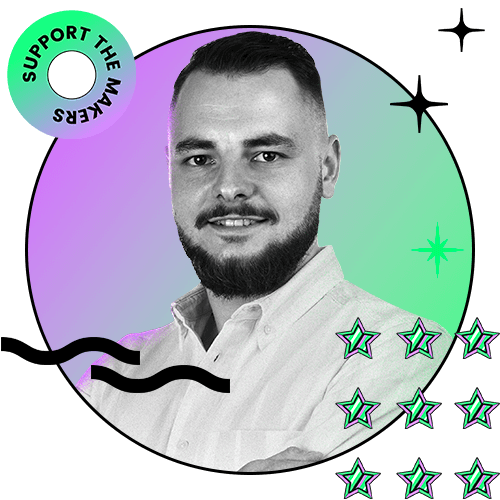 Robert Juszczyk
Managing Partner, Develtio