BACK TO WORKS
Playstrict
A marketplace for mobile game developers
Playstrict was created to help small and medium-sized game development studios with the commercialization of their products. At first glance, the platform may be viewed as a direct competitor of Google's Play Store or Apple's Appstore. It is not, though – the primary purpose of Playstrict is to provide an extra layer to Android marketplaces with additional functionality benefiting both developers and gamers. It gives its users the tools to manage and distribute resources gained through the organic traffic and affiliation system, entice and gather new gamers, analyze their behaviors, and perform the Soft Launch procedure for a product still in development. Playstrict consists of a Playstrict web portal for game devs, publishers, and gamers, as well as a mobile app created exclusively for players. Within the project, we also built the back-end framing from scratch and implemented a comprehensive administration panel for managing the platform.
Functionality
The app store module is the web app acting as the central hub for players (allowing them, e.g., to download and rate games) and for developers, who can use the platform's features to self-publish, promote, and monetize their products. The mobile version of the Playstrict app store is dedicated exclusively to gamers.
The most outstanding features of the Playstrict platform are hidden in the Prediction module. Using machine learning, we created an algorithm to support business users with marketing campaign planning, issuing recommendations, and content optimization. The module can generate predictions of gamers' behavior based on their in-game actions. This data can then be used to attribute the most relevant content to the most appropriate action performed within the game or platform.
Design
The platform's design is a mix of ours and the Client's ideas and layouts. To come up with the most effective and visually attractive design choices, we conducted extensive research and used several benchmarks provided by the Client as inspiration. We used a mixture of plain white and light gray for the background and accentuated it with different shades of Royal Blue applied on CTA's and various navigation elements. Both web and mobile apps were created following RWD standards and can scale perfectly to all viewports and devices.
Technologies
Scope of work
UX/UI design
Design
Development
Branding
User testing
Product workshops

What can we do for you?
Talk to us about your project and let's start building it together!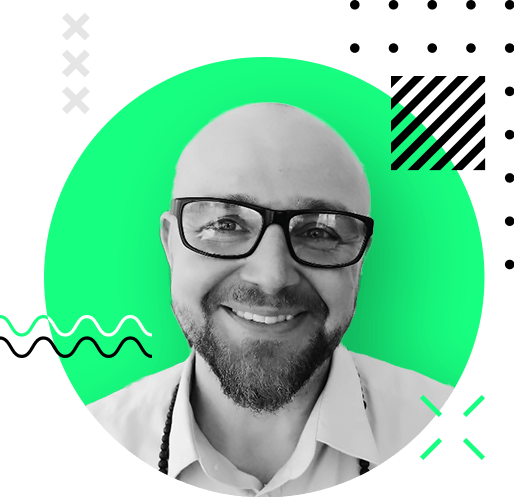 Błażej Dziuk
PROJECT ANALYST