Back to blog
Perfect website redesign process: tips, tricks, best practices & examples
When you have a website, the work never ends – new design trends emerge, and features are added. In short, there is always something to change and improve. No prominent business website remains the same for too long, at least not if you want to keep up with the competition. Want to mark your presence online? Think about redesigning your website and take advantage of our pro tips on the process. But first, ensure it's the right time for your company to embark on such an endeavor.
Do you need to redesign your existing website?
Unless you have a purely informational blog, your website's primary goal is to support the growth of your business. If, for whatever reason, the site stops serving its purpose, you should consider redesigning it. When done correctly, the website redesign project will help you improve conversions, optimize speed, boost user experience and attract new clients. You must think comprehensively about revamping the front and backend and introducing changes to code, content, structure, navigation, and visuals.
Above all, a website redesign is a complex, lengthy and challenging process, so don't do it just because you think it's time or because your competition does it. Instead, make sure that you dive into this undertaking for the right reasons. Here are some questions you should ask yourself before choosing to redesign your existing website:
Have you received complaints about the website's user experience or design?
Is it unclear what actions visitors should take when they land on your site?
Does your current site look outdated?
Is navigation complicated, with too many options to grasp?
Is your website poorly optimized for search engines?
Are your conversions decreasing?
Are you launching a new product or service?
Is your company planning to rebrand?
If any of the above is true, go ahead and plan the redesign process.
Strategy first
To make the improvements happen, you first need to define your business goals and think of "what your website should do for you"? Reflect on the way you use your site currently, how you generate income, and what your sales funnels and unique selling points are. When you establish business objectives, the ultimate aim of your site will become apparent. Is it selling more products? Finding more leads? Reducing bounce rate or maybe improving SEO rankings? You have to be crystal clear about what you want to achieve.
Setting up Key Performance Indicators (KPIs) will drive the process and let you measure the impact that the redesign had on your website. So think of both "what" you want to achieve and "how different"/"how much" should the metrics change after the process has ended.
Current website performance evaluation
With a clear goal in mind, you can start analyzing your current website to see where it lacks in performance. First, make an inventory of used technologies and integrations, content management systems, and digital marketing tools. Next, test your site's usability – review the user interface and content templates, check whether you remembered about social proof, FAQs, and call-to-action buttons. Investigate if your site's pages comply with web content accessibility guidelines and can be utilized by visitors with disabilities. Finally, perform an SEO audit to determine how quickly users can find your website and what you can do to improve search engine optimization efforts.
And don't forget about Google Analytics – this tool can give you a world of information about your website. Check the overall site's performance by benchmarking metrics such as the monthly number of visits, bounce rate, time on site, sales generated, pages indexed, or new leads. All this information will be crucial for creating an effective website redesign strategy.
It's a good idea at this stage to determine your website's most valuable pages and best-performing content. Obviously, you will not want to design high conversion and traffic pages from scratch. So, understand the website's ecosystem to avoid spending time improving something that works well.
Determine who is visiting your site
You have already established your most popular pages, but you must know who visits them and why. Are they primarily buyers or people looking for in-depth information on specific topics, products, and services? Are they trying to start a conversation with your company when online? It will be helpful to create customer personas to shape the redesign around the most valuable visitors. Unless, of course, you want to redefine your target audience altogether. In any case, start by specifying who your ideal customers are and what drives their decisions.
Don't forget about the user's journey. User testing and customer interviews are valuable techniques for mapping out the stages of the purchasing process. You want to find out which questions website visitors ask and how they look for the answers.
Define branding and messaging
From the first moment the user lands on your website, it should be clear to him what your company does, what offers it brings, and why it's better than the competition. Especially if you're planning to rebrand, think of clear messaging and a consistent, distinctive visual style guide.
Competitive analysis
To enhance your online presence, you need to see where your website fits in the current market. Observing competitors' practices will let you understand which solutions work and what will make you stand out from the crowd. Check various pages and evaluate them as if you were the user searching for ways the company can fulfill his needs.
Build a site redesign strategy
At this point, you will focus on developing a new site structure and mapping the user flow (the way users move through your site). You will also create a story that your site aims to convey. Next, identify the purpose of your content. If your goal is to generate leads, work with the team on email, content, and social media marketing tactics. Once you have all the elements in place, consider optimization – perform keyword research to find out what site visitors are looking for.
Planning second
You will need lots of resources if you want to redesign your website. Time and money are your most valuable ones. Budget the whole project in advance and decide how much time you can spend on each step. You can use action plan trackers of dedicated software to monitor each task and related deadline. Set realistic goals regarding the timeline, and remember that it's not uncommon to spend between 2 to 6 months on a website redesign.
This kind of undertaking depends on team collaboration. The worst thing you could do is try to make it yourself and, after the big reveal, realize that your "baby" is poorly optimized, not user-friendly, and doesn't correspond with customer needs. So involve your UX, content, development, SEO, sales, and support teams early on. You will benefit from the co-workers' valuable insights and ongoing support. Creating a dedicated team for the project with the nominated project manager is the best practice to follow. Your other choice is to hire an external design agency, but even then, you will want the in-house team to be continuously involved in the project.
Design!
Now, on to practicalities. When you hear "design," you probably think of images, videos, fonts, buttons, etc. And rightly so, these are all essential website design elements. But one of the biggest mistakes that web designers make is to focus on the design before the content. The website revamp project should happen in several stages, in the following order:
SEO and content planning
SEO drives your content strategy. After the keyword search, it's time to decide which external and internal links to include. Think also about backlinks from third-party websites to your web pages. Getting those requires more work, but you can already envisage what kind of linkable content you need.
If we said it once, we said it a thousand times – content is king, and time and money spent on its development should amount to even 30% of resources dedicated to the revamp project. Depending on your needs, you can create new texts, blog articles, and descriptions or repurpose existing ones. Don't ever undervalue content's importance – it's what drives users to your website and keeps them from switching to the competition. It's also critical to your conversions and search rankings.
Design phase
This is web designers' and clients' favorite part because, for the first time, you get to catch a glimpse of the end product. On top of that, you, or most likely, your design team, can play with all the fun tools and create wireframes, prototypes, and mockups. First, let me tell you this – feedback is invaluable, so ask stakeholders about their opinion on the website's new look regularly during the process. Second – don't shy away from using mood or inspiration boards. Many designers do that – they download pictures from Pinterest, collect screenshots of websites they like, style samples and sketches to mix and match some floating ideas. You can use a tool like Milanote to organize, store and share inspirations and notes with your team.
At this stage, your web designer will create black and white wireframes. Why so humble in coloring? Because what's important is mapping out the layout, functionality, messaging, and CTAs of each page template rather than focusing on images. Don't forget that wireframes of both mobile and desktop site versions need to be prepared. Responsive web design is key to your brand's success.
Then it's time to move on to mockups and the prototype (typically, designers will use a dedicated tool, such as Adobe XD or Figma). This is when your team can start applying fonts, icons, colors, logos, etc. It's a good idea to create interactive mockups because it allows the developer to understand what exactly should happen when the user interacts with each element of your website. All the details should be considered at this point, no matter how small.
This is also our favorite part because we get to give you some hot tips on the do's and don'ts of the redesign process.
Website redesign project tips and best practices
Add powerful visual features. People respond to images, videos, and illustrations – more so than plain text, which looks unattractive or dull. Use your own rather than stock visuals and continually adapt the feel and content to your overall brand's identity and tone.
Use contrasting colors to make the text pop. According to color theory, the key is to choose complementary colors that are opposite each other on the palette. One of the colors is then used as a basis, and the other highlights essential items and buttons. The example below comes from the French design company FCINQ.
Write a blog. If you haven't done it yet, it's time to focus on writing knowledgeable articles. You will not only establish yourself as an authority in the audience's eyes but also drive web traffic and turn it into leads.
Make a great first impression with an outstanding landing page. It takes a few seconds for the visitor to decide if he likes your page. Immerse him in the experience you propose with the unique landing page, with a clear value proposition and a call to action, just like AirBnB did.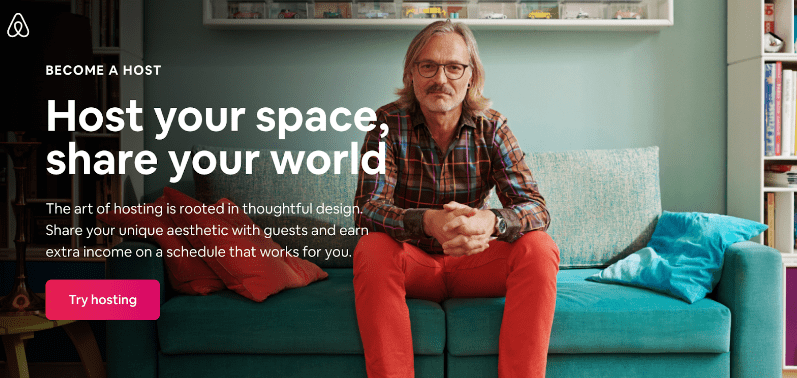 Improve site speed if you don't want your visitors to run away in a blink of an eye. Nothing is more irritating than a slowly loading page, and the audience will have none of it.
Fix broken links with the use of tools such as Ahrefs. You dedicated a significant portion of time during the preparation phase to the inventory, so by now, you should eliminate all elements that don't work. But, it often happens that you miss a broken link here or there. Don't. Links that lead nowhere are incredibly annoying, so be on the lookout for any 404s.
Include social sharing and CTAs. It's crucial to engage users in various ways. Why do you think social media is so successful? The audience wants to feel like they're building your brand, helping you improve and promote it. So spray on the social media share buttons and CTAs encouraging visitors to comment. Start the conversation.
Optimize your website for mobile devices! I suppose you do realize that more than half of Internet traffic comes from mobile devices? Optimizing your website for mobile users is a must nowadays, not an option. Just make sure it's done. You'll thank yourself later.
Development
It's time to entrust your redesign project to the capable hands of the developer. The in-house or agency team will work closely with the designers while coding, building empty web pages, and adding functionalities and content management system elements. All the discussions, analyses, and tests have led to this highly responsible task, so you need to have complete confidence that the development team will not only create a good-looking site but will do it with the SEO principles in mind. They need to ensure that title tags, meta descriptions, and correct headers are in place to increase the website's searchability.
Test, test, and then test some more
We're entering a very exciting stage, where your product is almost ready. "Almost" is an important word. Before launching the new website:
Run it by the designers, developers, and other colleagues. Let them click on all the buttons and links and try different functionalities and navigation options on all devices, screens, and browsers.
If you can afford A/B testing – go for it.
If an external agency develops the site, do the ultimate testing yourself, checking all the web pages and their performance (for example, against the Core Web Vitals requirements).
Website redesign launch!
You made it! After hours and hours of consideration, research, and trials, you can finally present the new website to the world. Hold your horses, though – first, ensure that you have tools such as Google Analytics and Search Console in place, then – test again! There may be some last-minute errors, so try not to do the launch before the weekend – you may need a team on standby to put out fires.
Website redesign examples
You're not the only one struggling to revamp your website. All the biggest and most famous brands do it to stay in business. Some time ago, Mailchimp's redesign (or even rebranding) was one of the most talked-about projects. When you land on the company's new page, you first notice the color yellow – the most distinctive and memorable one. With an updated logo and typeface, as well as funky sketches added, the company presents itself as more "indie" and less rigid. And look at the landing page, with the offer and CTAs clearly laid out.
Before

After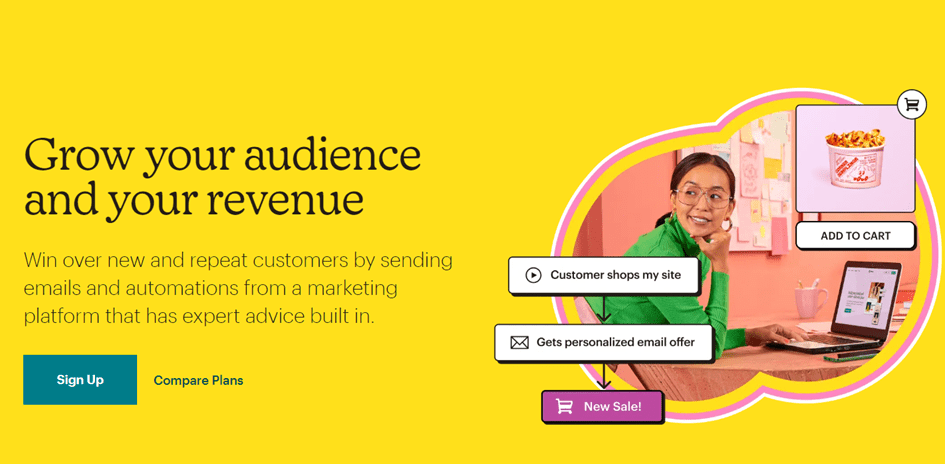 Among other brands that don't hesitate to revamp their looks often are Apple, Microsoft, Mozilla, Twitter, Facebook, Linked In, PayPal, Slack, and many more.
Nike is an excellent example of a company that keeps its website always fresh and ever-evolving without losing the brand's identity and recognizability. Why? Because they decided to bet on the simplicity of the layout and focus on stunning product imagery. With the use of a unique logo, this design model allows for frequent changes that don't confuse customers.
2016
2022
Conclusion
Before you start your big redesign project, focus on why you do it. What is the purpose of your website? Let this consideration drive all the other steps of the process. As mentioned, you can do the revamp in-house, but if the idea sounds daunting or you feel that your team lacks time and resources, turn to professionals that will design the new site for you. It's useful to have someone from the "outside" involved in the process. Companies specializing in web design and development can fully commit their time and expertise to support you in achieving your business goals. Here in Develtio, we're ready to provide the advice and help you need to deliver the project. Drop us a line, and we'll create the new product together.
What can we do for you?
Talk to us about your project and let's start building it together!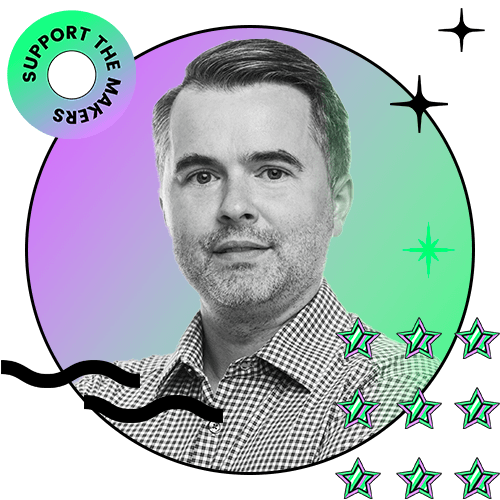 Maciej Kopczyński
Managing Partner, Develtio