Back to blog
Automate and grow – how custom-made software can help manufacturing companies enhance customer relationships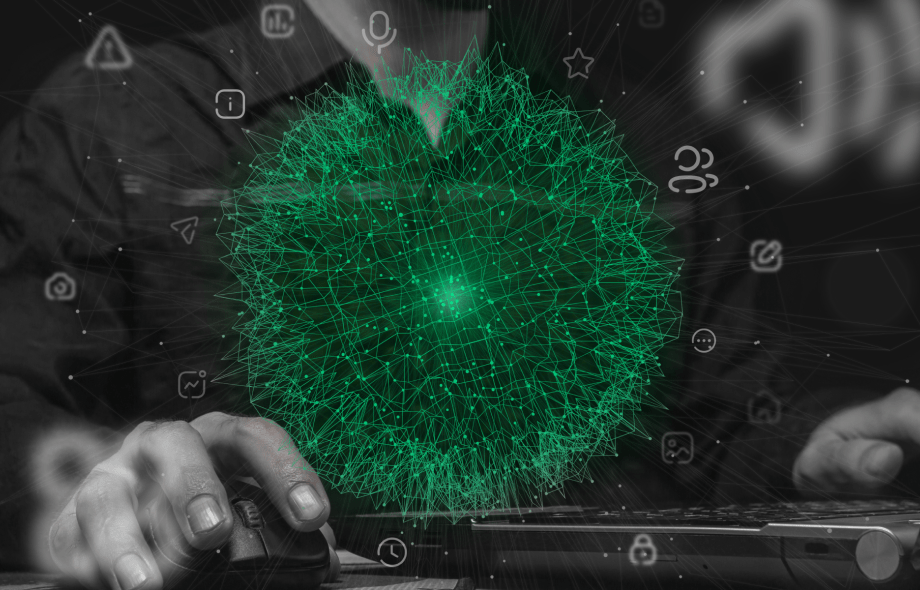 For manufacturing companies worldwide, putting up with the tempo dictated by digital transformation is no longer an option – it's a must.
Operational issues caused by the Covid-19 pandemic, constant problems with the global supply chain, and an increasingly competitive business environment forced even the most technologically conservative manufacturers to search for new digital solutions. Implementing customized software can bring many benefits to the firm: from increased productivity, through better workforce management, to improved decision-making. But there's one aspect of manufacturing companies' operations that nowadays requires more attention than ever – Customer Relationship Management.
In the following article, we want to take a closer look at the importance of CRM in the modern manufacturing industry. Furthermore, we want to analyze Automation and Growth with Digital Touchpoints – two software strategies we find the most effective for manufacturers determined to bring their relationship with consumers to the next level. Read on to find out how custom-made software can help manufacturing companies enhance customer relationships.
Why manufacturers need custom CRM software 🤔
Historically, manufacturing companies weren't exactly known for their dedication to customer relationship management. The priorities were usually placed elsewhere: looking after the production process, securing the rock-solid supply chain, and ensuring efficient distribution. Marketing and sales activities had to take the back seat, as the client base was often limited to distributors and middlemen who didn't require that much interaction or attention.
In recent years, though, the manufacturing business landscape has changed significantly. The growing prevalence of D2C distribution models has shifted many manufacturers' focus toward the actual end-users. But the biggest turn came from the global digital transformation that took over virtually every dimension of the manufacturing industry operations. From assembly line to product delivery, companies started implementing varied software solutions to enhance productivity, optimize costs, and improve workforce and inventory management. And the outbreak of Covid-19 created a new, more challenging business environment where only the most adaptable and flexible enterprises could persist unscathed.
To gain a competitive edge (or sometimes to keep their heads above the water), manufacturing companies' boards had to start looking for CRM software solutions to better process customer data and make it a driving force behind key business decisions. And the benefits of putting the end-users on center stage can be observed in almost every aspect of manufacturing company operations:
Smarter supply chain


A detailed insight into the amounts of each product ordered allows for more streamlined planning of materials supply and scheduling of the production output. More accurate order information means more efficient procurement, warehousing, and inventory management.

Accurate forecasting and projections


Using the order history, scope, and timing, CRM software can generate precise sales projections by, e.g., gauging seasonal peaks and downtimes. The data gathered and processed by CRM software can also be used to create accurate long-term sales forecasts.

Increase sales


Detailed reports based on rich data collected by CRM software provide an invaluable source of information about customer behavior patterns and preferences. This knowledge can be then utilized by sales and marketing teams in upselling, cross-selling, and setting up targeted marketing campaigns, thus effectively increasing sales numbers.

Stronger customer relationships


Poor customer experience can drive the clients away even when the price is right. When implemented properly, software CRM solutions can mitigate the risk of losing existing leads and significantly increase customer retention. The introduction of chatbots/voicebots guarantees 24/7 customer service availability, and a ticketing system for tracking, updating, and resolving client issues ensures no queries are lost in the process. The list goes on and on, and maintaining strong customer relationships without the aid of CRM software is simply not achievable.
Custom-Made Software or Off-the-Shelf Platforms?
In the process of switching to Industry 4.0, automation has already taken the pole position in the race for increased productivity, lower costs, and more streamlined operations. According to the 80-20 rule, companies contribute as much as 80% of their effort and resources to complete 20% of the tasks – often repetitive and mundane in nature. Therefore, automating these tasks seems the only logical way to move the business forward, particularly if operating in a highly competitive environment.
When it comes to automating CRM-related tasks, the market provides an answer in the form of pre-made solutions, often offered as Software as a Service (SaaS). Cloud-based systems, like Salesforce or Hubspot, come packed with features and, when appropriately utilized, can significantly improve the quality of sales, marketing, HR, and customer experience operations.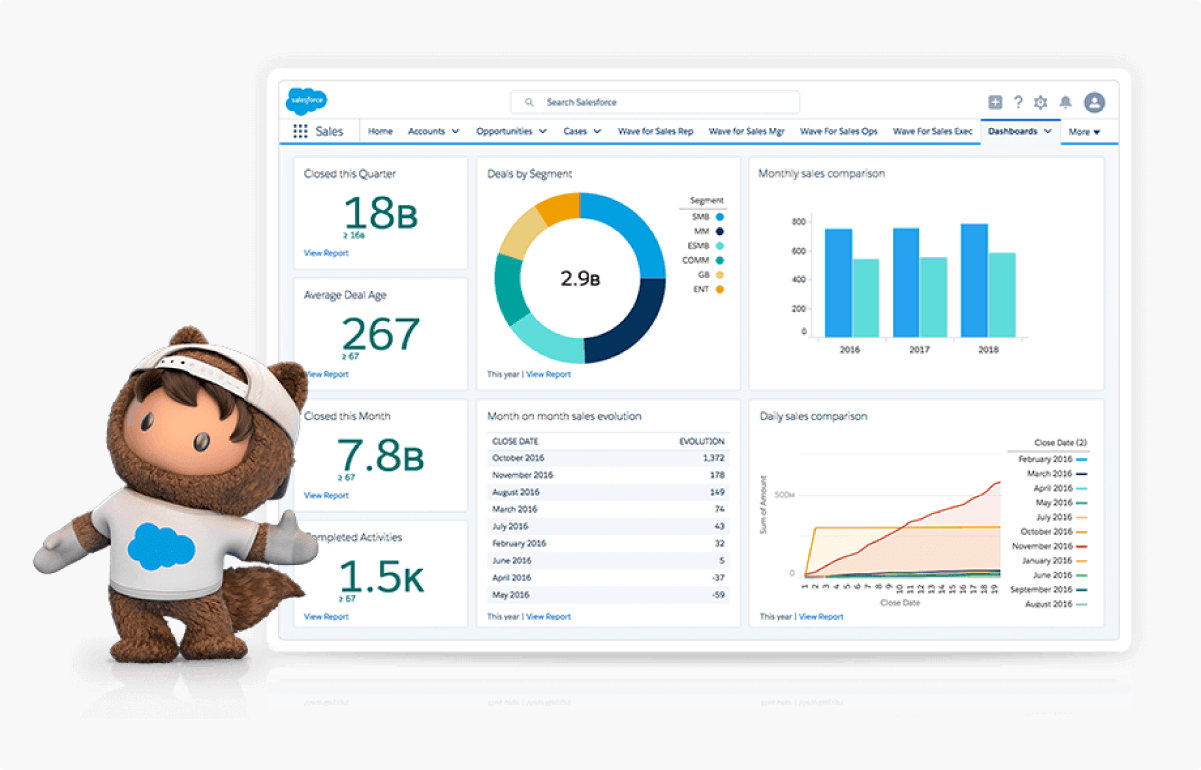 Nevertheless, the biggest strength of off-the-shelf software is, at the same time, its biggest weakness. The number of built-in features would always be limited to the standard set of functions. Granted, virtually every ready-made CRM platform comes with an ecosystem of third-party apps for extended functionality. But unfortunately, these solutions do not always keep up with the core product in terms of quality and, in many cases, are only partially compatible with the business's specific requirements.
At Develtio, we acknowledge the positive side of using ready-made software – it (initially) costs less and is faster to implement than a custom-made solution. But throughout the years of working with various clients, we've learned that, in the long run, tailored software brings more real value to the business by addressing its exact needs.
That's not to say the choice is binary – in specific scenarios, custom-made software can successfully complement the functionality offered by SaaS platforms.
Real-life Automation Examples
As mentioned above, at Develtio, we know a thing or two about providing solutions tailored to address individual (and often nonstandard) CRM automation requirements. Out of hundreds of completed projects, we've picked a few cases to give you a taste of the positive impact the custom-made software can have on managing customer relationships. Not all examples refer directly to manufacturing enterprises, but it's important to note that all the solutions presented below are applicable across varied business types.
1. Marketing consent management automation
An important topic from a legal perspective, although frequently overlooked. To comply with General Data Protection Regulation (GDPR) and other related laws, firms need to implement systems that allow processing and updating marketing consents obtained from the clients. The reality is that companies often use different (and sometimes incompatible) procedures for different types of approvals acquired through mailing, website, or phone. The lack of a centralized and automated system can trigger legal and organizational ramifications or at least cause a constant headache among the team members tasked with managing consents.
That was precisely the story of our client. Thea Polska is a Polish branch of Laboratoires Thea, one of Europe's leading manufacturers of medical eye-care products. The client used several arrangements for marketing consent notification, verification, and delivery. The existing solutions were only partially integrated with systems utilizing the consents, e.g., Freshmail for newsletters. As a result, the company had to dedicate additional resources to gather information from several different sources and keep the records in the form of an Excel sheet, updated manually every time someone altered or withdrew their acceptance. In this case, our priority was to come up with a brand-new workflow instead of improving the existing one.
We have based our proposed solution on two pillars: Core Hub and Integrations. The Core Hub consists of a database containing all types of marketing and advertising consent gathered by the company. All entries can be freely added, removed, and edited. This is a centralized, single point of reference for all marketing and advertising acceptance-related activities. In addition, the system itself can be accessed via the dedicated and secure website panel.
Given the varied nature of gathered consent, the Core Hub had to be able to process the data coming from different sources and in varied forms, e.g., containing only phone numbers. To make it possible, we have built an API that allows for implementing Integrations with various systems Thea Polska uses for collecting and processing marketing consents. If, for example, a recipient of a newsletter sent with Freshmail clicks the "unsubscribe" link, the information on consent withdrawal is directly fed to the Core Hub, and the client's record is instantly updated.
Furthermore, we have opened the Core Hub for 2-way communication with integrated solutions. Aside from accepting incoming data, the Hub can also request it from an external source. Synchronization is possible as well, so any changes applied to the database can be instantly fed to the company's CRM platform.
This particular case study demonstrates that even less prominent (albeit important) aspects of company operations can benefit greatly from targeted, custom-made automation software solutions.
2. Certification management automation
IPMA is a global federation of about 70 member associations promoting knowledge and competencies in the area of project management. They have approached us with the request to build a comprehensive system of managing certification and financial records gathered across the whole network. The current solution was, yet again, based on massive Excel sheets. Every regional branch would update the records of issued, modified, or terminated certificates and send the sheets to IPMA HQ once a month. This was also a method of choice for sorting out financial settlements between member associations and the federation. The solution was highly susceptible to human errors, resource-demanding and marred with instances of incorrect or outdated information. Furthermore, some financial processes weren't yet fully digitalized and relied on paper documentation.
Given that it wasn't possible to replace Excel with anything else, we first had to develop a system that could import and process the data from hundreds of sheets delivered monthly. But it wasn't just a case of simple data import automation. Our web-based solution consisted of the following elements:
A complete and up-to-date database containing records of all certificate holders with detailed information on certificate level, type, expiration date, etc. The data is ingested directly from Excel sheets submitted by member associations.
A complex and customizable system logic that can analyze and address various types of data errors or duplications in provided files. It can also verify the person's eligibility for certification and automatically consider certification requirements dependent on the selected timeframe and local regulations.
A fully digitized document workflow for financial settlements between member associations and IPMA.
A comprehensive data reporting module.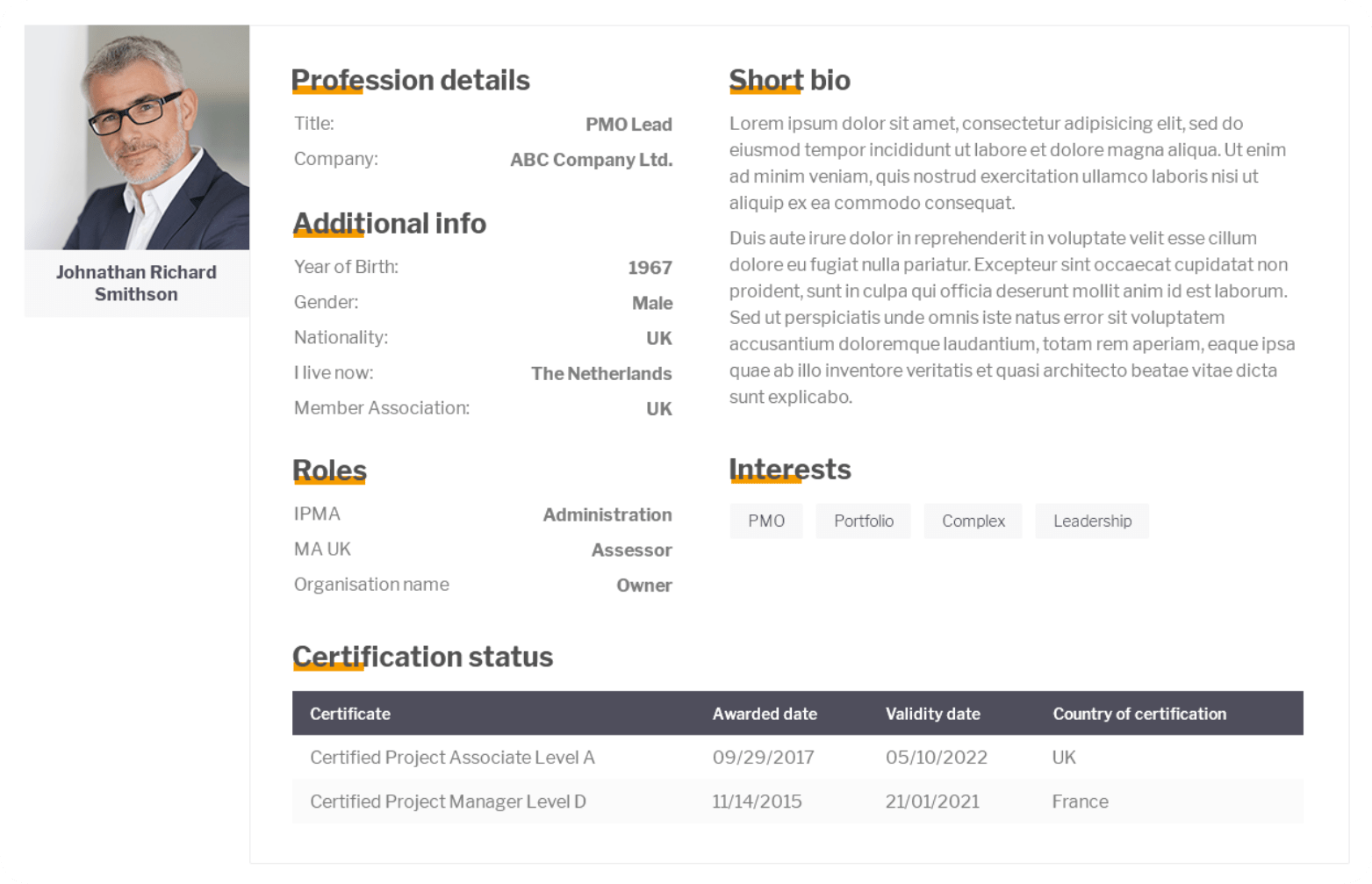 With hundreds of thousands of certificates issued and verified by IPMA and its partnering associations, it is evident that custom-made software was the most effective way to address the organization's specific needs.
3. Contract automation
The automation type that's appreciated the most by sales departments – automated contract and agreement signing can significantly streamline and shorten the whole transaction process. With the proper implementation, contract automation can also positively affect the work of other departments, e.g., legal, HR, procurement, or finance. Some off-the-shelf CRM solutions offer automated contract signing. But it takes custom software to make the most of contract automation.
We worked with one of the largest global glasses and contact lens manufacturers on the recurrent Time For Sight initiative dedicated to promoting regular sight checks. As a part of the project, we created a contract module that allows sales representatives to generate fully customizable sales agreements with opticians' shops willing to take part in the campaign. Every contract comes with its own logic (regarding, e.g., the size of a discount) and can be modified with the use of checkboxes. Signing the agreement automatically triggers a series of events – notifications are sent to relevant teams, and the new partner instantly gets added to the map of participating shops on the campaign's website. The scope of the automated actions prompted by signing the document is limited only by the instructions set up when generating the contract.
There is no need to distribute physical documents or use dedicated mobile/desktop apps. Both sides use a convenient web panel, and the PDF copies of signed agreements are automatically delivered to all stakeholders.
4. Customer service automation
One of the prime examples of valuable automation implementations in customer relationship management is the application of chatbots and voicebots. Recent rapid advances in NLP (Natural Language Processing) technologies made it possible for virtual assistants to become increasingly essential tools supporting the work of customer service teams. Naturally, chatbots are unable to comprehend more complex client queries, but their primary role is to provide instant answers to the most common requests. With virtual assistants able to cover as much as 80% of all client queries, customer experience specialists get significant leeway to address more challenging issues.
One of our specialties are highly customized voicebot and chatbot solutions. The project we carried out for Polish housing developer Murapol required us to implement a chatbot that would not only unburden the customer service team but also help generate leads and boost sales during the difficult period of the Covid-19 outbreak. With the aid of the virtual assistant, Murapol's clients can:
familiarize themselves with the company's current offer
specify their housing requirements and expectation
get customized recommendations based on expectations analysis
check their credit rating
initiate contact with the salesperson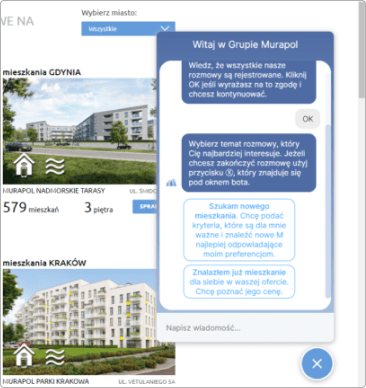 The chatbot is fully integrated with the company's own CRM platform, so all information submitted by the customers instantly reaches the sales team.
In fact, the Murapol chatbot implementation brought to the business as many as 250 new leads in just one week. In addition, 86% of potential clients who engaged with the chatbot shared their contact details. From the company's perspective, the benefits of this particular customer service automation stretched far beyond relieving the resources of the client experience team.
Growth With Digital Touchpoints in Custom Software
Automation isn't the only software strategy that manufacturing companies could consider for the betterment of customer relationships. Creating new digital touchpoints or expanding the scope of existing ones can also significantly improve how a company is perceived and effectively stimulate business growth by increasing sales and boosting retention rates.
Digital touchpoints represent fundamental digital interactions between the client and the company. These interactions are pinpointed on the customer's journey map, a comprehensive representation of the customer's experience with the business. There are tens of potential client–company interaction points, and focusing on the right ones can substantially impact the business's performance.
Customer Journey – Overview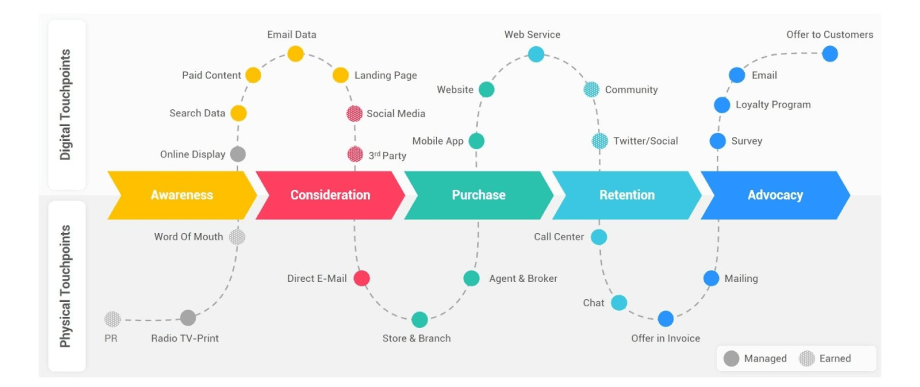 Regardless of the industry, the customer's journey consists of five main stages. Every stage contains specific digital touchpoints that can be created or enhanced with the use of customized software solutions:
Awareness phase – clients define their needs or problem and conduct research to find a relevant solution or an answer. This is when your product or service may appear on their radar for the first time – although it is usually one of many choices. The best way to keep the prospective buyers interested is to provide them with educational, helpful content (like blog posts or white papers) targeted at the very problem they're after. It's a highly fragile phase, as potential customers can quickly lose interest in your offer if you push it too hard with overly aggressive marketing. From the firm's perspective, Awareness is mostly about "being there" for the clients, should they find the company's subject expertise of value.
Consideration phase – clients pick the most promising offerings, directly compare the alternatives, and start engaging with selected brands. At this stage, the companies' messaging should evolve into a more detailed approach, explaining their offer's key benefits and distinguishing features. It is also a time when the friendly user experience (UX) across all touchpoints matters the most for the client's decision-making process. During the Consideration phase, a lot depends on the marketing team's ability to address major doubts and issues the potential customers may have.

Common touchpoints for Awareness and Consideration (pre-purchase) stages:
PR activities, TV and Radio adverts, banner ads, digital marketing (search engine, email, social media), online peer-to-peer recommendations, company blog, digital "nurture" content (case studies, white papers), digital events (webinars), product reviews and other user-generated online content.

Purchase phase – it's the decision time. Clients are ready to buy, but their choice of label isn't yet carved in stone. Factors like the price-to-quality ratio, the responsiveness of the customer experience team, and the brand's presented values can still affect the decision's outcome. Customers in this stage would often ask for a demo, request a quote, and want to speak with a sales representative. To increase the chances of a successful conversion, companies can offer incentives to consumers that have already contacted the business. The customer experience team must be well prepared to answer crucial pre-purchase questions about the product, and clear and understandable information on return and refund policies should be provided.

Common touchpoints for the Purchase stage:
product catalogs, product reviews, customer care, post-purchase follow-ups, order fulfillment, return and refund procedure, and parcel tracking.

Retention phase – retaining existing customers is much more cost-effective than winning new ones, which makes this post-sale stage equally important to other points on this list. The retention stage marks the start of the client's trust-building process. Companies would reach out to the customers for feedback, provide them with useful tips & tricks for the product, and introduce loyalty programs. Regular post-sale communication can increase consumer engagement; nevertheless, it must be backed up by a positive customer and product experience. Satisfied, engaged clients are much more likely to come back for more business and, eventually, reach the final stage of the Customer Journey.
Advocacy phase – happy clients are often willing to share their positive brand experience with others. Word-of-mouth is one of the most effective forms of marketing, so companies want to boost advocacy by encouraging clients to spread their opinions and positive reviews. This can be achieved by reaching out to clients with customer experience surveys, implementing loyalty programs for referrals, and displaying reviews on the website and social media to influence other potential buyers.

Common touchpoints for Retention and Advocacy (post-purchase) stages:
post-purchase customer support, product reviews, knowledge base (FAQ), loyalty programs, newsletters, upselling and cross-selling emails, thank-you letters, and service feedback surveys.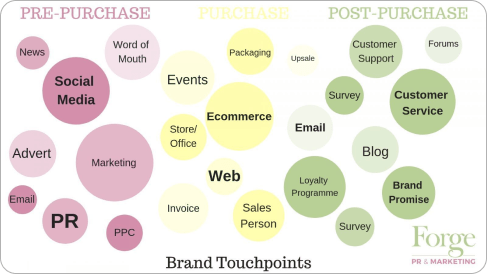 As a general rule, certain touchpoints can be attributed to more than one customer journey stage. For example, product reviews can be called up by prospective buyers before or during the purchase phase, as many retailers include them directly on the listing page. Likewise, sharing impressions about a product can also be considered a part of the post-purchase client experience.
Digital Touchpoints – Global Highlights
In a competitive business environment, where products and services often offer similar features and value, the quality of customer experience becomes a pivotal factor in a company's success or failure. Smartly built and well-implemented custom software solutions can effectively support the process of convincing consumers to engage and stay with the brand, as shown by the examples below.
Audi VR Experience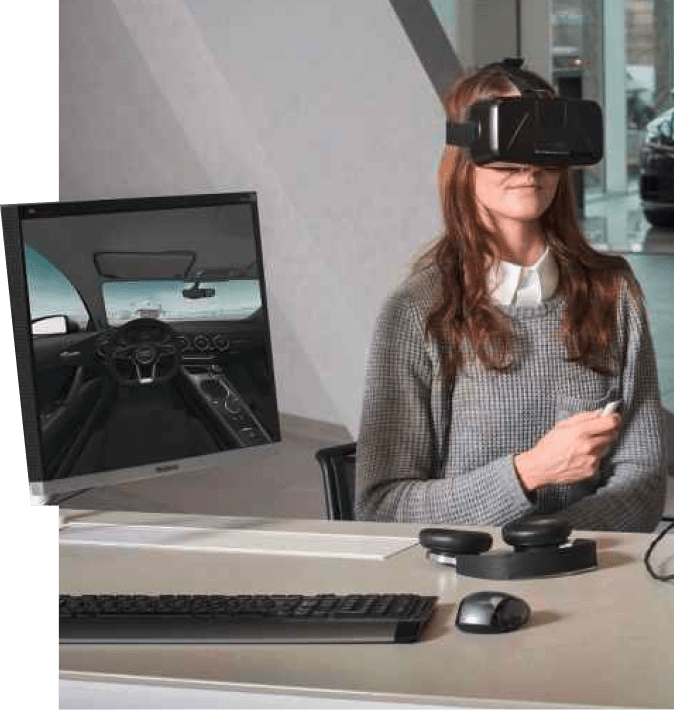 This German premium car manufacturer has a rich history of introducing new ideas and technologies to boost prospective consumers' engagement in the pre-purchase stages of the customer journey. For example, in early 2015, Audi presented a highly advanced Virtual Reality system built for showrooms, combining custom-made car configuration software and a VR headset.
The platform allowed sales advisors to configure any Audi model on a mobile device so the clients wearing VR headsets could take a closer look at the interior and exterior of their dream cars in full 3D. Thanks to an advanced graphics engine developed specifically for this project, the customers can examine their chosen vehicle configuration in astonishing detail rendered in real time. The system was later expanded with the addition of a tracking system on a 5 x 5-meter surface, which allowed the observer to move around the car, sit in the front seat or look under the hood.
The Audi VR Experience's introduction helped the manufacturer transform the car research and buying process into a personalized, immersive, and exciting journey. It positively impacts clients in the Consideration phase by giving them an instant taste of the product customized to their flavor. The project turned out to be an enormous success; over the years, hundreds of "Customer Private Lounges" were set up in Audi showrooms around the world. And it was the smaller dealerships that benefited the most – the limited floor space in their showrooms was no longer an issue, as with the VR Experience, clients could familiarize themselves with every car model in the Audi catalog anytime. Effectively, the dealerships equipped with the digital VR module observed sales of optional extras increased by 15% on average.
So, what lies beneath the success of the Audi VR Experience? For starters, it is a perfect example of an innovative digital touchpoint that no other competing brand could match at the time. But it's the quality of the custom-built core software that made the system much more than just another flashy gimmick with no actual value to the customers. In the initial stage of the project, Audi considered using one of the off-the-shelf 3D graphics solutions to render vehicles and their surroundings in VR. But even the most advanced gaming engines were unable to deliver the desired level of graphical fidelity.
So Audi turned to Zerolight, a British software agency specializing in 3D Modelling and VR solutions. This partnership, backed from the onset with proper funding, eventually yielded the result Audi hoped for. The VR display module boasts incredibly realistic visuals presented in smooth, 90 frames per second refresh rate with a latency time below 20 milliseconds. It was, indeed, a game-changer for clients accustomed to still images and advertising videos on the car manufacturers' websites.
IKEA Place App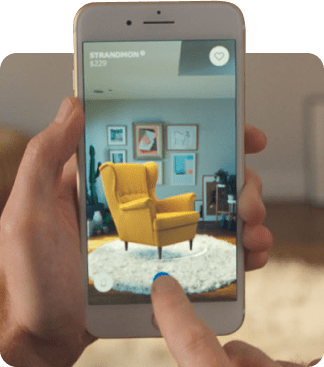 Another example of an innovative digital touchpoint introduced to boost clients' engagement during the pre-purchase and purchase stages of the customer journey. The application allows prospective buyers to visualize how a selected piece of Ikea furniture fits into their living space and environment.
Ikea Place utilizes Augmented Reality technology by letting users add chosen products onto their phone or tablet camera screens. All items can be moved around, rotated, or put together, and the created projects can be saved for later and shared between users. Customers get the chance to envision how their, e.g. newly furnished kitchen would present itself; they can also place an order directly from the app.
The process is streamlined, engaging, and very entertaining, to the extent that many people play with it just for fun.
The users can also take pictures of the items, and the app directs them to the products' page in the catalog or suggests similar ones.
In the fiscal year 2021, 26% of global Ikea sales came through an online channel, which is 10% more compared to the previous year. The number of sales generated by physical retail stores dropped noticeably. Nevertheless, the total annual revenue of the IKEA Group grew in 2021 by 2.4 billion euros, so the profits were higher by 5.8%. This clearly shows the growing prevalence of the online sales channel and underlines the importance of related digital touchpoints. The Ikea Place app, where the customers start their journey with Awareness and end up with a Purchase (without having to visit a physical store), is an excellent example of a tailored software solution boosting growth with the creative application of digital touchpoints.
Starbucks Rewards Program App
In the global landscape of customer loyalty programs, Starbucks Rewards is often considered a blueprint for efficient solutions targeted at clients in the Retention and Advocacy phases. Starbucks Rewards mobile app combines AI-boosted offer personalization and smartly designed gamification, resulting in a highly engaging and loyalty-inducing experience for the clients. By the end of 2021, in the US alone, the number of active Starbucks Rewards users had approached 25 million, with over 28% growth in memberships within a single year. Over half of sales in Starbucks stores comes now from the program members. Equally impressive numbers can be observed in many other countries where the program is active.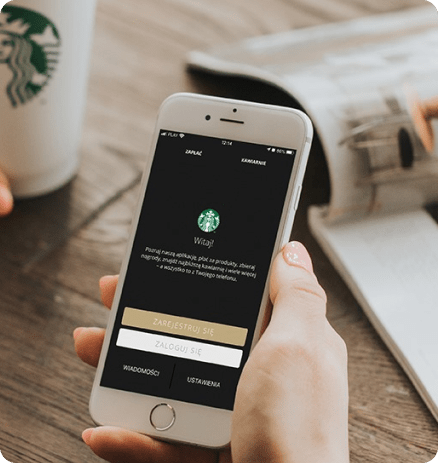 So, where is this success coming from? After all, Starbucks wasn't the only (nor the first) company to introduce a loyalty program targeted at the global clientele. But it was an unprecedented level of personalization that made the difference.
The program's basic premise is simple – it awards customers with "stars" for buying the company's products, using selected payment methods, engaging with the brand on social media, and participating in events, e.g., by purchasing coffee on the National Coffee Day. The stars can then be exchanged for free coffee, muffins, sandwiches, or anything else available in the store.
The difference between this and other generic loyalty programs is that the Starbucks Rewards offers are tailored for every customer separately. Instead of grouping consumers by typical criteria, like age, or marital status, Starbucks implemented so-called Behavioral Segmentation. Backed by advanced AI technology, the app's algorithm analyzes customers' habits and shopping patterns and uses it to generate personalized offers and interactions. This approach gives clients the impression that the brand actually "gets them" by offering challenges and deals relevant to their needs and preferences.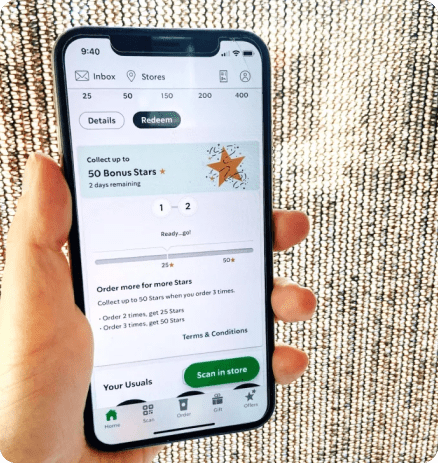 What's exceptional about Starbucks Rewards is that it successfully merges the highly personalized experience with cleverly designed gamification. By earning "stars" through tailored challenges, buyers work towards "winning" a reward and move up the customer loyalty ladder. For example, clients can get additional stars for buying a muffin with their favorite coffee or using mobile pickup in their most frequented store.
In some Asian markets, Starbucks partnered with Pokémon GO, a massively popular location-based mobile game. The brand enticed users to look for Pokémons in Starbucks cafes, join Pokémon battles on the spot and, while they're at it, pick up their favorite beverage or snack.
Beneath this loyalty program's marketing and business success lies the large-scale implementation of machine learning. AI drives the process of dynamic offer optimization, where customer behavior records are gathered with every interaction. The dynamically updated data allows the algorithm to create increasingly relevant offers and rewards.
The Starbucks Rewards' unique blend of personalization and gamification results in an excitement-inducing and addictive experience unrivaled by its ability to keep customers engaged and invested. This is a prime example of a brand's growth propelled by tailored software and perfectly implemented digital touchpoints.
Growth With Develtio – Our Success Stories 🚀
At Develtio, we also have our fair share of customized software solutions focused on new and existing digital touchpoints. Our marketing agency background brings a profound understanding of the intricacies of the customer journey to the table. This expertise allows us to pinpoint our clients' actual (and often deeply rooted) issues with CRM and develop software to address them.
A Purchase Experience That Sticks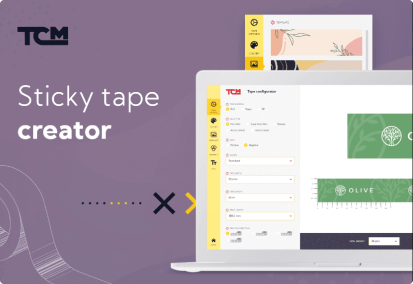 TCM Service
is a market-leading adhesive tape manufacturer based in Poland. The client wanted to enhance the quality of the buying process by implementing a user-friendly tape creator on the firm's website.
Before, prospective clients looking for personalized or non-standard products would need to get in touch with TCM's customer service team to specify their requirements and discuss the available options. The introduction of the tape creator made the purchase experience much more engaging and fun for the consumers and more streamlined for the company.
Fully integrated with the manufacturing system, the tape creator instantly conveys the purchase details to the production department, effectively shortening the time needed to process the order entirely. As a side effect, the volume of contact attempts with TCM's customer support team has dropped drastically.
This particular case study shows that with well-thought-out tailored software, it is possible to benefit from the synergy between growth and automation strategies.
Knowledge-based Retention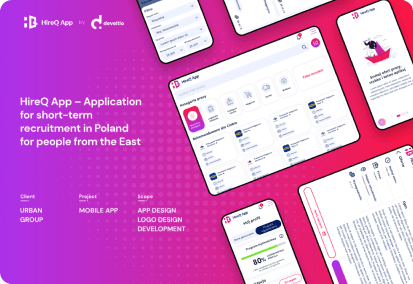 Providing customers with an accessible and practical knowledge base is a prime example of touchpoints worth applying for the Retention phase of the customer journey. The quality and volume of the content are crucial – a modest, half-baked FAQ section is simply not enough to keep customers engaged with the brand. Our client, Urban Recruitment, knows that perfectly well.
For this international employment agency, we created HireQ – a mobile application for job seekers. The company specializes in offering intermediary services for temporary and permanent job placements and HR outsourcing. The HireQ app is primarily targeted at international workers coming to Poland from neighboring countries for short-term employment.
Outside of a comprehensive listing of job offers, the app includes a dedicated section with tens of articles concerning living and working in Poland. The knowledge base contains carefully curated information on legal, cultural, and practical aspects of day-to-day life, available in several languages. This gives HireQ users a reason to interact with the app on a regular basis, thus boosting retention rates and promoting product advocacy. The latter is further incentivized by introducing a points-based loyalty program.
Advocacy for the Pros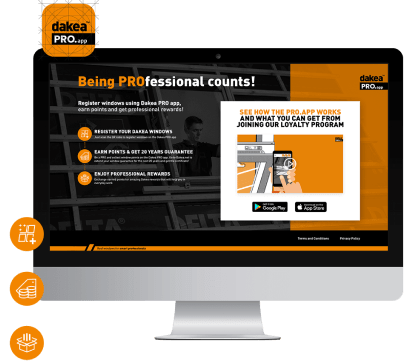 One of our most spectacular projects, the
Dakea
website, along with the
Dakea PRO app
, is brimming with examples of digital touchpoints done right. Dakea is a roof windows manufacturer operating in several European countries.
For prospective clients in the pre-purchase stages, the company's website offers, e.g., a content-rich knowledge base with helpful guides on roof windows applications and attic furnishing. To help the customers make the decision in the purchase phase, a user-friendly windows configurator can be used if a comprehensive product catalog is, for any reason, not enough. Then, there's an interactive map of product distributors, a client reviews section, a tutorial videos sub-page, and a YouTube channel. But it's the Dakea PRO application that makes the biggest difference in boosting Advocacy and Retention.
The mobile app is targeted at professional roofers using Dakea products. Dakea PRO allows them to scan and register barcodes of windows newly fitted in their clients' houses. Every registered window gets an extended warranty, and the roofers earn loyalty points that can be later exchanged for attractive prizes, like utility tools or clothing. This loyalty program offers valuable incentives for using company products to both contractors and clients, thus effectively encouraging them to stay and engage with the brand.
The app is also fully integrated with Dakea's primary CRM solution – Salesforce. As a result, all customers' and contractors' business data gets instantly updated in the CRM's database, giving the company a detailed insight into their business behavior patterns.
Custom Software – Our Key Takeaways
With the growing prevalence of the D2C distribution model and the increasingly challenging business environment fuelled by digital transformation, manufacturing companies need to dedicate more focus and resources than ever to utilizing efficient CRM solutions.
Effectively implemented Customer Relationship Management strategies can positively impact many aspects of manufacturing business operations, with particular emphasis on sales and supply chain management.
Off-the-shelf CRM software can adequately cater to most common business needs, but industry-specific, advanced requirements can be addressed by custom-made solutions more efficiently.
With the proper integration, manufacturing companies can enjoy synergy benefits from the combined strength of readymade CRM platforms and customized software targeted to cover specific business areas.
Custom-made CRM software can be successfully utilized to automate complex operations involving sensitive and critical data from a legal perspective.
Well-thought-out digital touchpoints can drastically improve a company's perception among clients and stimulate business growth by increasing sales and boosting retention rates.
Some of the world's most impressive marketing success stories originate from implementing well-established digital touchpoint ideas backed by innovative custom-made software.
Automation and growth with digital touchpoints are not mutually exclusive strategies and can be implemented simultaneously for better effects.
Conclusion
Choosing the right customer relationship strategy for a manufacturing business can be challenging. Should we focus on automating client interactions and services to deliver as streamlined an experience as possible? Or, maybe, we should review our customers' journeys meticulously and work on new and existing digital touchpoints to grow consumers' engagement and loyalty? Can we merge these approaches to reap the benefits of the synergy effect?The list of questions can go on and on, but at the end of the day, one particular challenge will always stand out – can we get the right tool for the job?
Currently, the software market offers plenty of off-the-rack CRM solutions, mainly in the form of SaaS platforms. And these are more than enough for manufacturers comfortable with their established operations and current market position. After all, what's the point of reinventing the wheel?
The situation gets much more complicated when a company needs a strong business push or operates in a highly competitive environment. When a targeted and creative approach is required, generic, off-the-shelf solutions simply won't do. At this point, custom-made software enters the stage as the most feasible option.
It will not be cheaper, especially not in the initial stage. Indeed, even the most expensive SaaS subscriptions will cost less than building tailored software from scratch. But, as the success stories above prove, the real value is always a given with the right approach.
So, if you are considering boosting your manufacturing business with CRM automation or enhancing your customers' journey, do not hesitate to get in touch with us. At Develtio, we take pride in bringing real value to our partners.
What can we do for you?
Talk to us about your project and let's start building it together!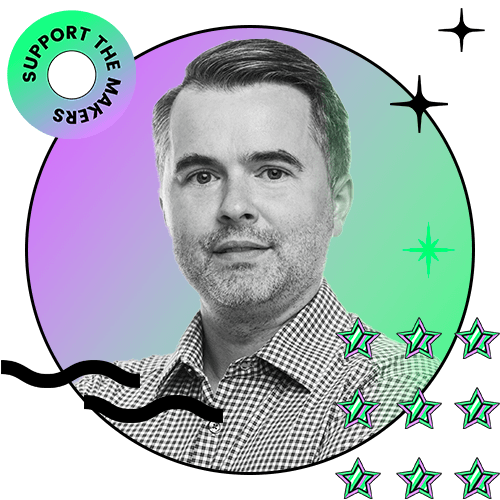 Maciej Kopczyński
Managing Partner, Develtio