Design matters! It's a simple truth that you have to keep in mind when establishing your online business presence.
Whether you're building a new website or revamping the existing one, you have some decisions to make, the most important being – choosing between a template or custom web design.
You may think it is an unimportant factor, but the truth is that this decision may significantly influence the way your company performs online and ranks in search engines. So consider all the pros and cons of available solutions. We will help you make an informed decision.
Why website design matters
The design makes a lot of difference in how the user perceives your website and your entire brand. People prefer visually attractive sites, and they expect you to prove that you put effort into crafting your online presence.
Although content might seem more significant than the look, a lousy design could be a deal-breaker for a potential customer still deciding which service or product to choose. In fact, according to 38.5% of web designers, outdated design is a top reason why visitors leave a website. After all, that's the first thing people see, and rest assured that they make quick judgments about your company based on the website's look and functionality (it takes only 50 milliseconds to form an opinion).
But the first impression is not the only thing that design impacts. If you put some thought into your site's feel and appearance, you can distinguish yourself from the competition. Moreover, you will enforce your unique brand's appearance and increase its awareness among the visitors. 42% of customers believe that the site's design is the main factor determining your company's credibility. All that can positively influence your chances of attracting customers. Therefore, defining design should become a significant element of your digital marketing strategy.
In the case of a website design, there is no one size fits all solution. Your decision should be primarily based on whether you plan to revamp an old or create a new website. Depending on your budget, business needs, and multiple other factors, you can choose pre-made or custom web design options. Spoiler alert – we will not provide a definite answer as to which one is better. They both have pros and cons. Let's have a look at them.
What is a template design?
If you're low on budget, time, or technical skills, you may want to look into creating a website from pre-designed elements. They are already coded and can be easily integrated into your site.
Don't worry; many people and companies take advantage of the template website design option. In fact, website builders (Weebly, Wix) and Content Management Systems (like WordPress) are growing in popularity. Over 500 sites are built using WordPress daily. And yes, the majority of them are based on pre-designed templates. Look at some of the most popular template sites: Themeforest has 30.000, and TemplateMonster has over 50.000 ready-made options on offer, adapted to work on the most popular platforms.
Before making a quick decision about using a pre-built version of your website, look at the pros and cons.
First, though, let's clarify some terminology.
Template vs. theme in WordPress
The two words are often used interchangeably, but in the context of WordPress, they have completely different meanings.
WordPress theme refers to the overall website design operated through a CSS stylesheet. A theme includes everything from colors to headers, footers, sidebars, and typography.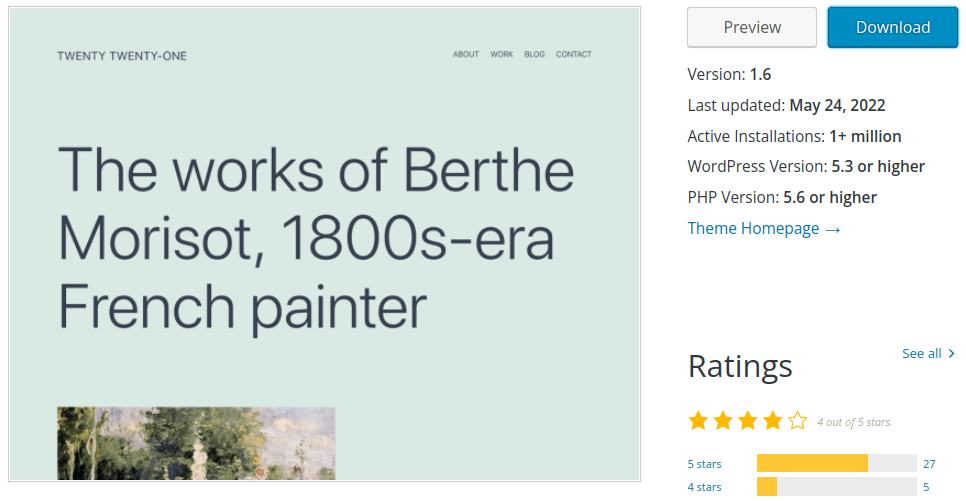 On the other hand, a WordPress template is a single-page layout within the theme. You can add content-specific pages, landing pages, or blog posts with templates. Some themes come with templates included, but you can also add more and customize them yourself.
You will notice that in some systems (and in many articles), a template refers to the overall site design. Just remember that this is not the case for WordPress.
Advantages of the pre-built design
Low cost: Explore the library within your website builder or a CMS platform – you will find plenty of free options and reasonably priced ones as well. For example, most WordPress themes cost between $10 – $100, making it an affordable solution for even a small business. Also, as this is a pre-packaged design, you don't have to worry about paying the web developer to create a custom site.
Speed: If you're in a hurry, you will appreciate a template website's much shorter development time. With the code already prepared, you basically just add content (and maybe tweak the style and built-in features, if you feel like it).
Scalability: WordPress is the best example of a scalable solution. You can add multiple pages and new content without worrying about designing them from scratch.
Customizability: I know what you're going to say – template-based websites will never be as adaptable as the custom-designed ones. And you're right. But with the pre-built option, you still get a significant level of flexibility in terms of the choice of pages, plugins, and modules that can be easily added or removed. You can also adjust fonts, layout, and colors. The website template is just a starting point.
Why website templates are not always the best choice
Lack of uniqueness: Pre-built solutions are available to everyone. Although you can tweak them, chances are your template site will look similar to someone else's. While it's not a disaster, you probably want to differentiate from your competitors and stand out from the crowd.
They are not built around your brand and business: When someone lands on your website, they should immediately recognize that they are in the right place to reach the company they were looking for. Unfortunately, it's not as easy to communicate your business personality with a commonly available design. Moreover, the appearance of some elements included in established brand guidelines may be hindered by a generic layout.
Bulky code: Template sites often come accompanied by various plugins and features that you actually don't need but are included to benefit a mass consumer. Heavy code can negatively influence your website's speed and performance.
You're stuck with your choice: Ok, so we established that in a majority of cases, you could customize the design of templated sites, but to a limited extent. Moreover, while you can try to tweak the site's source code to adapt it to your purposes, it's not advisable. If you implement such changes, you will miss out on any updates to the chosen theme or template.
Not all are SEO-friendly: Designers focus on functionality and visual attractiveness rather than conversion rates and optimization. Not all templates come with in-built SEO solutions. Often, they need to be customized to become SEO-friendly. That's double the work.
They are prone to risk: Hackers love template websites because they can use many plugins and a commonly shared code to hack multiple sites.
What is a custom website design?
Instead of trying to find the template that matches your brand, you can have a site designed specifically with your unique voice in mind.
Custom-built sites are planned and designed from scratch, so you have to carefully think of every aspect of the development process. But don't assume it's only about graphics, colors, and fonts. A professional web developer or a web design agency will spend hours with you talking about your business, goals, and target audience. Once they clearly understand your site's purpose, they will propose functionalities, managing options, and SEO solutions.
Depending on your requirements, you can pay between $5,000 – $30,000 for custom work (or more, if you get more creative and your budget allows. E-commerce websites can cost even $80.000). Is the end result worth the investment?
Advantages of having a custom site
It's built around your business: As mentioned before, your needs, wants, mission, and vision are at the center of the whole custom design plan. So, for example, if brand positioning is crucial for you, a custom website allows you to create a connection with clients brick by brick, exactly the way you envisage it.
It shows better speed and performance results: These aspects are improved if you invest in a custom website built with optimization as one of the main goals in mind. Custom sites' code is usually clean and light-weighted, free of features you will never use. Just try it and see how the loading speed improves.
It's SEO-friendly: Web design agencies usually have in-house SEO teams that will focus specifically on making sure that your site ranks higher in search engine results.
It's responsive on various devices: Professional web developers will ensure that all pages are correctly displayed on mobile devices.
It's the best choice for e-commerce: A template website will likely not be able to carry the weight of the online store with thousands of products.
It's easily manageable and fully controlled by you: Of course, your designer is there to help you every step of the way, even when the product is finished, but with a content management system, you can administer your website in-house. Moreover, you have a say in the outlook of your website – you make decisions about the structure, layout, additional features, and all the details down to even the smallest buttons.
Cons of using custom websites
The two most significant disadvantages of having a custom website designed are time and money. Based on the already mentioned possible costs related to web development, it's pretty evident that a small company with a low budget will probably not be able to afford it. Moreover, continued support will likely cost you extra.
You also need to consider that custom design takes a long time to build from scratch. With initial planning and research, and then the building phase, you should allocate between 2 to 6 months in your business plan (depending, among others, on the number of pages).
Which option is right for you?
As you can see, the choice between the template and the custom website is based on many factors. Before you make it, ask yourself these questions:
Do I need to create a new website or revamp an existing one?
What is my budget?
Am I in a rush with this project?
What should my website accomplish?
What should it include to achieve this goal?
In general, templates would be a better option for solo and very small businesses, bloggers, or even start-ups at the beginning of their journey. If you want to present yourself online as soon as possible and need only a simple website, a ready-made solution is a good enough option.
However, if you have an appetite for developing a bigger business and don't have a tight deadline looming over your head, go for a customized option. When you aim high and are ready to make an impact online, you probably secured enough budget to invest in such a solution. This is also a preferred option for online stores, and medium and large companies. It may cost more upfront, but consider that, in the long run, it pays off. You will not have to worry about new plugins, software updates, and issues with maintenance. And, if you ever want to upgrade your website, the team of professionals will help improve it.
What can we do for you?
Talk to us about your project and let's start building it together!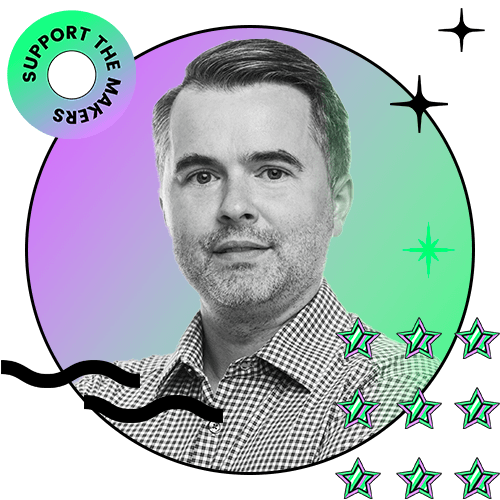 Maciej Kopczyński
Managing Partner, Develtio