Back to blog
11 essential digital tools for any manufacturing business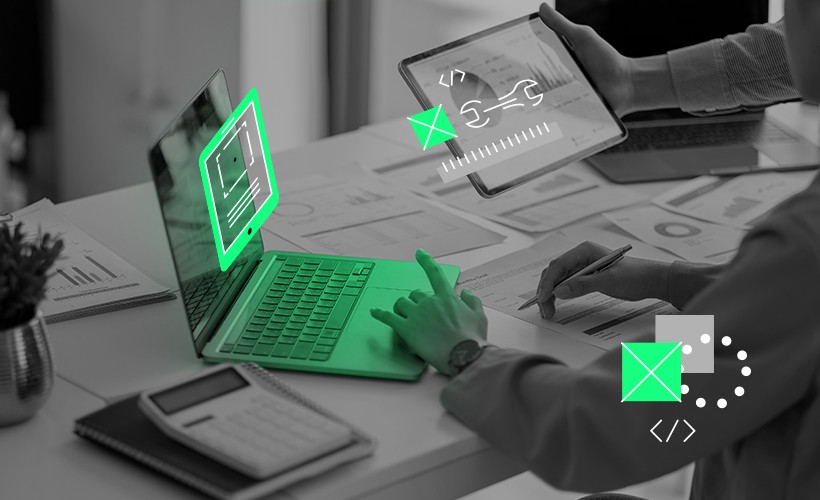 Business owners, we feel you. We know that you must think of dozens of processes, projects, solutions, and resources simultaneously. On top of that, you constantly adapt your offers and procedures to the ever-evolving digital environment. So here are a handful of valuable tips on the best tools to make your business run smoothly and ensure your success in the online market.
1. A well-designed and updated website
In the digital age, your competitors and customers make purchasing decisions online. Consumers are increasingly tech-savvy, conducting their activities in the digital space. 91% visit the store after consulting the company's website first. 75% of people create the first impression of any business based on its online presence.
B2B buyers are different today as well – digital natives among them expect on-demand, interactive content. They are likely to conduct research online to find new suppliers, and 73% of them pay attention to the potential partner's website rather than their market presence. If you're still not convinced, here are some key reasons why you should invest in the website. We also recommend reading our article on this topic.
A website helps you establish business credibility and raise brand awareness.
It provides several ways to maximize return on investment (ROI), for example, thanks to the effective use of search engine optimization (SEO) techniques, calls to action (CTAs), and focus on customers' needs.
It's a great way to showcase your products and effectively compete with other industry players.
We provide tips on how to create a website in this article. Just remember that the manufacturer's website is specific. It needs to show great attention to detail and focus on the product (photos, descriptions). It should also create a connection with a customer (e.g., via a contact form, chat, or links to social media) and present social proof in the form of referrals, reviews, and case studies.
2. B2B Order Management System
B2B operations are complicated for entrepreneurs, and they're getting increasingly more complex. From in-house methods to dropshipping and third-party suppliers, there are plenty of ways to fulfill the order. For example, the Electronic Data Interchange (EDI) supply chain method is gaining increasing popularity. It's a way of exchanging documentation and conducting transactions using the electronic format, and it's expected to be used by many of your existing and potential clients and partners.
Customers are getting more demanding with time. They expect smooth data synchronization between companies, easy orders, quick delivery, excellent customer service, not to mention consistent multichannel selling.
Sounds demanding? The Order Management System (OMS) can help streamline the purchase fulfillment process, enter and route orders, and monitor shipping preferences while enhancing inventory oversight. Here are the main benefits of using OMS:
It can accept orders regardless of the company's channel that the customer is browsing.
It allows your business to turn paperless and makes your data easily accessible.
Efficient order tracking options lead to increased customer satisfaction.
It improves order accuracy and lets you customize the client's experience at every stage of the order fulfillment cycle (e.g., shipping, invoicing, or payment).
Some of the noteworthy OMS solutions are, for example, Brightpearl, Sales Order, or Skubana.
3. Email footer generator
To this day, email remains the primary way of business communication. Therefore, you can take advantage of this channel's popularity and use it to boost your brand awareness. Having a signature in your email underlines your company's professionalism, increases its recognition, and provides space for including links to the matters that are important for your business, such as contact details, social media channels, newsletter subscriptions, and so on.
The key to success is to keep it simple, consistent across the company (every employee should have the same footer) and on brand (meaning that the colors, fonts, and logos should be the same as on other materials and the website).
You must include certain elements, like your company's address, email, a link to the privacy policy, and other legally required information. But then, you can let your imagination run wild and consider inserting the CTAs, social media buttons, subscription details, information about events, your business mission, values, brand imagery, and so on. And to make it easy, use one of the free or paid email signature generator tools. It's vital to ensure that the tool allows you to create email signatures automatically, especially if you have many employees.
Here are some recommended email footer generators: Hubspot, DesignHill, Rocketseed, signature.email.
4. Complaint Management (CM) system
The truth is that every business will sooner or later get complaints. The key to success is to manage those messages efficiently and professionally, thus ensuring excellent customer service (which is a key factor based on which 96% of clients will decide whether they will remain loyal to your brand). Paradoxically, well-managed complaints can even help your business grow. It's all about perception and managing relationships with customers.
A complaint management system is designed to process the receipt, recording, and resolution of issues raised. You can find stand-alone dedicated software designed for that purpose or those embedded in CRM systems. The customer complaint management system should have the following elements:
A ticketing option. It's useful to have a single interface where you can see messages gathered from all available channels
Live chat or call center
Social media component
Customer complaints analytics
Saving history and tracking of past interactions with the same client
Timestamping options
Notifications for employees involved in complaint management
Here are examples of powerful complaint management system software: LiveAgent, Zoho Desk, Freshdesk, or Front.
5. Product Information Management (PIM) system
Product Information Management concerns handling information, data, and materials required for product marketing and selling. It's a way of preventing inaccuracy and instead proposing a single view of product data. Let's imagine, for example, that the information about your offer differs between various channels, like the website and Facebook profile. You can't afford to receive negative feedback based on such a data mismatch.
If you think having a PIM system is just a luxury whim, we invite you to read our article on product information management. You will learn about the benefits of purchasing one for your company and get valuable tips on choosing the best solution. In the meantime, let's just mention why the PIM system is super useful in your everyday activities:
It imports data from various systems and channels in different formats
It identifies discrepancies in product data and descriptions
It organizes product information based on its characteristics and various attributes
It provides filters that online customers can use
It pushes product information to different channels (from e-commerce platforms to product pages, marketplaces, and printed media), as well as multiple in-house teams
It minimizes manual work, fastens time-to-market, and ensures better customer experience due to improved data accuracy
Here are some examples of the PIM system worth looking into: PimCore, Plytix, Jasper PIM, and Catsy.
6. Loyalty programs and apps
A happy client is more likely to return and refer you to others. It's worth investing in loyalty programs to achieve this goal. Why? It turns out that they enjoy extreme popularity. An average consumer in the US belongs to 16.7 loyalty schemes. 70% of consumers are willing to recommend a brand with a good loyalty program, and 59% of program members claim to stay loyal to the brand for life. A similar percentage (almost 60%) of Internet users consider earning points and rewards as the most valuable aspect of shopping.
Loyalty programs are sponsored by businesses and offer different kinds of incentives to attract and retain customers. These could be rewards, discounts, advance notices about products, special services (like shipping), early access to new releases, and so on.
Loyalty apps complement the programs by providing a convenient solution that stores and tracks loyalty data and rewards information.
The customer can use an app to track points collected in a loyalty program and exchange them for rewards. It's a very convenient solution, easily accessible from anywhere, often offering personalized rewards programs explicitly based on customers' interests and preferences.
The business also benefits from this solution because a loyalty application is a goldmine of customer data related to the app's engagement, products' popularity, customer base breakdown, and reward preferences.
Some of the loyalty apps must and should-haves are:
Incentives – rewards and points (including points for signing up for the application)
Push notifications
Achievements, loyalty recognition, and dedicated premium-client content
Referrals
QR code and getting rewards for scanning the purchased product
Gamification and point distribution based on game completion
Saving preferences for repeat purchase
For examples of loyalty programs and apps, check the HP Original Rewards Program, Lenovo Expert Achievers Programme, Vaillant Advance, Adey Pro Club or the Dakea solution implemented by our team in Develtio.
7. Customer extranet
An extranet is a company's private network available only to selected users through a secure login mechanism. It's a way to share information with people outside of your business in a fast and flexible manner.
Suppose you open the extranet to selected customers (for example, those who joined the loyalty program or a particular program tier). In that case, you make it a very user-friendly space with features such as:
the support help desk
guides and training materials
surveys and polls to capture feedback
direct online contact
transfer of documentation
push notifications when new materials or information is published
The extranet can be personalized in terms of tailored content, customized landing pages, and individual user profiles. The latter is useful if you want to create an intranet community and enable social messaging among users.
8. Product configurators
Product descriptions or images may mislead the client, no matter how hard you try. To avoid the client's remorse and, at the same time, make it easy for him to customize products, use configurators. A configurator is an application that uses pre-built elements of the product and allows for their configuration based on various characteristics, such as color, text, image, size, texture, print, etc.
One crucial vital thing to remember is that even the easy-to-use configurator is, in fact, a complex interactive tool that requires a lot of thought put into it. It has to represent the actual conditions for modeling a particular product – you must ensure that specific models can come in proposed colors with suggested features and add-ons. Moreover, it should be connected to customer relations management (CRM), in- built billing and notification systems and allow for automated sales of the designed product.
Nevertheless, once made and created correctly, the configurator can significantly simplify the selling process, convey the product's value (the tool's visual aspect is a huge bonus), reduce product returns, and boost customer engagement and conversion rates.
There are several types of configurators:
9. AR solutions and the company's Media Center
While we're on Augmented Reality, we recommend using it as a great unique selling point (USP) for your business. Now, we realize that AR is still a technology that is approached by companies with a grain of salt – imagining its place in manufacturing, retail, and marketing may come as a challenge. But the solution is gaining momentum, especially in the furniture, clothes, foods, shoes, and cosmetics industries.
Web-based Augmented Reality (WebAR) is an option accessible to users via the mobile web browser. You don't need a dedicated app to access the visuals, which means that the barrier to entry is low and the solution itself very convenient.
Although attractive and entertaining, AR is not designed for play and gimmicks. Instead, it's a powerful tool allowing customers to interact with your content and actively engage with the company's products. Linking to the e-commerce store creates an easy way to finalize a purchase. 72% of AR users claimed to have purchased something they didn't plan to buy because of this technological solution.
To download AR content, customers can scan QR codes, links embedded on the website, SMS, social media channels, or even NFC chips included in printed materials. Of course, it all depends on the company's idea for sharing the activation types. You can often find downloadable AR content on the manufacturer's website in the Media Center section. It's a space where B2B and sometimes B2C customers can find anything from company-related images and videos to printed materials, catalogs, brochures, etc. We highly recommend manufacturers create this space to ensure smooth cooperation with retailers.
Here are some examples of how modern companies use AR:
Volkswagen created an AR app presenting a detailed version of their cars.
Samsung used the solution to showcase its products.
Nike made a unique experience in their AR AirMax Cloud campaign, encouraging users to go outdoors (the app only works when the phone points to the sky.
10. Project management tools
Gone are the days when simple checklists or excel sheets allowed for effective project management. You need an easy-to-use and efficient management software that enables you to plan, conduct and monitor project progress, and record the division and status of specific tasks. Using such tools has become a common practice and reportedly minimizes the risk of financial loss caused by poor project execution.
Now, the issue is that there are hundreds of available solutions; chances are, even a single company will utilize a number of them. That's why it's essential to ask yourself several questions before you decide on an investment in project management software:
Identify your challenges and define your needs. Depending on the priorities, you may be looking into different available options. Your focus could be on effective internal communication, workflow simplification, or time and resource management. Here are some examples of software used for various purposes.
Look at the reported ease-of-use, customizing and scaling options. Read reviews, and ask others in the industry about their experience with different tools.
Test the tool and get detailed feedback from your team. The last thing you want to do is invest in a product that doesn't play its part or makes your employees miserable.
Consider the cost and available budget. Project management software can significantly improve your company's processes, but it still needs to fit into the financial plan.
11. Consent Management Platform (CMP)
A consent management platform is a must-have for smooth and lawful collection and management of user personal data and consent choices. It helps your business adhere to legal data protection requirements, like GDPR in Europe or CCPA in California, especially if you use cookies or other tracking technologies.
The core functionalities of the platform are to collect the required consents, record the gathered data, provide the user with information on how their data will be tracked and give them the right to either agree, refuse or revoke the permission. Only upon the confirmation of consent can the data be transmitted to third parties for advertising or publishing purposes.
It's important to choose a platform that stores data gathered through different channels in a central repository. It should also seamlessly integrate with other systems and platforms, such as CRM, analytical tools, or marketing automation software.
Conclusion
We hope you find this pocket guide to the best digital tools for your business helpful. If you have any questions about implementing the described solutions, do not hesitate to contact the Develtio team. We will also advise you whether to choose off-the-shelf or rather customized options that our company can tailor specifically to your business needs.
What can we do for you?
Talk to us about your project and let's start building it together!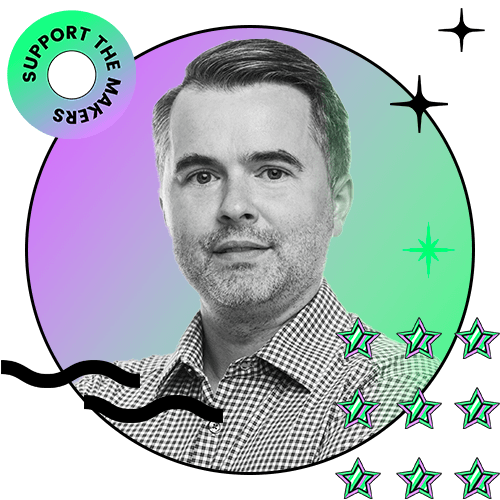 Maciej Kopczyński
Managing Partner, Develtio