Back to blog
YoastSEO vs. Rank Math – which WordPress plugin is better?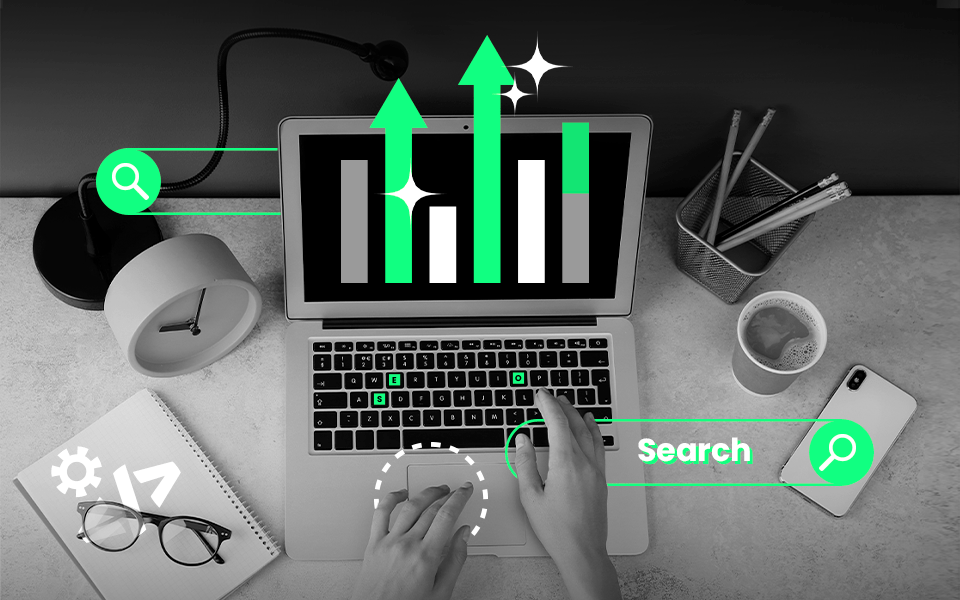 A huge number of WordPress SEO plugins allow you to enhance your website's visibility. Two of them deserve special attention, especially when you want to promote your website in Google – Yoast SEO and Rank Math SEO. Both these WordPress SEO plugins are great tools that have a lot to offer to people looking to improve the SEO of their website and succeed in Google rankings. However, there are significant differences between Yoast SEO and Rank Math. Therefore, it is worth getting to know them to choose the best solution. We have made a YoastSEO and Rank Math comparison to help you make an informed decision.
Before we get down to business, it's essential to clarify what to expect from an SEO plugin in WordPress. How can an SEO plugin improve a website's ranking in search engines?
Why do you need an SEO plugin like Yoast SEO or Rank Math?
First, you should know that SEO plugins like Yoast SEO and Rank Math have several features, including reporting and auditing options. Thus, you can learn a lot about the quality of your website from an SEO point of view. In addition, the SEO plugins analyze various technical and editorial criteria to optimize the rating system.
Another feature of SEO plugins is to make it easier to access some options that may be difficult to edit without a plugin provided for that purpose, especially when implementing redirects and updating meta-descriptions or title tags. Plugins allow you to access the management of these functions very quickly from the page.
Now that we've explained the role of the WordPress SEO plugin, it's time to tackle the core of our topic: Which WordPress plugin is better, Yoast SEO or Rank Math SEO? First, we will look at their characteristics and individual functionalities to compare them.

What is Yoast SEO?

Yoast SEO appeared on the market in 2010 under the name WordPress SEO, which is why it is still synonymous with SEO for WordPress in many people's minds. It is the most popular SEO plugin and one of the most widespread WordPress plugins ever created. Yoast SEO has continuously developed to satisfy its users and search engine robots for over ten years. Experienced teams of SEO experts, programmers, architects, and testers work every day to improve this solution. Today, Yoast employs people worldwide and has a turnover of $12 million a year.
The Yoast SEO plugin is so popular because it offers much flexibility in content management. You can configure all the titles, meta descriptions, and information you want to share on social media for each post and page. One of Yoast's most attractive traits is its user-friendly dashboard. Moreover, Yoast has expanded to include exhausting tutorials on how to get the most out of SEO. All in all – a useful and comprehensive tool.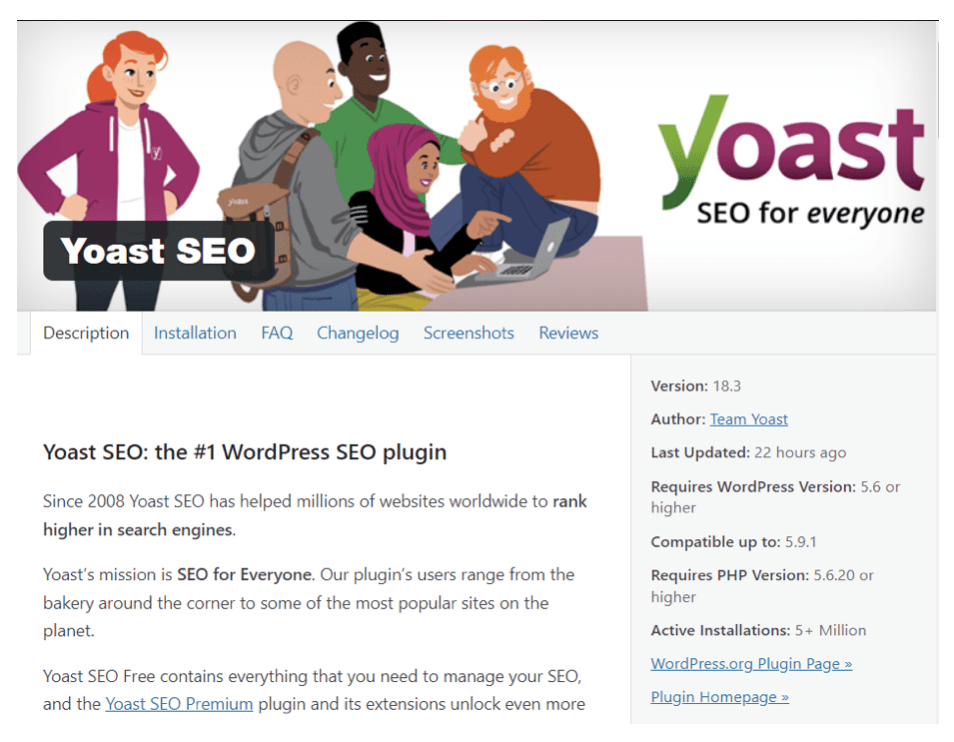 What is Rank Math?
Rank Math SEO was created back in 2018, and it has achieved mass popularity, with over 800,000 unique downloads in only two years. So what has brought this success? Primarily, the impressive list of free features available in Rank Math. So far, no other free SEO plugin has offered this much to its users.
Rank Math offers both a free Lite version and three paid versions. However, it's worth pointing out that, unlike Yoast SEO, this plugin, in the free version, gives you access to far more complete features than Yoast in its free (or even paid) plan. So is it worth crossing Yoast SEO right away and choosing Rank Math? Not necessarily. For starters, it is worth analyzing the differences between these two plugins.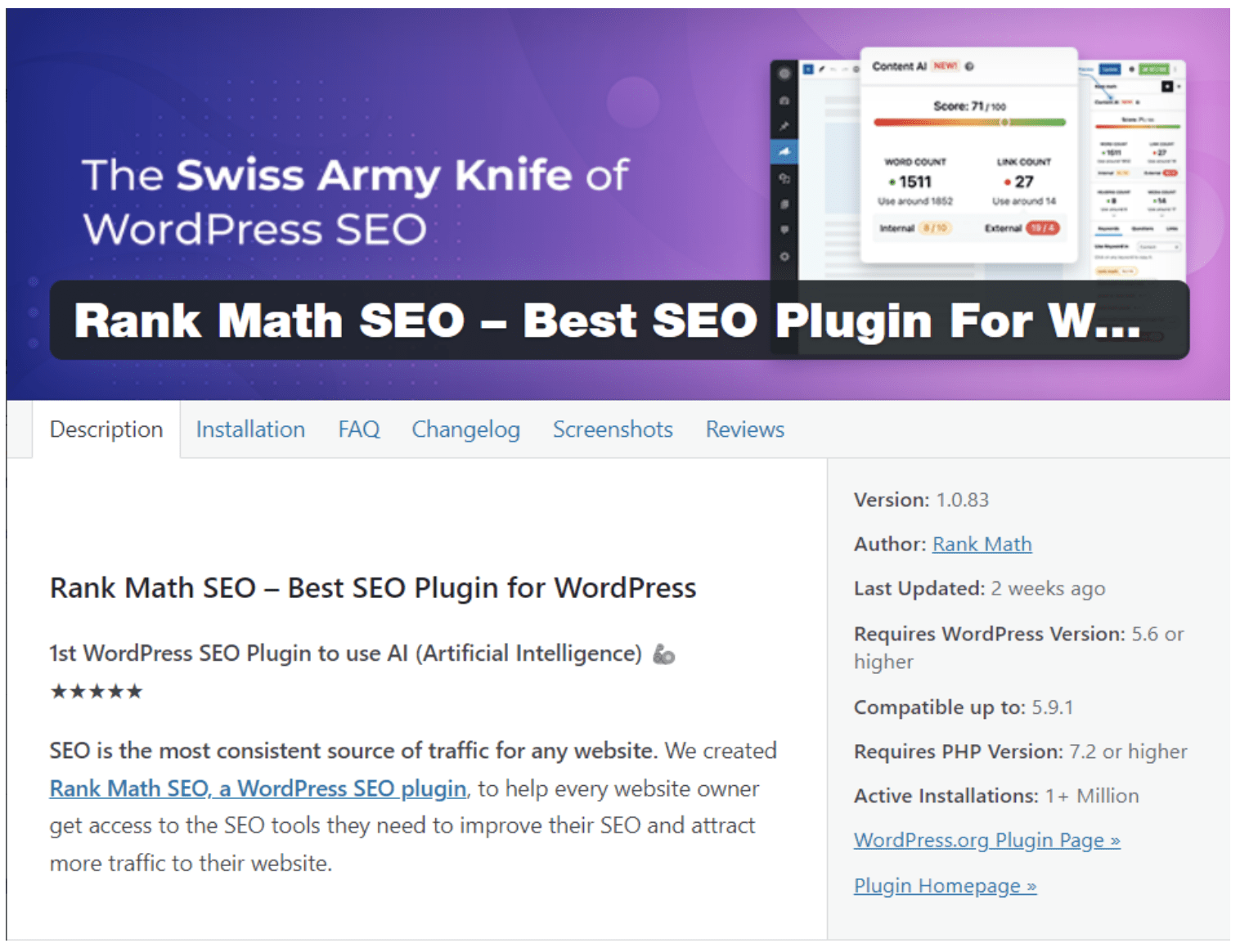 Rank Math vs. Yoast SEO — the setup Process
Both plugs are intelligently configured for a great user experience. The configuration of Rank Math is quite simple. After Rank Math is installed, a five-step installation wizard appears. First, you can create an account via Google, Facebook, or e-mail. But you can skip this part. Then you need to enter the site name, find the console details, sitemap settings, advanced optimization options, and confirm the settings. After the setup is complete, you will access more advanced options.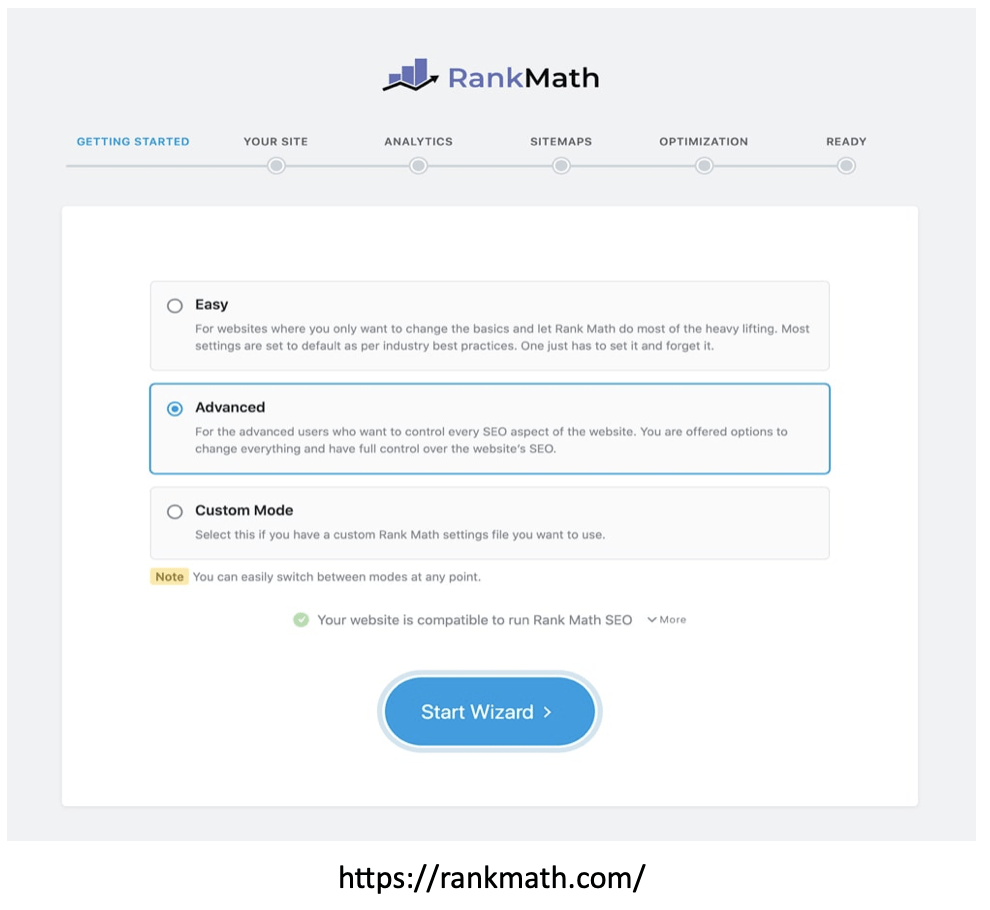 In the case of Yoast SEO, the user is provided with an eight-step setup wizard to configure basic settings such as site type, organization type, search engine visibility, authors options, and title settings. One of the differences you'll notice with Yoast is the built-in video guide during the installation process. It's especially useful for beginners.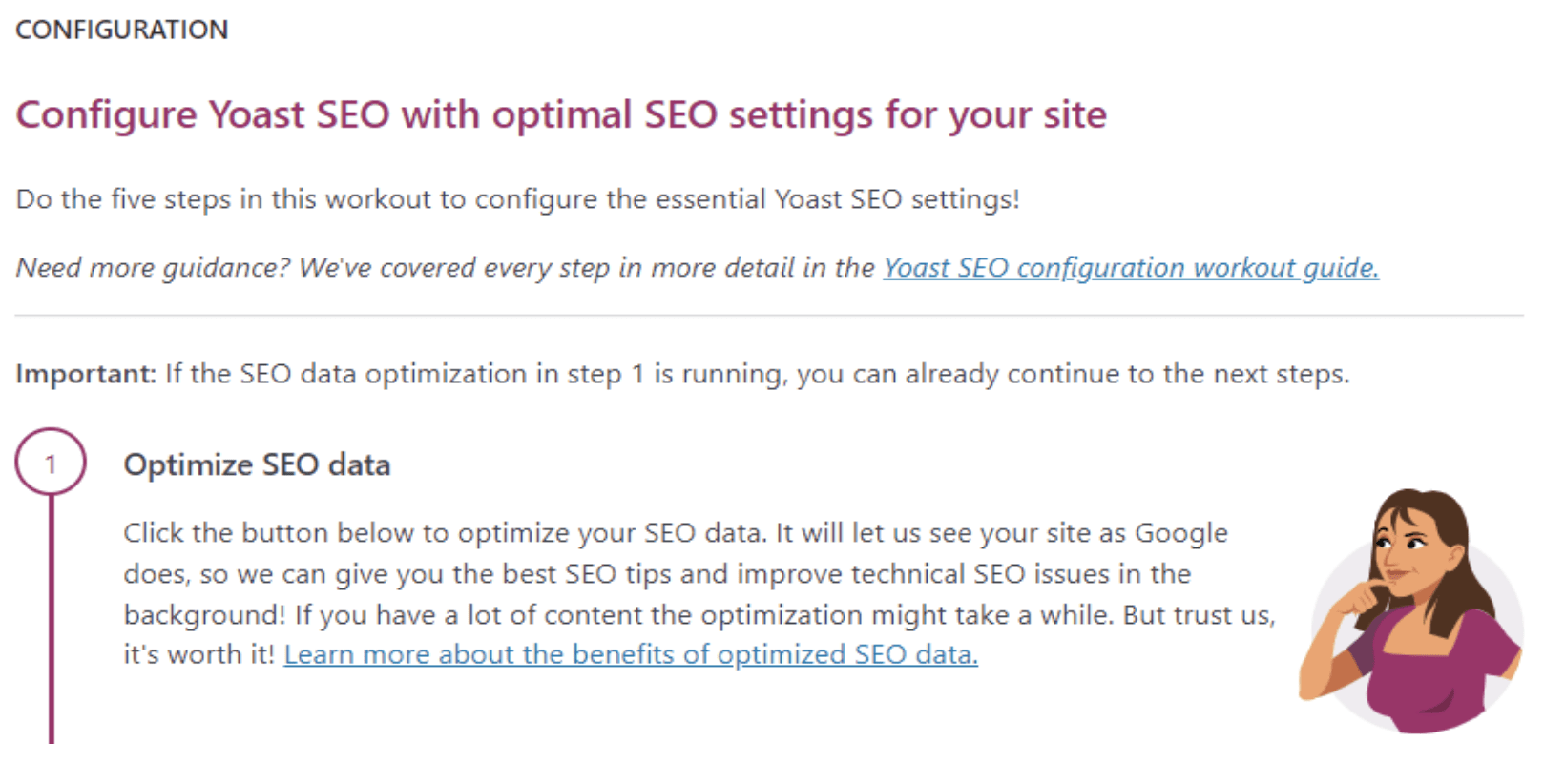 Rank Math vs. Yoast SEO – user interface
After a successful plugin configuration, the first thing you'll see is the interface (UI). There is no doubt that the cleaner the interface, the easier it is to use. The creators of Rank Math understood this well and developed three different modes to meet the expectations of all users. Unfortunately, Yoast SEO focuses more on functionality than aesthetics when it comes to UI. Of course, this plugin is still 100% functional, with all the options organized into well-defined categories. But it doesn't help that Yoast SEO's user interface looks a bit bland and uninspired.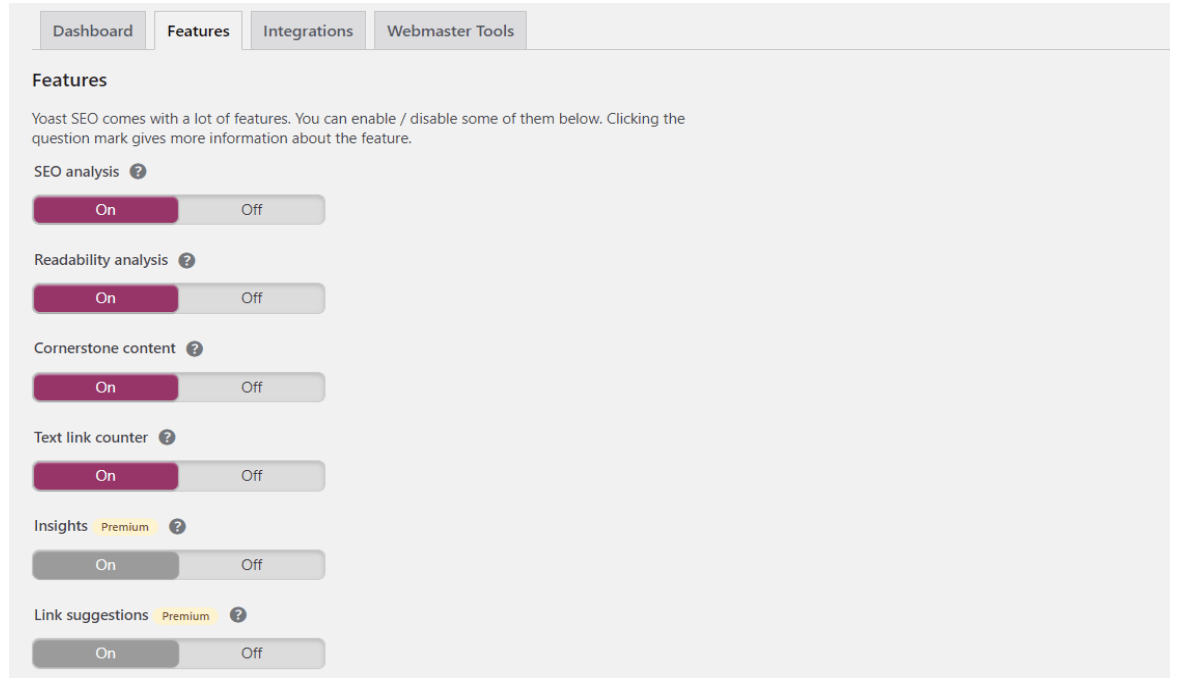 Rank Math implements a visually attractive interface that looks modern and improves the user experience and may prove to be a bit easier to use. All available options are described and presented in separate tiles. You choose which option you want to turn on and use it.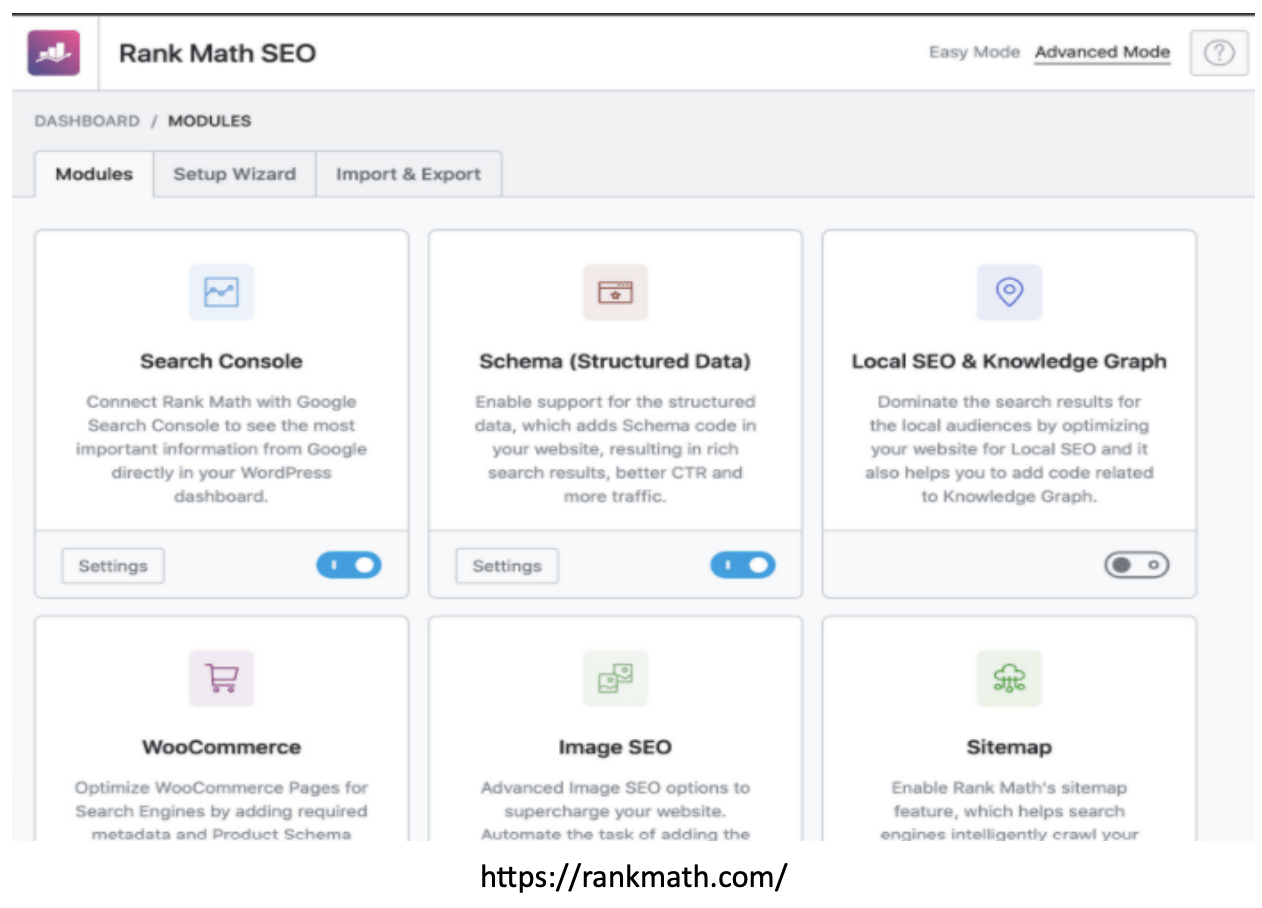 Rank Math vs. Yoast SEO – keyword analysis
Now let's get to the summary of the most crucial feature of the SEO plugin, i.e., keyword analysis. This feature allows you to fill in keywords, write a meta title and description, set a direct link, and set a keyword for the content. That is an essential part of every SEO tool, and without maintaining these settings correctly, you cannot optimize a page or post. Both plugins allow you to assign keywords, a title, metadata, a permalink, and use different methods to show what your content looks like on a Google page.
The free version of Yoast SEO allows you to assign one keyword to your content. If you want to optimize your post or subpage for multiple keywords, you must buy the premium version. Yoast shows the user the degree of content optimization in green, orange, and red signals. In addition, you can analyze SEO score, readability score, and Google page preview (desktop and mobile). Keyword mapping tools are relatively easy to use. Importantly, Yoast SEO analyzes various forms of keywords such as plural and past tense in the premium version.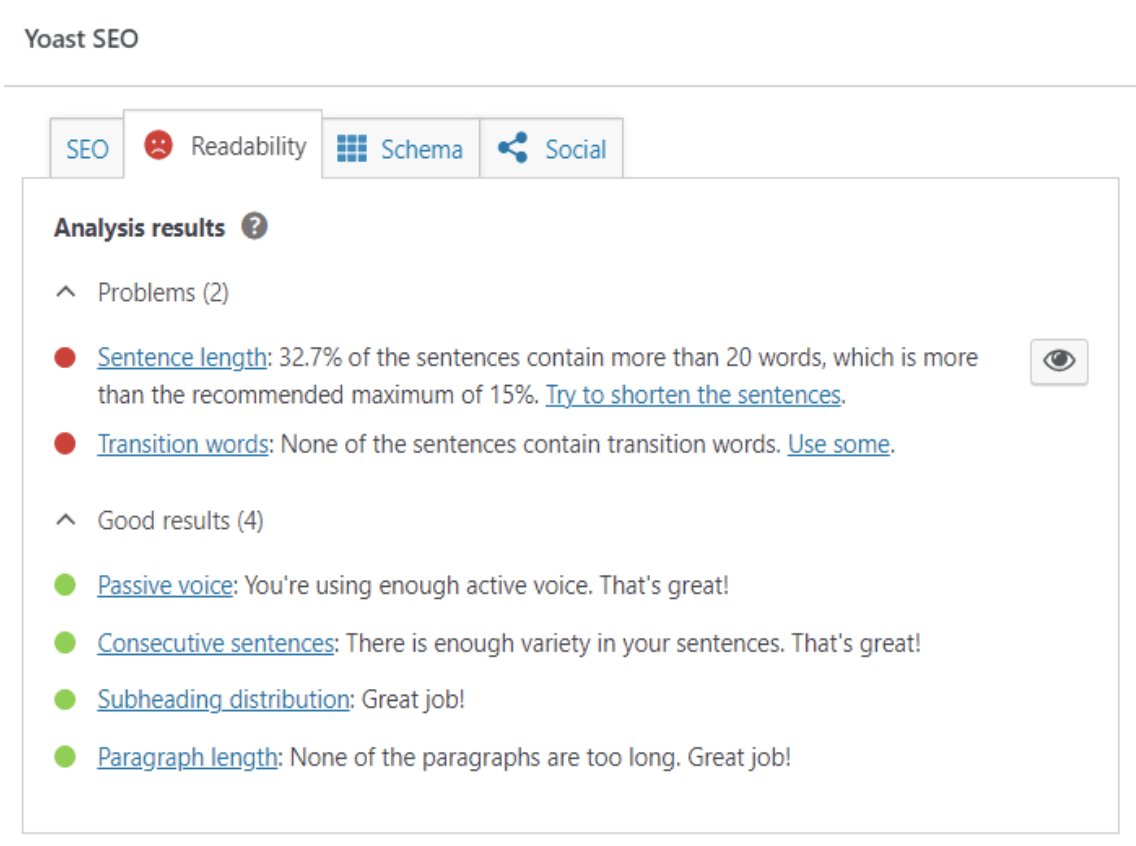 Rank Math, on the other hand, allows you to assign up to five keywords for optimization, but you must create a free account. The title, meta, and permalink settings work exactly as Yoast. The Rank Math displays your score as a number between 0 and 100. Generally, if your score is above 80, it turns green. Therefore, you should optimize your content until your score lands in the green area. In addition, this plugin can show keyword suggestions and long-tail phrases based on Google keyword suggestions. Yoast SEO does not have this option.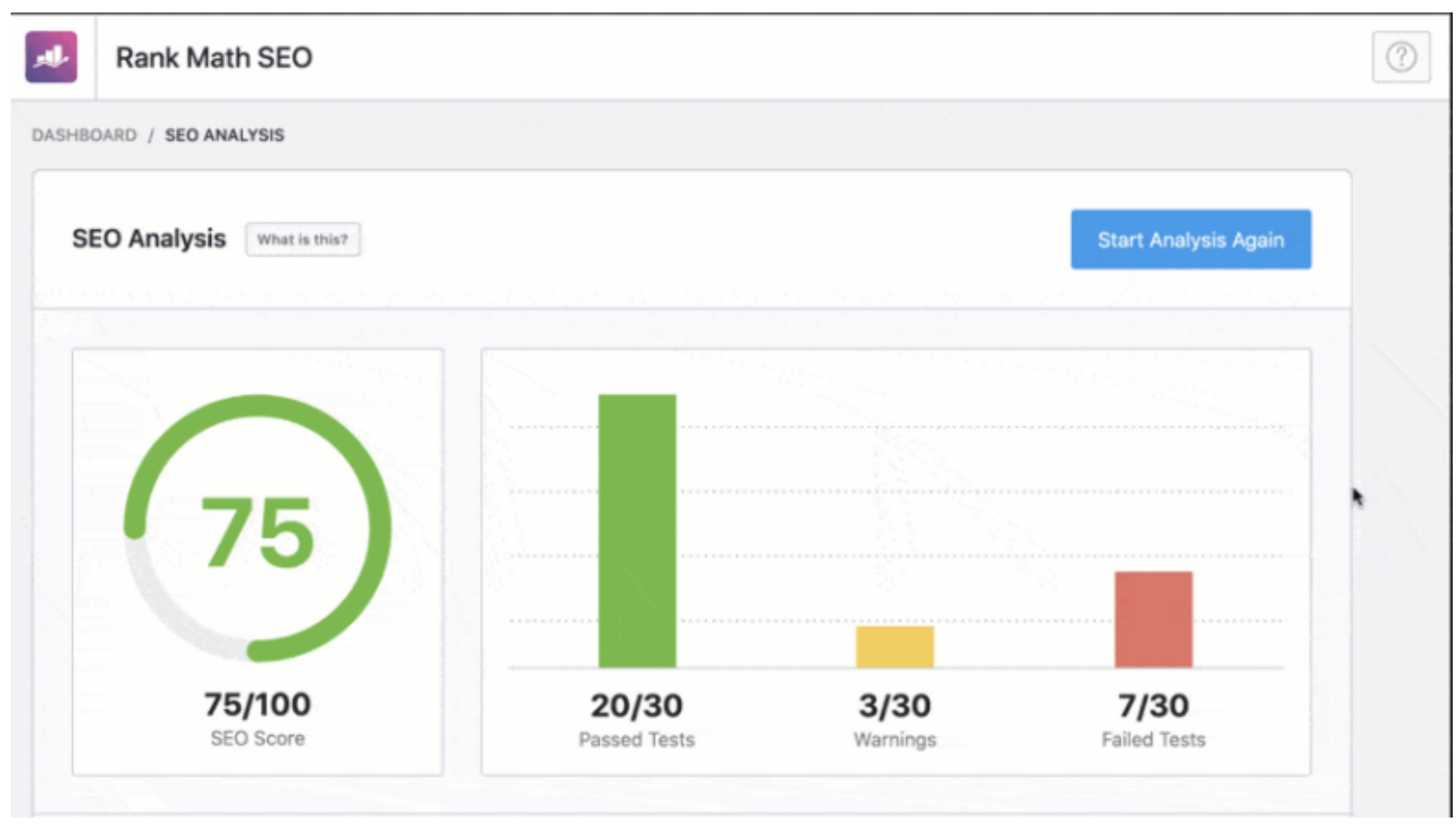 Rank Math vs. Yoast SEO — pricing
Originally, Rank Math was completely free, but now it also offers users the Pro, Business, and Agency versions. The free version, however, has not been reduced in any way. Instead, the paid versions offer additional enhancements. For example, the individual options differ in the number of keywords available for analysis or the number of free Content AI Credits.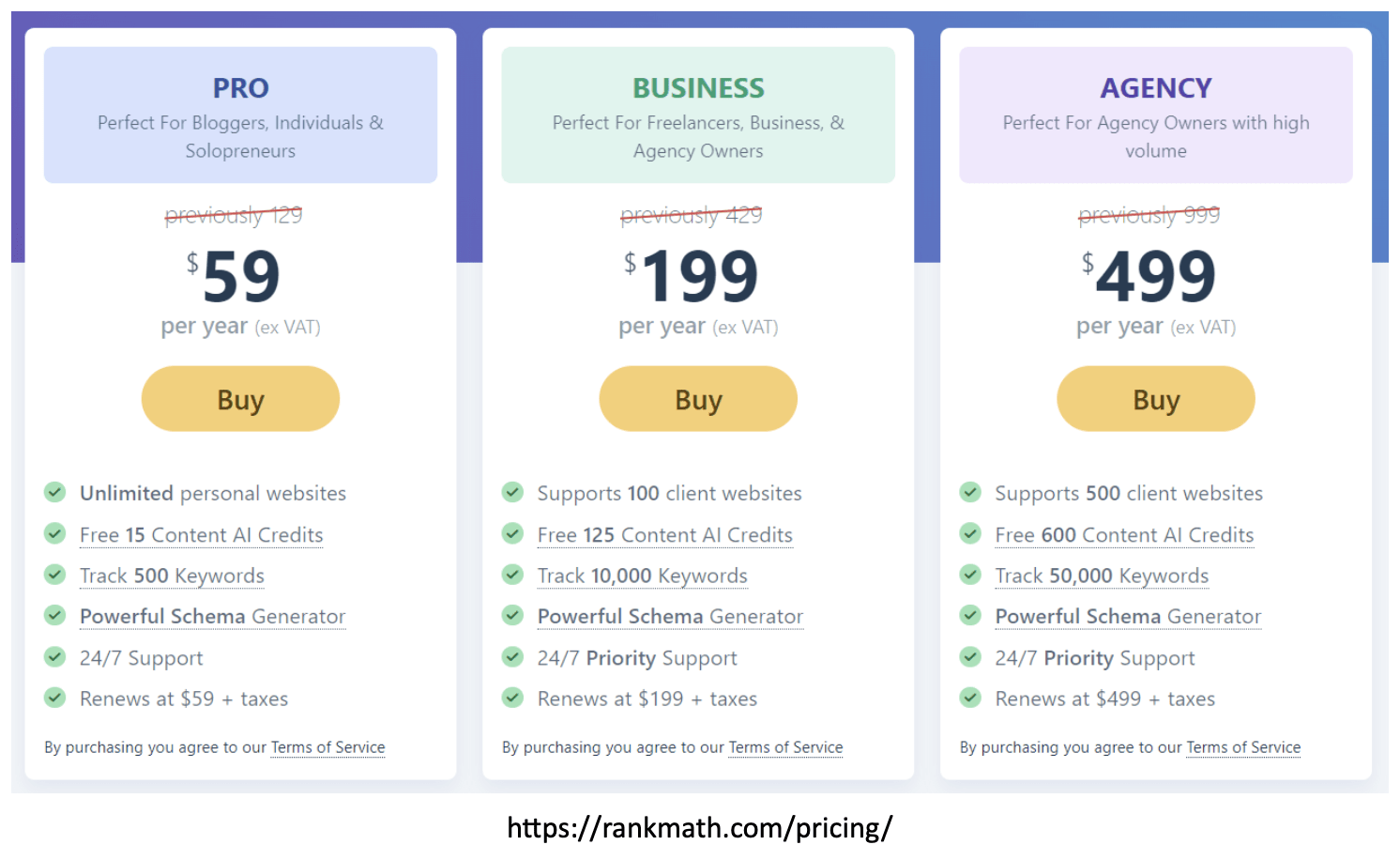 Yoast SEO is distributed in the freemium model – you pay to get access to all additional features. Unlike Rank Math, the most popular SEO plugin does not detail different pricing packages. However, premium access is fixed and is currently 99 EUR per year. You can also decide to purchase a package of five SEO plugins for better positioning of your website on Google.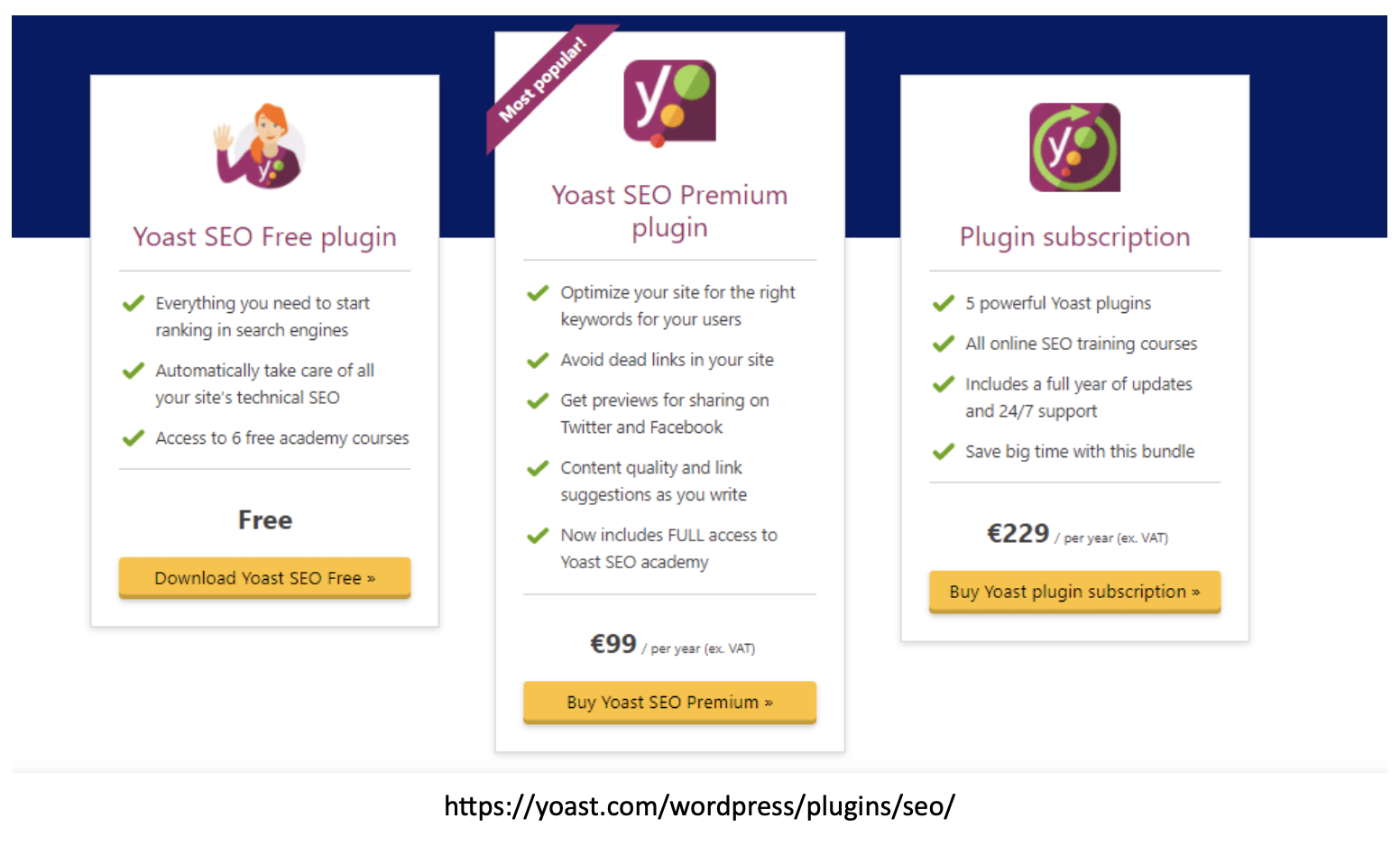 Rank Math vs. Yoast – a list of functions
Let's move on to the list of the most critical functions in both plugins. As we mentioned, Rank Math will provide many more free features than Yoast SEO. However, it is worth analyzing the most important differences to see if the additional options are necessary for the average WordPress user. Therefore, we provide a list of both plugins' best free features:
YOAST SEO – THE BEST FEATURES
There are many attractive features available in Yoast SEO. Here are some of the main features offered by the plugin:
Schema markup
Language support
Breadcrumb control
Advanced XML sitemaps
Access to free Yoast courses
Metadata description and title templates
RANK MATH – KEY FEATURES
RankMath proposes a longer list of complimentary features:
Integration with Google Analytics
Local SEO and image SEO
Multiple (up to five) keyword analysis
Redirect manager
Handling 404 errors
Recommendations for internal links when crafting content
External link counter
The only feature of Yoast SEO that is missing in the Rank Math is the ability to mark pages as "base", highlight important pages, optimize them, and add more internal links.
Summary
Ultimately, choosing between Rank Math or Yoast SEO should be all about what you value and what you are looking for in an SEO plugin. Rank Math is a reasonably clear winner in all three categories when it comes to features, interface, and prices. So from that perspective, Rank Math is probably the best choice for most people in 2022. On the other hand, Yoast SEO is still much more popular and widely used than Rank Math. If you still can't decide, take a look at our list of pros and cons:
RankMath & Yoast SEO – pros and cons
Rank Math
Self-explanatory and ergonomic user interface
Great feature package
Ability to import data from Yoast SEO
Further technical optimization
More keywords available in the free version
More detailed scoring system (0-100 point scale)
Unlimited use of multiple sites as part of premium packages
More free features than in Yoast SEO
Yoast SEO
Very intuitive and practical to start
Compatible with multisite ecosystem
Automatic creation of a sitemap
Quick technical SEO optimizations
Only one keyword in the free version
Less clear scoring system (green, yellow, red)
The premium option is available for just one site
Yoast SEO offers more editing options with meta field and sidebar options
So far, neither Yoast nor Rank Math supports all parameters relevant to Google's algorithms. For example, there is a lack of solutions for optimizing the page loading speed or the quality of incoming links. That means that you still need an expert eye to increase your SEO. However, it is good that there are plugin helpers to streamline your SEO efforts.
What can we do for you?
Talk to us about your project and let's start building it together!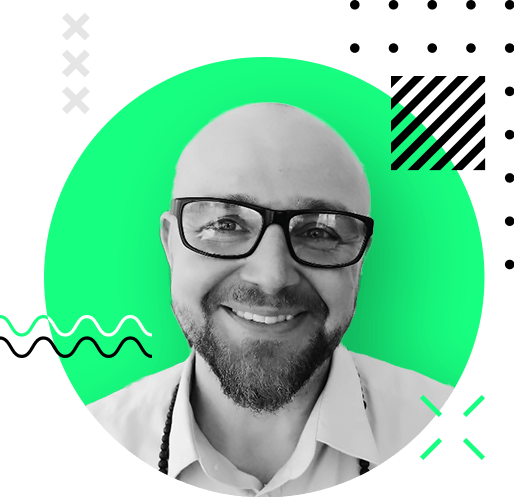 Błażej Dziuk
PROJECT ANALYST