Back to blog
10 questions to ask before deciding on a mobile app for your business
Since you're reading this article, your company is probably already present online, or you're planning to move your offer to the digital space soon. Most likely, you have built a website showing off your products or services. Great job! Don't forget that we live in a world where the mobile market thrives. In 2011 mobile phone internet usage accounted for 6% of global traffic. In 2022, it reached 55%. There are 6.3 billion smartphone users worldwide, so going mobile is your only choice. Think of how to do it smartly to ensure your product stands out from the sea of available applications. Before you dive into building an app, ask yourself some essential questions.
1) Do you understand what the mobile app is and how it works?
Back in the day, only desktops were used to visit websites. At the time, it was sufficient to have a static site, which didn't scale to different screen sizes. Then the mobile came, with its variety of devices, mouse-less navigations, and touchscreens, and the old-school website design proved too limiting. It simply didn't provide a good enough user experience for a mobile audience.
Since then, mobile websites and apps have become the prevalent tools used on the same type of devices. It's essential, however, to understand what differentiates them to make an educated decision about building an application. Both, mobile apps and websites, are accessible through tablets and smartphones, and they both adapt to screen sizes and layouts. You can access a mobile site via the browser, while the application needs to be uploaded from the online store, such as AppStore or Google Play. Basically, a mobile site is your usual website but adapted to different layouts. In contrast, a mobile app is a separate, locally stored program that uses the device's software and hardware to provide a service.
2) Is the mobile app the best solution for your business?
So, which one should you choose? It depends. The website is enough if you simply aim to show off the content on various devices. But if you're thinking about adding features and push notifications, if you want a fast-loading personalized solution that works well offline – a mobile app is your weapon of choice. Not to mention that almost 90% of smartphone usage is spent on apps rather than browsers, so that's where you should look for the audience.
Even with all the benefits of using an app listed, consider if building one fits your business goals. What do you hope to achieve when presenting this tool to the world? If your only motivation is to do as others do and you're afraid of being left in an app-less group, that's not a reason sufficient enough to invest in one. Applications only work for your company if they're well-considered, unique and most of all, used. So first, decide what you want to achieve – is it to attract new customers, deepen relations with existing ones, promote products, or maybe improve your brand's overall image? Think of the ultimate goal first and the way to reach it second.
There are significant advantages to building a mobile application. Take a look to judge for yourself whether an app could help your business grow:
Cultivated customer loyalty and engagement – Mobile apps are a perfect solution if you offer a service that requires regular use. With phone users accessing applications many times a day, the chances for constant interaction and recurring business opportunities increase. You can use loyalty programs and personalize offers freely, thus creating a connection with customers. Moreover, your brand remains on the customer's device, continuously reminding him about its offer.
Marketing programs and customer analytics – App users need to be proactive. They find out about the application, look for it, and install it because they're interested in your offer. Thus, they become valuable leads. Once they're hooked, it's up to you to turn an app into an effective marketing channel where you can interact directly and use push notifications to remind customers about product and service updates. It helps that data collection and analysis are super easy with this solution, so you can constantly monitor users' patterns and compare them with your business' performance on other platforms.
Seamless online shopping experience – Mobile commerce is on the rise. In fact, 35% of US consumers use only their mobile devices to make a purchase. Shopping becomes much easier with an app. Instead of browsing through the never-ending list of websites, a client can buy products with one click using a program that permanently saves his payment info, account data, and purchasing preferences. And he can do it on any of his devices whenever and wherever he wishes to. That's an unparalleled level of convenience topped with user-friendliness right there. The bottom line is that conversion rates from mobile apps are three times higher than for mobile websites, which is a statistic to keep in mind.
Generated revenue – Of course, you can decide to offer paid mobile applications, and that is a source of income in itself. But indeed, all the aspects discussed so far add up to better financial results for your company.
3) Do you have an online presence and customer base that's strong enough to support the use of an app?
You're probably getting more convinced now that the app is the way to go, but consider other important factors that will influence the success of your offer. Let's establish the basics first. Do you have a company that operates solely face-to-face? I assume that's not the case, but let's make it abundantly clear – if you're not on the Internet, you don't need an app.
If, however, you have already established your company's presence online, ensure that the website matches the envisaged app's offer and design. Remember that an application is just one of the elements of the customer journey, so everything you put on the Internet should look coherent. Then, consider whether your audience uses (or can potentially use) mobile devices and if the functionality you want to provide can be supported with this solution. If the answer is yes, move on to the next question.
4) What is your presence on social media?
Mobile space is full of connected platforms and channels. Social media users are very active on mobile and often become app customers. Think about how your company utilizes Facebook, Twitter, or Instagram to support everyday business activities and how you can turn these channels into marketing tools promoting the application. It's important, however, to also ensure that the two channels differ from one another when it comes to offered functionalities. Copying your Facebook profile and moving it to the app is money down the drain.
5) What are the competitors doing?
There are millions of apps already available to download. There are probably thousands that support companies in your business sector. It's always a good idea to check which services you compete against. Research the competition's user reviews, download numbers, and other statistics from the app store. Use the insights to adapt your strategy. If you're operating in a unique niche where similar companies don't have mobile applications, don't take it as a sign that you shouldn't invest in one either. On the contrary, why not stand out from the crowd and become a pioneer?
6) What are the app's goals and audience?
Why do you want to do this? – it would be one of the first questions to ask. Only with a clear goal in mind can you think of the right tool and design to make the application successful. For example, do you want to facilitate the shopping experience, create a game or a platform to find and share information? What is different from the service already available through your website? And whose needs do you have to meet? Define your audience as early on as possible. User personas can help map out the target group and ideal customer's mood, behavior, expectations, and concerns, influencing your app's features and overall design.
7) What is the app's unique value?
It's tempting to guess what the customers' needs are, but instead of limiting your findings to brainstorming results, get out there and ask people about their pain points. Only the app that is a necessity, rather than a nice little addition that users forget about in five minutes, has a chance to succeed. That is why the application cannot be a simple mirror image of the website; it needs to provide more: for example, sale notifications, customized shopping experience, location tracking, online banking, image sharing options, or, nowadays also, customer recognition in a physical space.
8) Is there a market for this app?
The questions asked so far led us to this: Is there a chance for your app to succeed in the sea of other, often very similar programs? Did you manage to define a large enough target audience that uses mobile devices daily, with clearly established needs and problems that you can solve efficiently and uniquely? If the answer is yes, there is one more crucial issue to consider.
9) Can you afford it?
The amount you spend depends solely on your requirements. You can create a program with one of the available cheap app builders. But suppose you invest in a more flexible, unique, customized solution. In that case, the prices vary from several thousand to a hundred thousand dollars (or more), depending on how complex the product is. The final price is influenced by added features, the complexity of the custom design, as well as developers' fees, their expertise, and whether the technical team is on or offshore based.
After the app delivery comes the maintenance, an ongoing process you must set aside the money for every year. That's why it's crucial to establish how you will ensure the app's ROI first. We don't mean to discourage you. The numbers speak for themselves, and the mobile app market is booming, so by all means, if you can – invest in this solution, but do it smartly to reap the benefits of what you develop.
10) Ready for an app?
This last question is a bit perverse because it opens up a way to new ones. So, are you ready for an app? If the decision was made and you're up to investing your resources in application development, here are some further issues to consider before you get into the nitty-gritty of the design:
Which platform should you use?
The answer is not easy. All the platforms have pros and cons, and it's hard to say which of the two most popular options (Google Play and App Store) you should start from. Android has a bigger market share, but Apple's store is in the lead regarding app revenues.
You should consider which of the systems is more popular in your target markets (that's the US, Australia, Japan, and Western Europe for iOS and Eastern Europe, China, India, and Central America for Android) and what is the users' education and age. Compare system-specific designs, code languages, testing options, and security requirements. When in doubt, ask your developer for advice. The best option is to publish the app on both platforms to cover the ground.
You must also decide whether to build a cross-platform or a native app. The latter is designed exclusively for a particular platform and takes advantage of the phone's services, resources, and hardware. In Develtio, we can provide you with a team that can build iOS and Android native apps in parallel. And, what's best, we use one codebase for both platforms, which means a lightning-fast development time.
What is the app's scope?
Think carefully of the stack of necessary features. The app doesn't need to do everything – it's built around certain functionalities, and facilitating those will define the scope of your program. For example, you don't need e-commerce integrations if you don't sell any products; neither is geolocation always crucial to the user's journey. Don't try to needlessly pack the application with features that will never be used.
How often will you update the application?
App developers' job is never done. You will need to upgrade the application, add new features and send various information regularly. Timing of some updates dedicated by, for example, new regulations, is imposed, but you can try and schedule other changes according to how you envisage the app's development. One thing is sure – if you want to keep users engaged, your product needs to evolve constantly.
How to make the app profitable?
Everything you do with the app makes up for its profitability – the design, innovations, and impeccable functionality. So does the monetization strategy. You can choose to sell the app directly, but for that to work, you need a truly unique and attractive product. If you can spare some time waiting for the income to start flowing, you can consider indirect sales and in-app purchases (where the download is free, but the user needs to pay for advertising, freemium upsell, or sponsorship). It's easier to convince customers to the latter solution, but the money doesn't always follow when this model is used (or follows with a delay). In any case, what you will definitely need is a solid marketing campaign to promote the app, performed on all available channels you can think of.
Conclusion
Building a mobile app is not a project to be taken lightly. It requires time and resources to develop a unique, sellable idea and a lot of thought put into the design. So weigh the pros and cons and think carefully about whether you really need an application and what it should look like. However, keep in mind the advantages that entering the mobile app world brings to your business. And, as you saw, there are many. If, in the end, you decide that this solution is for you, contact specialists like us at Develtio. We'll be happy to help you design and develop an awesome mobile app, or we can discuss an alternative: the progressive web app (PWA), which you can read about
here and here.
What can we do for you?
Talk to us about your project and let's start building it together!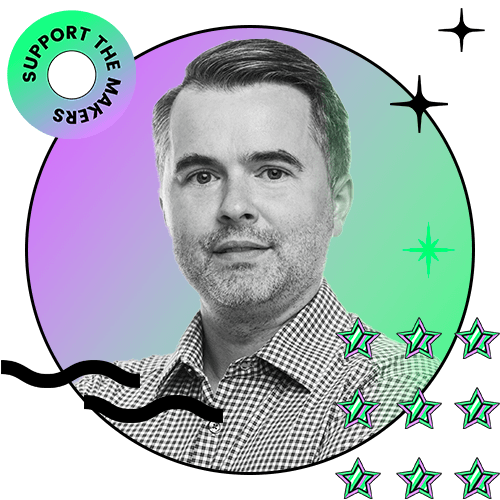 Maciej Kopczyński
Managing Partner, Develtio