No matter if you are a new small business owner, influencer, NGO, or maybe you have an up and running e-commerce activity, at some point you will want to establish or increase your online presence. It's time to build a website. If you shiver at the thought of writing the necessary code from scratch, worry no more! You can now create a website without knowing how to code – the system will do it for you. In this article, we will compare different solutions you can use to create and manage your site. The choice of the right tool for you depends on what you plan to do with it.
What is a CMS (Content Management System)?
In short, a content management system (CMS) is a computer software that helps users create, manage, edit, collaborate on, store and modify content. You may have noticed that there are many functionalities for one system to cover, yet CMS supports them all, and efficiently. The most significant advantage of the CMS is that it allows non-developers to manage content, add features and customise their own websites. (You need to keep in mind that there are limitations to what you can do without coding knowledge if you want to get into more advanced designing or web page altering). Another significant benefit of the content management system is its collaborative nature. CMS can be accessed from anywhere by multiple users working simultaneously on content production or website customising. 
Here are the standard features of the CMS:
Content creation

Content management

Content storage

Publishing
Some content management systems support a specific type of site (for example blogs). But others, like WordPress, can be adapted to all kinds of content, from online courses to blogs, membership sites, ecommerce stores, or podcasts.
CMS vs. website builder
You may have heard about website builders being the most accessible tools to create your web pages. The terms website builders and content management system are sometimes used interchangeably. Still, it's essential to realise that they are not the same thing, although both can help develop excellent quality Internet sites. So, what are their differences, and why should they matter to you?
Even if you are a beginner in content and website creating, you can easily manage CMS with a pre-built framework and pre-designed templates. But, thanks to the open access to the underlying code, the system can be tweaked according to your preferences, giving you an extensive range of scalability and a variety of features to add. However, for in-depth customisation, you will need someone who knows how to work with the system's code and functionalities. 
If you're looking for a more straightforward solution, you can use pre-built templates provided by website builders. Then, with a few 'drags-and-drops', you can have a simple Internet site up and running in no time. But there is a catch – if your business grows over time, you may notice that builders don't provide enough features and customisations options, which may hinder the scalability of your site. 
How do you create a website in CMS and the website builder?
CMS
Pick a platform
Select domain name
Select hosting
Install the CMS
Customise the design (templates/ themes)
Set up CMS (add plugins, create navigation, add SEO settings, set up security, etc.)
Start creating content
Website builder
Choose the builder
Create an account
Choose or add your domain
Choose your subscription
Choose a design template
Fill in the SEO settings (add extensions)
Start creating content
As you can see, there are pros and cons to every solution. Let's have a closer look at them. 
We will use examples of CMS and website builders for comparison and answer the following questions:
What types of sites can you build with each of them?

How do you design your website?

How can you extend the site's functionality using CMS or website builders?
We will also make a comparison of WordPress, Wix, and Squarespace focused on ease of use, pricing, available features, SEO solutions, and support options.
Be aware of the difference between wordpress.com and wordpress.org. Both use the same software, but wordpress.com is hosted for you and thus operates as a website builder.
WordPress.org is a self-hosting CMS, which means that you need to source web hosting, but in return, you have unlimited options to customise and scale your website. In this article, we will consider the characteristics of wordpress.org.
Wix vs. WordPress
Wix – who is it for?
With 200 million users registered in 190 countries in 2021, Wix became one of the most famous website builders. What makes this tool so popular is its ease of use, design flexibility, and impressive number of available features. Wix is a good solution for creators of small and new business sites, portfolios, light e-commerce stores, membership pages, or online courses.
Wix – how does it work?
Wix is a hosted solution, which means that the builder hosts the website in-house and is responsible for its maintenance. When designing web pages, you can choose from one of the 800 ready-made professionally designed templates categorised by type. Importantly, they are mobile responsive, which means that they adjust automatically to different screen sizes (phones, tablets, etc.). After choosing the template, you use an intuitive drag-and-drop editor to customise a page, add pictures and text boxes, edit fonts and colours. Alternatively, you can let the Wix Artificial Intelligence tool create websites for you. Once saved, however, the template cannot be changed.
Wix – how can you extend website's functionality?
Among many other features, Wix offers the one to build an online store. You can choose between the three provided e-commerce plans, all with access to over 50 different payment gateways. In addition, to enhance the tool helping you track orders, payments, and shipping, you can create an app for your store. Availability of the Wix app market feature is one of the main advantages brought to users who decide to choose this website builder. It provides hundreds of free and paid extensions and integrations in all categories you may need – be it e-commerce, social media, or business development. 
No tool is without its flaws, however.
WordPress – how does it work?
At first look, WordPress may be slightly more intimidating than Wix, but it has many advantages. First of all, as a self-hosting platform, it gives you complete control and responsibility for every element of your website. That means that scalability and flexibility in customising WordPress websites have no limits. Moreover, you can switch the template any time you want without losing content. This is especially important if your business is growing, and you need to change the look and functionalities of the web pages you built over time. 
WordPress – who is it for?
You may need to spend a little more time ensuring that your web page looks good, but a large number of WordPress themes (templates) will allow you to design and adjust the layout of your website with a click of a button. An incredible offer of more than 11.000 free and premium themes is available to customers, most of them mobile-ready. Of course, WordPress gained its popularity as a blogging platform. Still, with the unlimited customising options, it can support all sorts of websites, from e-commerce to business, e-learning, membership, or event web pages. Flexibility and scalability are why we in Develtio chose to provide tailored WordPress development services.

WordPress – how can you extend website's functionality?
On top of that, thanks to WordPress plugin options, you can add any features and functionalities whenever you want. Plugins are the bits of software that you can upload to your website to add more features. There are hundreds of them available on the wordpress.org plugin directory. Those dedicated to SEO, customer support, and blogging are some of the most powerful and distinctive for this particular type of CMS. In addition, a scalable e-commerce functionality takes in the case of WordPress the form of a specific plugin called WooCommerce. You can find more information on WooCommerce in this article.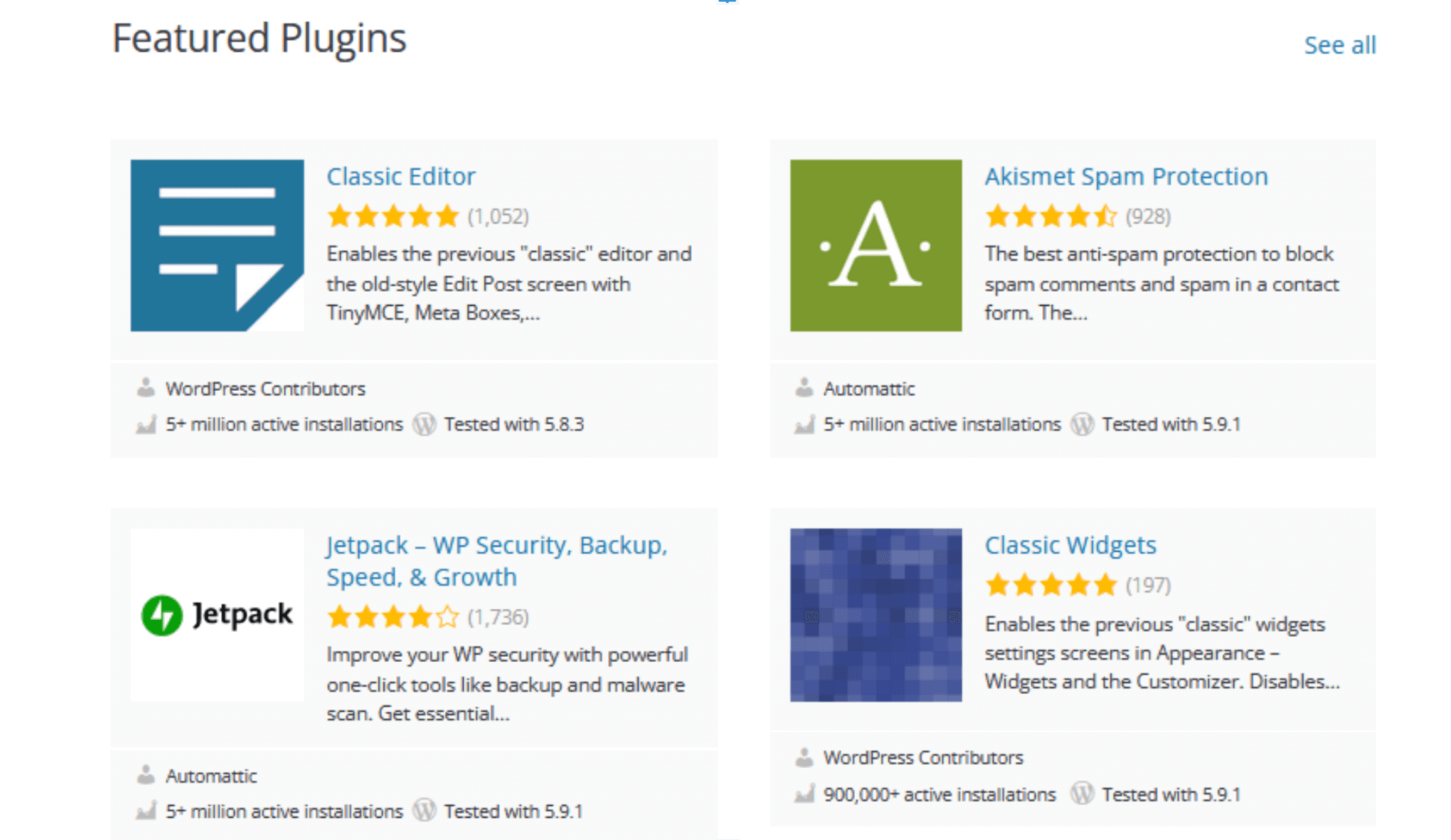 Wix and Squarespace
Squarespace – who is it for?
Like Wix, Squarespace is a very user-friendly website builder, which stands out on the market thanks to the offer of the best quality templates with impressive visuals and tasteful font choices. Words like 'best looking,' 'beautiful interface' or 'sophisticated platform' are often used to describe this tool. That's why it's perfect for bloggers, photography studios, travellers, or restaurant owners. Compared to Wix, it offers a limited number of themes (100) to choose from, but they are all of guaranteed high quality. Moreover, Squarespace has a potent style editor, which can customise hundreds of style options.
Squarespace – how does it work?
As in the case of Wix, it is a hosted environment, meaning that you as a business owner do not have control over the Squarespace site, which limits your ability to make changes. However, this website builder is extremely easy to use – all you need is to choose a template. After that, you can move the content around and add pre-made sections by dragging-and-dropping.
Squarespace – how can you extend website's functionality?
Plugins, add-ons, or apps take the form of the so-called extensions available for purchase in the Squarespace extension market. They are a collection of third-party tools used to enhance the website, and they connect Squarespace with other platforms, thus supporting the customers with shipping, selling, and marketing of products. In comparison with Wix, the market offer is small (29 apps). The platform, however, also offers its own built-in integrations for external services, such as social accounts, domains, marketing, or ordering tools; some included in subscriptions, others requiring additional payments.
Wix vs. Squarespace – pricing 
The substantial difference between Wix and Squarespace lies in pricing. Wix is known for its free plan giving you 100s of templates, unlimited pages, and hosting. If you need access to more advanced features, you have to choose one of the premium plans. Be cautious that prices for Premium Plans may differ depending on your geographic location. Below are the prices of the premium plans available in Poland:

Squarespace doesn't provide any free plan, only a 14-day free trial. After that using the Squarespace website is getting quite costly, from $14/month for a personal plan to $49/ month for the advanced commerce solution.
WordPress or Squarespace?
The comparison between WordPress and Squarespace in many aspects is similar to that of WordPress vs. Wix. In both cases, WordPress has a steeper learning curve and is slightly more challenging to use. Squarespace is said to have a more functional drag-and-drop editor, while WordPress block-based editing tool is less intuitive and can be frustrating since it doesn't allow for seeing the live website preview while the content on a page is created. Fortunately, WordPress offers plugins like Divi or Elementor that offer drag-and-drop functions similar to those of a Squarespace editor. The significant advantage of Squarespace is the visual superiority of available themes included in every pricing plan. 
WordPress provides much more flexibility in terms of website building and customising. You can create web pages from scratch and endlessly play with coding, styling, and layout changes without any harmful effect on the already created content. Build your own blocks within the page editor or customise WordPress templates – Squarespace won't give you the opportunity to get this creative. WordPress's biggest strength lies in the already mentioned huge choice of plugins – incomparable to a very limited offer of both described website builders. 
When it comes to WordPress costs, you will be happy to hear that this tool is technically free, as wordpress.org is an open-source platform, which doesn't charge for using it. Setting a WordPress website, however, comes with unavoidable charges, such as web hosting, the domain name, and additional costs if you plan to run ads and purchase premium design templates.
WordPress vs. Wix vs. Squarespace – conclusion
Before you decide which platform best responds to your needs, let's have a quick look at the comparison of main features and building elements of WordPress, Wix, and Squarespace.
| | Wix | Squarespace | WordPress |
| --- | --- | --- | --- |
| Ease of use | Intuitive and easy drag-and-drop feature, with an AI design option | Slightly more complex than Wix, section based drag-and-drop feature | More complicated block-based feature, but with plugins available to give it a drag-and-drop functionality. Advanced actions require some coding knowledge |
| Available features | 800 + templates, a vast array of design features and media galleries. Over 250+ apps available. | Tools and features not as extensive, although visually superior. Very limited offer of the extension (app) market | You need to download plugins, but there are more than 50.000 to choose from. And you can choose from 11.000 plus themes. |
| Search engine optimization (SEO) solution | Built-in SEO tool, easy to use, but doesn't offer keyword support. | Built-in SEO tool, doesn't provide SEO prompts and personalised suggestions. | Powerful tool (Yoast) used by over 5 million websites, accompanied by great features, such as editing metadata or internal linking suggestions. Many other SEO plugins available. |
| Support options | 24/7 call back support, live chat, social media and knowledge centre. | You can use a forum, knowledge centre, live chat, social media or 24/7 email support. | It's an open source software and, as such doesn't provide a dedicated support, but you can rely on the huge online community for advice. |
| Pricing | Pricing depends on your localisation. | $14 – $49/ month, everything included in one package. | Free platform set up. Themes, plugins and hosting are each paid for separately. |
As you can see, it's not easy to declare which platform is a clear winner and should be recommended to your and other companies – they all respond to different particular requirements. Ultimately, only you can decide what is most suitable for your business plans and needs. If you are a beginner in website building and want to set up web pages quickly and easily, you may want to try Wix. If you are in a creative business, and visuals are crucial for your development – Squarespace will be your choice. For e-commerce, turn to WordPress – it offers an incredibly scalable WooCommerce plugin for free. 
In general, think of whether you will want your business activity to grow over time. I assume that this is the case. When it happens, you will want to expand and enrich your website, add pages, change layout and design. With its flexible, fully controlled website, a vast array of plugins, and unlimited customising options, WordPress is the best choice for companies looking to scale. While this article tried to present the main differences between Wix, Squarespace, and WordPress, many more features and aspects of each platform could be discussed. For more information on WordPress, contact Develtio team.
What can we do for you?
Talk to us about your project and let's start building it together!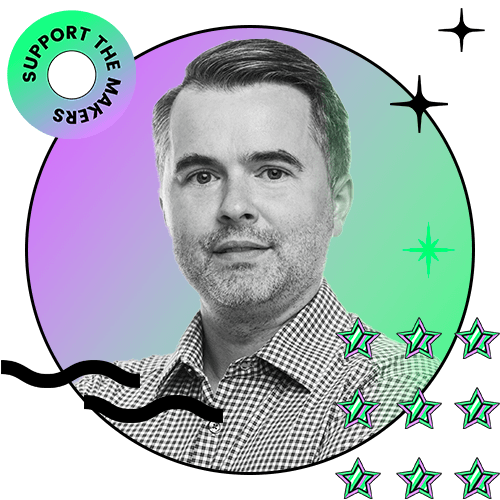 Maciej Kopczyński
Managing Partner, Develtio