Back to blog
WordPress CRM Integrations – Plugins, Tips & Tricks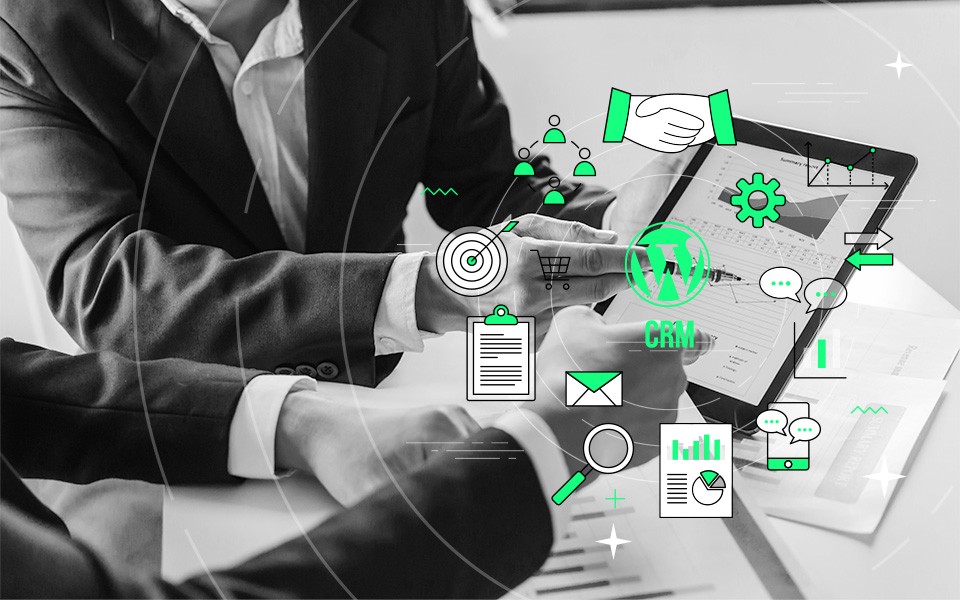 Using Customer Relationship Management software nowadays is no longer an option; it is a must, especially for any customer-centric company. And while there are many standalone solutions available on the market, it is always better to consider embedding CRM functionality directly into the website. And this can be easily achieved when your site runs on WordPress. Several WordPress CRM plugins can give you exactly that – enhance your website with tools to successfully manage your interactions with the clients. In the article below we will discuss the benefits of WordPress CRM integration and review some of the most popular CRM plugins for WordPress. Read on!
What is a CRM? A quick recap
Before we delve into the vast world of CRM WordPress plugins, let's quickly summarize the crucial characteristics of Customer Relationship Management software. There are several features that any good CRM tool should have:
clients contact management
ability to track interactions with current and potential customers
workflow automation
lead management
sales performance management
meetings scheduling and reminders
third-party integration with e.g., email clients, Point of Sale systems, and cloud storage services
The list can go on and on, as there are plenty of other things that a good CRM tool can do to manage every single aspect of business relations with the clients. The CRM software has long become so much more than a digital version of a business cardholder.
Why integrate CRM with WordPress?
In short – because it works well and costs less. The majority of standalone CRM solutions – such as Salesforce and Agile CRM – are pricey, and even if they offer a free version, it is usually stripped of some of the most useful features. With WordPress CRM integration it is not an issue. Plenty of free plugins are fully functional, so you can find the one that suits best the requirements of your business and customize it further with affordable add-ons if needed. If you feel more confident with comprehensive paid solutions, there are premium CRM WordPress plugins at your disposal as well.
There is much more to WordPress CRM than meets the eye… of your accountant. Using CRM WordPress plugins allows you to keep things centralized – every aspect of managing the client relations (including the contacts integrated with your website) can be effectively managed from the comfort of your good ol' WordPress dashboard.
And last but not least, let's not forget about the benefits that using WordPress CRM brings to your team. Chances are they all already know how to use the WP dashboard. With CRM WordPress plugins they will find themselves in a familiar environment, so they can start managing your clients' details straight away.
Best CRM WordPress plugins – our picks
Without proper prior research, it is rather difficult to get things right the first time. And that is why we have selected some of the most popular and best-rated CRM WordPress plugins to help you make an informed decision.
Reasonably lightweight yet brimming with features and will not cost you a fortune. Unlike many other commercial plugins, WP-CRM System allows you to store an unlimited number of contacts with no additional fee. You can use it for free, but with the paid version you get additional support, updates for your website(s), and a package of premium extensions, subject to the chosen subscription plan.
With WordPress CRM Plugin you get:
easy-to-use contact management system with unlimited entries allowed in the database
essential project management and marketing tracking tools included in the core plugin
customized clients' data fields to highlight the information that matters the most
seamless integration with external solutions, e.g., Slack, Zapier, Zendesk, or Gravity Forms
ability to import/export large CSV files and move them between different CRMs
Useful tip: you can create a new contact from the existing user account on your site with just one click. The plugin will automatically ingest the required data and generate a new entry!
One outstanding feature of the WP-CRM System is that it is not hosted on the developer's server. You host it yourself, therefore you are not charged additionally for the service, and you get to keep complete control over your data.
Who should consider using the WP-CRM System?
If you are on a budget, it would be difficult to find anything better than this. The core plugin is packed with features, and you can further enhance it with premium extensions of your choice. You pay only for the functionalities you want.
But it is not only about affordability. Users of the WordPress CRM Plugin enjoy its exceptionally clean and simple interface. And the plugin itself offers unmatched flexibility and openness to third-party solutions that can be easily integrated to further enhance the process of managing the customers' relations.
A real powerhouse in the world of marketing tools software, HubSpot has created this plugin to ensure flawless integration of your WordPress website with free HubSpot CRM. This is one of the most feature-rich packages in the market:
comes with an incorporated form builder that automatically syncs your guests' submissions with the CRM. It is also fully compatible with other form tools like Ninja Forms or Gravity Forms
live chats and chatbots available as a client support option; all interactions are automatically logged into CRM
all communication events with clients are logged in and updated in real-time; customer profiles are updated automatically and the feedback on users' actions on your website is instantly available
highly customizable email marketing tool, automated emails with configurable conditional triggers
equipped with varied in-depth analytical tools for tracking the efficiency of customer interactions
open to smooth integration with a plethora of external solutions, e.g., Salesforce, WooCommerce, Zapier, Instagram, Facebook, Gmail, Zoom, and many more

Useful tip: you can use a remarkably simple and intuitive drag and drop builder for your form designs, no coding knowledge is required!
HubSpot can be used free of charge, but it starts to shine only with paid functionality. Lead scoring, CTAs, landing pages, campaign reporting, and SEO tools, among others, are included exclusively in paid plans. Additionally, only the first 1000 marketing contacts are complimentary, and the number of emails to be sent is also heavily capped.
Who should consider using HubSpot?
Given the abundance of features, smooth execution, and user-friendly nature, HubSpot remains one of the best-rated and most popular WordPress CRM software on the market. It is not for everyone though –smaller, emerging businesses will find HubSpot a rather pricey tool, especially if they want to use certain features or go drastically over a modest limit of marketing contacts/emails. There are just other more affordable marketing email solutions out there. But the companies that can afford to look past the steep pricing plans, may find HubSpot the most comprehensive and effective CRM solution available for their needs.
Another WordPress CRM plugin that makes managing client relations directly from your WP dashboard a breeze. ERP stands for Enterprise Resource Planning and the CRM makes for only one of three included modules – the other two being HR and Accounting. All the core modules are available for free and there are no limits on marketing contacts or emails, which makes WP ERP a viable option even for bigger organizations. Sounds interesting? There is even more:
beginner-friendly installation process and intuitive UX design
wide variety of features available for creating contact groups and handling the customer lifecycle
advanced contact search and filtering options with the use of keywords and client attributes
detailed CRM activity reports
extendable accounting and HR modules
premium integration with Gravity Forms, MailChimp, Zendesk, WooCommerce, and many other external solutions

Useful tip: the built-in payment collection component supports as many as 40+ currencies!
With WP ERP you do not need to spend anything, and you still get a lot in return. There are paid extensions available, but these are aimed more toward specific business needs rather than average users. You can also opt for a paid PRO version, which will grant you access to premium extensions, payment gateways, and a priority support system.
Who should consider using WP ERP?
With the inclusion of additional modules, WP ERP looks like a solid alternative for any company, big or small. You can use it not only to manage your client relations but also your employees, budget, locations, and other company information. Its built-in accounting module can successfully replace any other third-party accounting system, helping you to cut down on expenses. This alone makes WP ERP one of the best choices from a financial point of view.
Whenever a discussion about the best CRM solutions takes place, Salesforce will eventually get thrown in the mix. This is the most widely known CRM out there, and for a good reason. This expensive SaaS is packed with features, is easily customizable and scalable, and its rich ecosystem of cloud apps is second to none.
The Web-to-Lead for Salesforce plugin has been created with one objective in mind – to automate the process of gathering leads from a WordPress website and feeding them to the Salesforce CRM account:
removes the need for copying and pasting data from the WP website to Salesforce CRM
allows you to place a contact form anywhere on the site

Useful tip: you can use a built-in widget to insert the form directly into the sidebar!
Let's make it clear – Web-to-Lead for Salesforce is not the most sophisticated plugin around. It does its job and practically nothing else. But it will save you a lot of time on manual exports to Salesforce CRM.
If your company is already paying for one of the Salesforce plans, then this should be an apparent choice. Though as brilliant and well-executed Salesforce CRM may be, it is also a very expensive service with a steep learning curve. Salesforce definitely is not ideal for small businesses on the budget, as there are plenty of other and more affordable solutions out there.
Conclusion
No CRM tool will do its job properly if it is not fed with detailed and up-to-date information. On the face of it, WordPress CRM integration does exactly that – allows for customer data gathered on the website to be instantly ingested into CRM. But now WordPress CRM plugins are so much more. They have become a serious and viable alternative to standalone CRM solutions. Whether you are on a budget or looking for premium service with no compromises, you will surely find something tailored exactly for you.
What can we do for you?
Talk to us about your project and let's start building it together!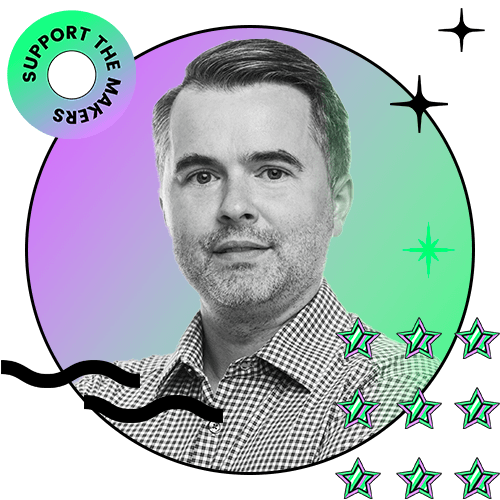 Maciej Kopczyński
Managing Partner, Develtio