Back to blog
Best WordPress HRM Plugins for Employee Management
One of the main reasons we love WordPress so much is its flexibility. Thanks to its open structure and ongoing support from a massive global community, WordPress has long become more than just a CMS and a site-builder. With thousands of user-made plugins, the platform's functionality can be extended in almost any way imaginable. Today we want to look at how WordPress can be utilized in Human Resources and Employee management. Your company data, resources, salaries, and attendance – all this and more can be looked after from a single place: your WP dashboard. Read on to learn about the best WordPress HRM plugins for Employee Management.
WordPress HRM Plugins – an alternative to standalone HR software
We've all seen that – the more any company expands, the more tools are needed to manage the growing base of clients, employees, and resources. In the beginning, all it usually takes is just a few Excel spreadsheets and an email client. With time, other software platforms are introduced to manage various aspects of day-to-day operations. At a certain point, managers and employees find themselves using several applications simultaneously, each in a separate window with a different user interface. And herein lies the main advantage of WordPress HRM plugins over standalone software – you can streamline the management process by using your WP dashboard as a focal point for various operations.
In this article, we look specifically at HRM functionality. Still, some plugins offer an all-in-one experience with, e.g., CRM and Accounting modules included, which makes them a viable replacement for several software platforms at once.
From a financial perspective, plugins often come in free versions; their more advanced features are available only in Pro/Premium plans. Creators of standalone HRM software usually offer fully functional albeit time-limited trials with no free option afterward.
Best WordPress HRM Plugins – our picks
We've come up with this list to give you a brief overview of carefully chosen WordPress HRM plugins that can fundamentally change your Employee Management operations. These plugins may vary regarding certain advanced features, but the core functionality is practically identical across. Whichever plugin you choose, you'd always get:
Separate Employee profiles
Holidays and leaves management
Attendance monitoring
Notifications
Let's now look at our selection of the best WordPress HRM plugins for Employee Management.

We start with the WP plugin equivalent of the Swiss Army knife. Even though the name suggests Enterprise Resource Planning as its primary objective, WP ERP is so much more. It can be used as a comprehensive CRM solution, Project Management tool, Accounting platform, and a brilliant HRM module. WP ERP is free to use, but it really starts to shine with the addition of premium extensions. For many, even the free version will be more than enough with all the features listed below:
Manage all company information
Manage locations
Add & list departments & designations
Create employee profiles with editing privilege
Share announcements
Manage holidays
Allow employees to request leave
Manage employee leaves & leave policies
Create reports based on employee age, gender, salary, etc.
If you need more, the premium extensions give you access to Payroll, Attendance, Assets, Recruitment, and Advanced Leave management, as well as SMS Notifications and an HR training platform. We strongly recommend WP ERP as this list's most comprehensive and user-friendly WordPress HRM plugin.

Another feature-rich entry on our list, Business Manager, combines ERP, HR, and Project Management in one package. It's available free of charge with an option to expand its functionality with paid extensions. The HRM module of the Business Manager plugin allows users to:
Manage and store employees' contact details, along with information on status, job title, employment start/finish date, etc.
Keep all relevant files and documents (e.g., contracts, CVs, applications, etc.) attached directly to the employee's profile.
Approve and deny leave requests submitted by the staff through their BM accounts
Create and run performance reviews with detailed breakdowns and a rating system
You can further expand the plugin's functionality with any of the three paid extensions:
Asset Manager – for tracking assets, their purchase date, price, location, etc.
Contractors – track personal and employment information for each of your company's contract workers.
Custom Fields – Add preferred custom fields to Employees, Projects, Clients, or Documents.
Business Manager is a solid alternative to WP ERP, especially if you're in the market for a complete business suite with Project Management functionality.

Unlike the two comprehensive packages mentioned above, WP-HR Manager is focused solely on the HRM aspect of running a company. Created with small and medium businesses in mind, this WordPress HRM plugin enables you to:
Record and manage employee HR information via any web browser
Implement an employee self-service portal, particularly handy for remote workers
Keep employment and attendance records in an external location in accordance with GDPR
All expected HRM functionalities are included in the free version of the plugin, while with paid extensions, you additionally get:
Advanced Attendance Monitoring with mobile check-in option for your employees
Complete Recruitment Process management
Tools for managing GDPR compliance issues
SMS messaging and more
Even with all premium extensions added, WP-HR Manager makes for a very affordable alternative to standalone HRM software. The price for addons is set and does not depend on the number of employees. The developers constantly add new functionalities to an already impressive list that goes far beyond the scope of this article. If you're not interested in all-in-one business packages, WP-HR Manager can be the ultimate answer to all your WordPress HRM plugin needs.

If it's only the core HRM functionalities you're after, the Innovs HR may suit you just fine. It's completely free with no optional extensions available. Simple to use, cleverly coded, it just does what it says on the tin:
Employee records management – contact details, department, and team designation data
Leave management – entitlements, policies, requests
Attendance Management – Employee Self Check-In & Check-Out
Work Anniversary and Birthday Announcements
Innovs HR may not be the best available pick for more prominent companies, but its clean user interface and seamless integration with the WordPress dashboard may be enough for many business owners to give it a try.

Let's start with a disclaimer – the plugin hasn't been tested with the latest three releases of WordPress, so if you're using a recent version of WP (and by the way, you definitely
should!), it's possible you may experience some compatibility issues. We've decided to include the WP HRM anyway, as it still works well and offers quite an extensive list of features completely free of charge. With WP Human Resource Management, you get all core functionalities along with:
Advanced Attendance & Time management system with check-in and check-out functionality
A complete Leave Management panel with multiple leave types and holiday lists
Dedicated HR admin dashboard with easy-to-manage detailed employee profiles
Due to its recent lack of support, the WP HRM plugin doesn't get our fully-fledged recommendation. But because of its neat execution and a decent number of features available for free, it may still be an interesting choice for some smaller companies.
Our final word
It's difficult to overstate the importance of high-quality Human Resources and Employee management software. It can make a world of difference to recruitment, attendance, performance, and training management. The bigger the company, the more time and resources are needed to manage the HR side of things, and incorporating the HRM software quickly becomes inevitable. If your company already uses WordPress, you're in luck – the HRM plugins make for an excellent (and often cheaper) alternative to standalone software. The latter can still be a practical option for some, but given the abundance of built-in features, WordPress HRM plugins firmly hold their own against the competition. And from a customer perspective it's not exactly a bad thing, is it?
What can we do for you?
Talk to us about your project and let's start building it together!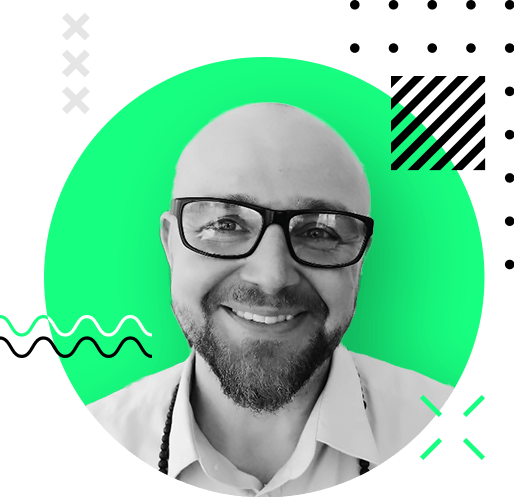 Błażej Dziuk
PROJECT ANALYST