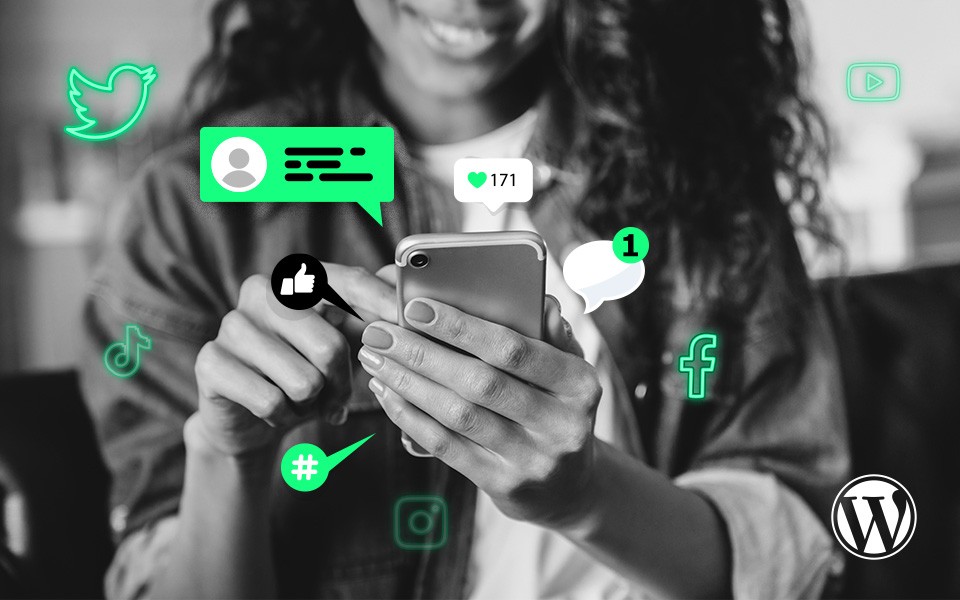 Social media are a massive part of our everyday life and are becoming more popular every day. Between 2021 and 2022, the number of users grew by 10% and now amounts to 4.62 billion. That's more than half the world's population checking Facebook, Twitter, or Pinterest daily. So it's no surprise that a vast majority of businesses use social platforms as the marketing tool that brings significant results. For example, 75% of marketers believe that social media marketing increases web traffic, and 90% say it positively influences their brand's exposure.
Do you know how to make the best use of social media widgets and icons to improve the visibility of your business? If not, we'll tell you all about it.
Social media plugins – why do you need them?
Social media is where everything happens, and make no mistake, customers have high expectations of your business' performance in this space. They use it to find information about products and services, interact with brands, reach customer service when needed, and exchange opinions about various offers with the community. Of course, you probably know all that, and you already have accounts on social media platforms. If you use them wisely, you can create a comprehensive strategy that will boost your web traffic and increase brand awareness. Step one is to connect your website with social networks.
WordPress users can benefit from dedicated plugins designed to make social media integration with a website possible. These plugins were primarily created to encourage visitors to promote and share your web content. Nowadays, they also play a big role in increasing engagement by letting users interact with the social media posts displayed on your page. You don't have to worry about how the integration works – the process is automated, measurable, and cost-effective. With the proper use of social media widgets, you save money on advertising while simultaneously boosting your site's (and your brand's) visibility and credibility.
Types of social media widget plugins
Social media plugins come armed with widgets used for various purposes:
Sharing your content on users' social media
Linking your social media accounts for visitors to follow them
Feeding the content from your networks into the website
Automatic posting of your site's content to your social media channels
So when you build a comprehensive marketing strategy, think of why you need the plugin in the first place. What actions do you want the users to perform – share your content, follow you on Instagram? Or maybe they should be able to read and reply to your Tweet feed directly on the page?
Once you define your goal, you have a few more decisions to make. First, consider whether you can afford the premium offer or if you'll go for one of the free plugins and check available features and add-ons (in most cases, you don't need all of them, so don't invest in something you will never use). Investigate which platforms are supported by different plugins, whether the analytics option is included, and if you like the proposed icon styles. The choice is vast, and searching for the right product can take a while, but we'll help you find the perfect one.
Read this article to learn about the most impressive WordPress plugins and widgets.
Social sharing
Sharing was the first and remained the most common function of social media widgets that increases brand awareness and content findability. Sharing plugins are usually easy to use and let visitors publish your posts on their favorite platforms with one click.
1) Monarch
Monarch is a premium WordPress social media plugin developed by Elegant Themes that gives you access to over 35 social networking sites (including Reddit, GitHub, and YouTube). Among its notable perks are high customizability and the possibility to track and display social sharing statistics. It also offers the choice of multiple share buttons' placements: floating sidebar, above or below content, on images and videos, automatic popup, and automatic fly-in. Not the cheapest option, it's nevertheless attractive to business owners interested in working with the efficient sharing management and tracking system.
2) Social Warfare
It's a feature-rich solution and a pioneer in customizing how your content is shared. A very SEO-friendly plugin lets you customize images, post titles and descriptions to boost clicks. Praised for its look, Social Warfare allows you to use floating share buttons that follow the user down the screen no matter where they scroll. In addition, you can implement a popular post widget showcasing your top content and create tweetable quotes on your page. And it's integrated with Google Analytics.
Honorable mentions:
Sassy Social Share is a very popular social sharing plugin with several button position settings and the possibility to customize icons. It's known for its helpful add-ons, such as Facebook comments notifier, Mailchimp subscribe, and Social Analytics. It's also mobile-responsive.
AddToAny Share Buttons is a popular, free, beginner-friendly tool with access to over 100 social networks.
Social links widget plugins
Their purpose is to create links to your social media profiles. Once there, visitors can engage with your content, communicate with your business and follow your pages.
3) Social Icons Widget & Block
This is your solution if you're looking to link your website with different social profiles quickly. It lets you connect with 100+ sites and networks and choose from over 400 custom icons with adaptable alignment, roundness, or padding. The plugin is straightforward to use, with the drag and drop solution for icon and widget management, and it's fully compatible with the WordPress Gutenberg block editor. On top of that, it's 100% GDPR compliant.
4) Easy Social Icons
As the name suggests, this is a very easy-to-use social media widget plugin, beginner-friendly, requiring no prior coding knowledge. You can create multiple icon sets and upload your own social media icons to be displayed vertically, horizontally, or in the sidebar. In addition, it comes with the added Google Social Profile Links feature, which means that when someone looks for your website, your social icons are visible in the search result.
Honorable Mentions:
You know how important design is to the success of your website. If you want people to ask about your unique, stylish, and colorful social media icons, use the Candy Social Widget by WP Explorer. Do you feel like adding square, round or rounded buttons? The plugin serves them all!
Additionally, we'd like to mention an all-in-one social media solution, thanks to which you do not have to look for multiple plugins. You get social shares and "follow my profile" icons, as well as a mobile share bar, Facebook page, and Twitter feed widgets within one tool. That's the WP Socializer – popular thanks to its versatility and fast performance.
Social media feed plugins
Social media feed widgets deserve more attention, as they are incredibly efficient in increasing your social media following. With feeds, not only will you promote the posts initially placed on your platforms, but you will be able to showcase user-generated content. Remember that people trust other people more than brands: 93% of consumers consult reviews and recommendations before making a purchase.
Feeds are widgets that show content from many social media accounts on your website. You can create different feeds for various platforms (Facebook, Twitter, YouTube, etc.) and choose their display format – be it a brand wall (showcasing your brand's activity), an event, or a hashtag campaign wall.
5) Smash Balloon
Notably, one of the best social media options presents the whole suite of customizable, responsive, SEO-friendly, GDPR-compliant plugins with built-in caching options:
Facebook feed (aka Social Post Feed) – Generates dynamic content with updates from your Facebook page automatically fed to your site. Displays your content and community posts to show users' feedback and even allows you to broadcast live videos from the WordPress website.
Instagram Feed (aka Social Photo Feed)– In addition to automatically displaying photos and stories from one or multiple sources, it also lets you create shoppable Instagram feeds.
Custom Tweeter Feeds –Twitter feeds from your account, users' accounts, or selected according to the specifically chosen hashtags are automatically loaded with a lighting speed thanks to the implemented post caching. In addition, you can encourage community interaction by letting visitors reply to tweets directly on your site.
Feeds for YouTube – A pro version has plenty of fun additions: you can display the YouTube gallery as a carousel, show videos from a search result, live stream content on your site, and give the users the taste of what you keep on your favorites list.
Social Wall – combines feeds from all platforms into one perfectly optimized, customizable, responsive wall.
6) Flow-Flow Social Stream
It's a multipurpose social wall creator displaying a mix of customizable feeds from Facebook, Instagram, Pinterest, and Twitter (the pro version unlocks access to more sources), perfect for embedding user-generated content. It's also a highly customizable solution: you can adapt grids, card layouts, colors, and views. Users benefit from the possibility to interact with displayed content by either sharing, filtering or clicking on any element of the feed (be it author, date, or link). Flow-Flow presents a responsive design optimized for all screen sizes and touch devices. Pro clients can enjoy perks like lightbox galleries with smart media preloading options.
Honorable mention
Nothing boosts a brand's popularity like giving people an option to interact with it. One of the advantages of Walls.io is that it not only collects content from 13 different social media platforms but also allows visitors to publish images and text directly from their tablets or phones. The plugin is equipped with an automatic social wall moderation solution that even lets you filter and block unwanted posts.
Automatic posts
If you want to save yourself plenty of time, these are the best solutions allowing you to auto-share your website content on social networks. In addition, such plugins usually catch post title, URL, and image, making the re-posting even easier.
7) Revive Old Posts
You should look into this plugin if you're searching for a quick way to share content on multiple accounts. Pretty much everything can be published on social platforms – from photos and posts to pages, e-commerce products, recipes, and projects. You can configure the process by deciding the age of posts eligible for publishing and creating a posting schedule. Add system-generated hashtags and custom captions if you want to gain control over shares and make them more enticing. Thanks to the plugin's integration with Google Analytics, you can monitor the results.
8) Blog2Social
Similar to Revive Old Post, this tool also offers automated management of shares and hashtag generation. Your posts will be customized with unique comments, handles, images, GIFs, and emojis, and on top of that, accompanied with a meta description that you create for more effective search result optimization.
9) And now for something completely different… – Raffle press
This is a plugin like no other. It doesn't serve any of the four primary social media plugin functions we mentioned in the beginning. And yet, it's excellent if you want to increase your social media following and website traffic quickly.
Meet the most powerful WordPress contest plugin that helps you go viral without buying ads. Pre-built giveaway templates make creating a contest on your WordPress site super easy. In addition, users who share, follow, like, or refer friends to the giveaways promoted on your social media are incentivized with extra contest entries. So don't hesitate to check out the viral sharing possibilities with this unique plugin that will quickly build your audience.
With the wide choice of social media plugins with various widgets and features, you can build a comprehensive marketing campaign and attract customers effortlessly. So go ahead and explore the options – you can find everything you need to boost your online exposure.
What can we do for you?
Talk to us about your project and let's start building it together!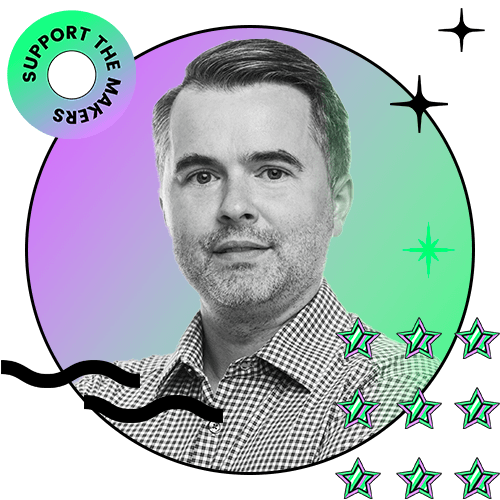 Maciej Kopczyński
Managing Partner, Develtio