Back to blog
WordPress dynamic content: what is it, and why do you need it?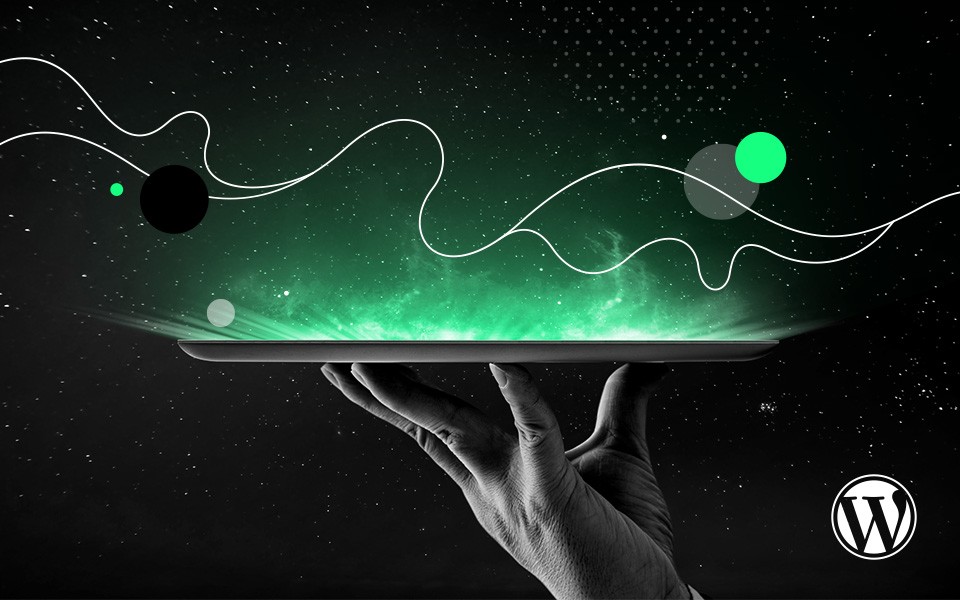 Incorporating dynamic content on the website has long become a staple for business owners, big and small. The reason is apparent – no one wants their website to look like an outdated museum exhibition with no real incentive for wanting to see it again. Dynamic content helps keep users' engagement alive and makes every visitor's experience personalized and unique.
With WordPress, adding dynamic content to your website can be like a walk in the park – once you manage to get up from the couch, you're already primed for success. WordPress comes with easy-to-use tools to create and manage dynamic content, and we can help you find the right one for you. From the article below, you will find out:
What is WordPress dynamic content?
Why do you need WordPress dynamic content?
How can you incorporate dynamic content into your WordPress website?
What is WordPress dynamic content?
Let's start with a simplified definition: everything on your WordPress website that isn't static should be considered dynamic content. If you remember old websites built with only HTML, you know what a fully static website feels like: everything looked the same on every visit; even the screen width was hardcoded, which forced users to either scroll the text sideways or view the narrow text column with empty spaces on the sides.
But there's more to dynamic content than a text column adapting to the user's viewport. Basically, any element of the website that can change its behavior depending on varied factors is, in fact, a piece of dynamic content. The main factor would be the users, of course – their location, gender, age, and other characteristics. The content changes also depend on the user's previous actions, like the history of viewed pages, purchases made, etc. The data displayed on, e.g., weather, traffic, or calendar widgets is also a prime instance of dynamic content. All the information is usually gathered from cookies collected on previous visits and account history in case the user has logged in.
What are the types of dynamic content?
Landing page. It is an entry point for the client to the products and services you offer. Dynamic content on a landing page means that different information can be presented depending on the visitor.
Posts and articles. This type of content should dynamically adjust to the user's device and viewport size.
Product pages. E-commerce sites use dynamic product pages to display related products, product-related offers, coupons, and recommendations. Product pages with dynamic content significantly increase cross-selling.
Forms and purchase fields. With dynamic content implemented, the checkout process can be customized, e.g., enticing clients to check offers on related products or insurance services.
Emails and newsletters. This is the type of dynamic content that's been around the longest. Emails are sent with the customized name field, making the offer appear more personal and direct.
Ads. Based on the visitor's search and browsing history, website ads display personalized content, making it more likely for users to engage.
Dynamic content websites – examples
Booking.com – used for browsing hotels and booking accommodation. It shows travel destinations based on the user's location, and the number of available rooms is dynamically updated in real-time.
Netflix – a movie streaming service offering dynamic recommendations centered on previously watched content as well as the gender and age of the account owner.
Amazon – the biggest e-commerce retailer in the world. Shopping recommendations dynamically change based on clients' previous purchases and searches.
Why do you need WordPress dynamic content?
As much as it's hard to imagine a modern WordPress website without dynamic content, its benefits may not be as apparent to everyone at first glance. So, let's look at the advantages that dynamic content can bring to your WordPress website:
Personalized User Experience. Offers, recommendations, and shopping suggestions – the visitors view the content tailored to their preferences and needs.
Screen Size Responsiveness. Unlike static websites, dynamic ones adjust easily to various screen sizes and devices.
Smooth Navigation. The dynamic websites are much simpler to navigate and make finding interesting content a breeze.
Easy updates. WordPress dynamic content can be effortlessly modified and edited from the WP dashboard without the need for the developer's input.
Improved KPIs. Customized dynamic content is a sure way to enhance conversions and decrease bounce rates caused by content irrelevant to the visitor.
When to use WordPress dynamic content?
Despite the numerous advantages, incorporating dynamic content is not always necessary or desired. Resume, portfolio, and other read-only websites can do just fine without the inclusion of dynamic content. If customization isn't needed, a static website is still a valid option, even in 2022. With the addition of CSS and JavaScript-powered elements, the site can look great; it's just it will look the same for everyone, every time.
You should definitely consider introducing dynamic content if your WordPress website contains:
A lot of content. It makes perfect sense to give all the content your team produces enough exposure.
Frequently changing content. With static websites, every content modification usually needs to be handled by a website admin. Dynamic content gives you the freedom to delegate content updates to non-technical staff. The HR department can add job ads on your Career page, while blog entries can be published by marketing people, etc.
Complex and/or frequently changed design. It's always a good idea to separate design changes from the content to reduce the risk of implementation issues.
Different content for different locations. Instead of listing all phone numbers and addresses of company branches, you can show the branch's phone number/address details closest to the visitor.
Content that can be easily categorized. Whether it's a list of specialists, branches, or items, it always makes sense to implement it as dynamic content so that any changes can be introduced swiftly and efficiently.
There's usually more than one reason to decide on the dynamic content on your WordPress website. Careful consideration is always needed – introducing dynamic content requires additional resources and effort, while, in fact, it's not always necessary or justified.
How can you incorporate dynamic content into your WordPress website?
Building a WordPress website based on dynamic content has never been an easy feat, as it requires a lot of development work. Luckily, we now have a few commercial plugins we can use instead of hiring a professional developer. These plugins are paid, but the cost incurred will definitely be much lower than the programmer's fee. Plugins are a feasible option for budget-conscious company owners interested in providing engaging WordPress dynamic content.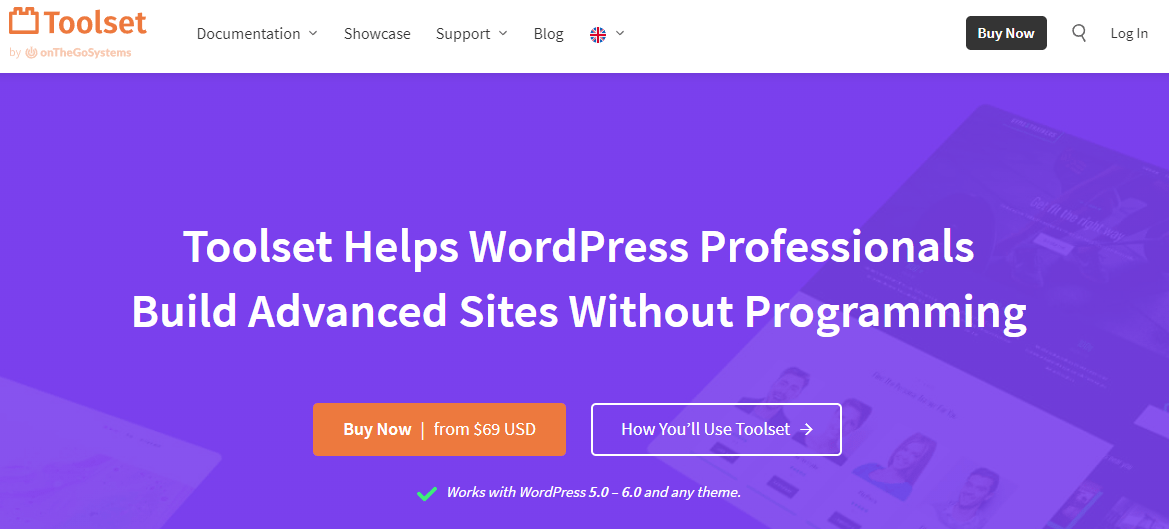 Toolset is an excellent WordPress dynamic content plugin that allows you to create:
Custom types, fields, taxonomies, and post relationships
Custom grids, tables, and lists
Forms for content submission and editing
Customized searches
You don't need to possess any coding skills to use it – the plugin offers a user-friendly drag-n-drop interface. The e-commerce and real estate owners will find Toolset extremely useful, with its streamlined process for adding dynamic prices and displaying rent/buy opportunities on the map.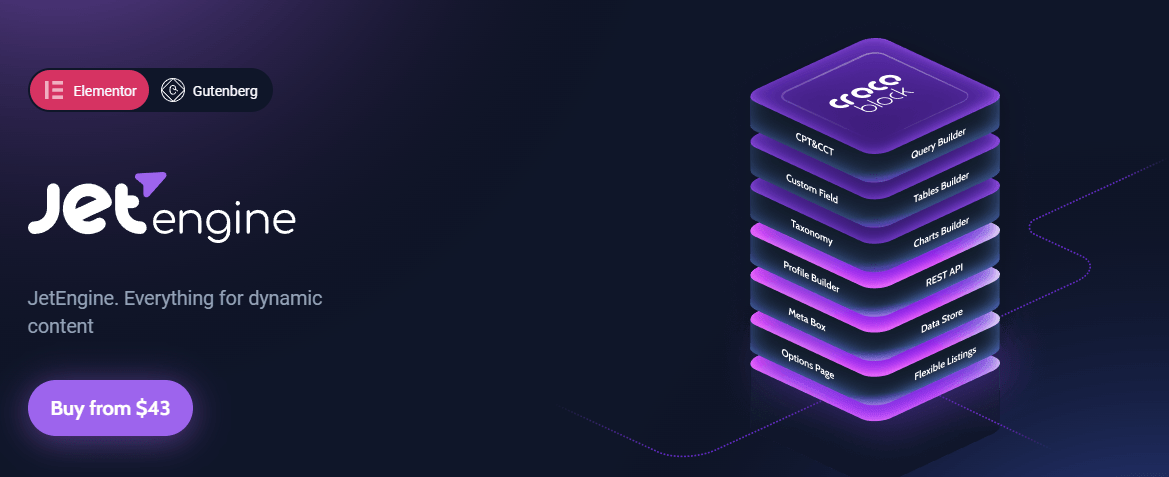 The Crockoblock's JetEngine boasts very similar features to Toolset. In addition to creating custom fields, taxonomies, and content types, with JetEngine you can display items dynamically in a calendar or on a map. What makes JetEngine stand out is its partnership with Elementor – one of the most popular WordPress site builders. Elementor's library contains numerous templates and site kits that pair up with JetEngine exceptionally well.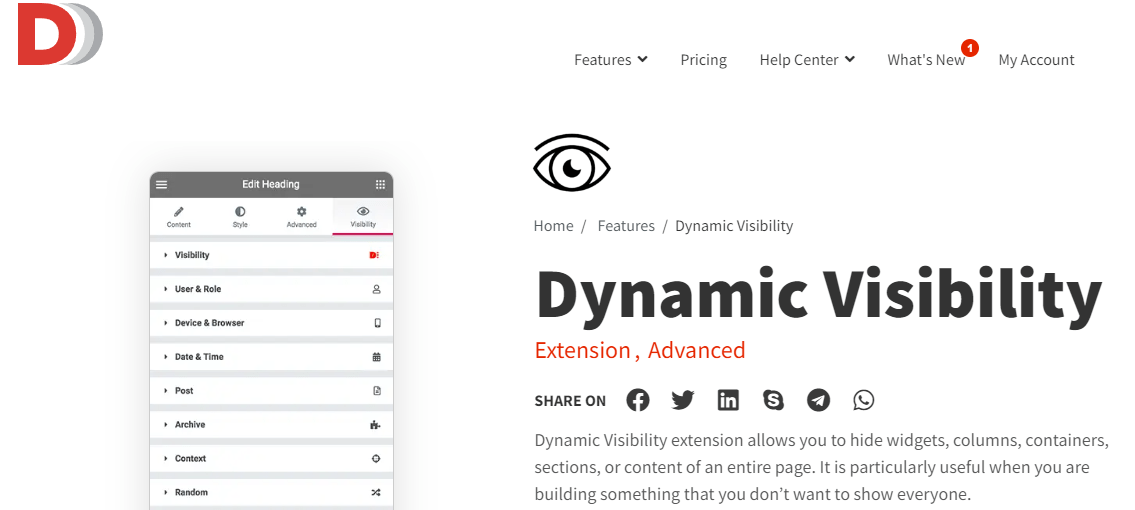 Another great plugin for all your WordPress dynamic content needs offers over 140 various features and integrates seamlessly with Elementor and WooCommerce. Unlike JetEngine and Toolset, it doesn't come with built-in dynamic search filtering, but this particular functionality can be incorporated by adding Search & Filter Pro plugin. What's interesting about Dynamic is that it gives you the option for visibility control. A widget or any other content field can be set to appear on the site during specified hours only. With an abundance of features, Dynamic is a brilliant choice for website owners who want to get the most out of WordPress dynamic content.
All three commercial plugins listed above make for excellent and comprehensive tools to manage every aspect of incorporating WordPress dynamic content into your website. Please note, though, that within the official WordPress repository, you can also find many free plugins dedicated to specific functionalities related to dynamic content.
Our parting shot
We hope that this article has helped you understand the idea and value of dynamic content in WordPress. It can make a world of difference to your visitor's engagement and boost your conversion rates through the roof. But to achieve these goals, you need to be aware of the constraints – you won't see many benefits if, e.g., the content on your website remains scarce.
At Develtio, we know our way around WordPress dynamic content well. Drop us a line if you think about going dynamic – we surely can boost you up..
What can we do for you?
Talk to us about your project and let's start building it together!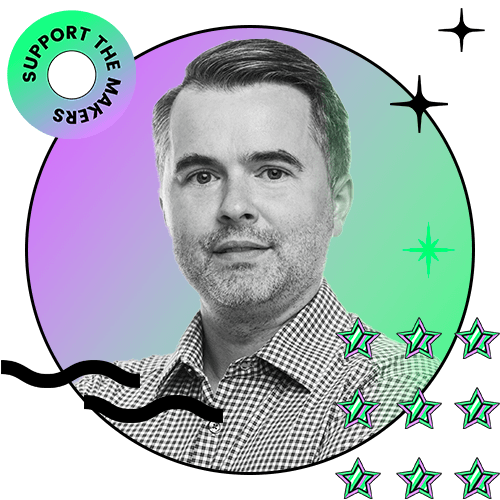 Maciej Kopczyński
Managing Partner, Develtio