Back to blog
How to create a WordPress LMS website for your employees or clients?
Businesses of all sizes from all kinds of sectors decide to deliver educational programs in the digital space. So do government and non-governmental organizations, schools, consulting companies, and independent trainers. Do you know why? Because you can design the online course whichever way you choose and reach as many people as you like with your offer. With this flexibility, investing in online learning becomes a way to increase profit and improve your brand's visibility. If you're unsure how to create an LMS (learning management system) website, this article is for you.
What is the LMS website, and when is it beneficial to set one up?
If you have the knowledge you want to share with the world, it's time to set up a learning management system (LMS) website. What is LMS, you ask? Basically, it's the software or a web-based solution that will help you create and deliver online classes. Thanks to the LMS, you can curate courses and efficiently organize and manage the content and participants in a smooth, automated way. Don't think of it as simply a database containing the elements of curriculum and students' info, though. A chosen LMS should support your dealings with administrative issues, membership-setting, publishing lessons, tracking student progress, and managing payments. That's a lot for one tool to do, yet there are systems that make it possible. And profitable. Here is why.
First, a well-prepared online program can improve a brand's image and recognizability. Showing that you and your team are knowledgeable and willing to share expertise with others is a great value in itself, but it's about more than just visibility. Providing classes on the web can potentially bring significant profits as well.
You may have first thought of developing traditional face-to-face courses, but that solution is costly and requires you to put aside time to organize events with a live audience. Online classes are easy to set up and cost-effective since you don't need to invest in venues, teachers' travel, and printed materials. Moreover, you can deliver them as often as you like (thus securing the recurring income), and you're free to test different formats while easily tracking the results. One of the significant benefits is that making changes to the course content whenever you see the need is super easy. Flexibility is the strength that you gain when going online.
With this kind of creative freedom, you can reach any group you can think of. For example, do you want to educate your current employees or new hires about company products and processes? As an agency, do you wish to design programs addressed specifically to business partners and clients? Or maybe you found a niche topic there is a demand for on the market? All is possible since you're not facing any physical limitations. Moreover, the students really appreciate that they are not forced to travel to attend classes and can access the learning material whenever they have time. It's a win-win situation for you and your audience.
WordPress LMS website – how to build it?
Okay, now you know why you should invest in the LMS, but the next question is, where should you set up the course? There are different LMS-specific platforms and ready-made solutions available, but using WordPress for this purpose seems like an obvious choice, and for good reasons. It's a CMS that powers the majority of web pages; easy-to-use, flexible, offers a vast selection of themes and plugins, and, importantly, it gives you complete control over the LMS site. Are you convinced? Then let's go and see how to set up the LMS site with WordPress.
Project planning
It doesn't matter if you use the off-the-shelf plugins or ask someone to custom-make LMS features from scratch. You should approach building this specific website like you would any other project. That means deciding on why you need the LMS in the first place, defining the goals you want to achieve when using the system, and listing the resources you need to create it. The latter concerns budget, but also people who will be involved in ideating phase, content creation, and delivery.
What to offer?
If you want the program to succeed, you need to find an exciting topic to attract clients. Choose your niche by asking yourself about the problems that customers want to get solved. How can you help them? What unique expertise do you have that they can benefit from?
How to offer it?
Once you decide on the course focus, consider its architecture that will respond to the users' learning challenges. Here is where surveys and feedback come in handy – customers can tell you how they would like the classes to be designed, whether they would like to sign up via the website or social media, what kind of materials they prefer to use when learning, and so on. Your other source of invaluable information is, of course, the competition. So go ahead, research, and see which solutions are on the market and succeeding.
Setting up a structure
Building the LMS website may prove difficult if you don't have a clear vision of the final product in mind. Ask yourself the following questions to make your preparations easier:
Who is your audience?
What do they want to learn?
What are the learning goals (results)?
Will the course be free, paid, or a mix of two? What will be the price of the premium content?
Will there be ongoing enrollment or set starting dates?
What content do you need (articles, videos, games), and how will it be organized?
Which elements do you want to include besides the homepage, courses' and e-commerce pages? For example, will you dedicate spaces for student forums, testimonials, About us, FAQs, or quizzes?
Once you answer all the questions above, you're ready to think of specific features needed to bring your chosen structure to life.
Defining the requirements
Make your job easier with a checklist of features that should be included in the LMS website to deliver defined goals. First of all, you typically need an intuitive and customer-friendly UI and UX, a straightforward course management solution, and e-commerce integration allowing various payment options. You should also consider which of the following you want to include:
Video integration
Automated reminders and notifications
Mobile-friendly design to give students the possibility to use their smartphones for learning purposes
Gamification (reward systems and badges)
Social learning tools, discussion boards, and social media widgets
Certifications
Tests and homework solutions
Course timer that will show the average time spent on the course and the student's progress
Financial marketing options – such as discounts or coupons
Course lock if you want to block inactive students
Automatic backups
Once your needs are defined, you can either customize the features and develop them from scratch or take advantage of what WordPress CMS offers and use a dedicated plugin. Remember, though, that the right tool should fulfill all your requirements, so carefully check if the elements you need are included.
Before you choose a plugin
If you're still reading this article, it means that you made WordPress your platform of choice for the LMS website. That's an important decision, and you took the first step by making it. Stage two is choosing a short and simple domain name for your site with relevant keywords included. Once it's done, purchase web hosting from one of the trusted WordPress platforms, such as Bluehost, SiteGround, or Dreamhost. After installing and setting up WordPress, you can move on to picking the theme for your online course – it will help you design the website's interface. Remember, however, that not only looks count. The theme should be SEO-optimized, fast-loading, and easily customized, and it would be beneficial if it included a vast array of templates. Read the descriptions and reviews carefully before making a choice.
Choosing a plugin
You're ready to decide on a plugin to build the LMS site. It's hard to fish out the perfect one from the sea of available options. First, ensure that the theme you picked is compatible with the tools you consider. Then, do your research and carefully review the plugins list, continuously evaluating them against the services you want to offer. Does this task sound a bit intimidating? Here are some of the most popular solutions you can have a closer look at to kick-start the process.
LearnDash is a top-rated tool used by major companies and universities alike, often described as offering a "full suite" of features needed to create a successful LMS site. Apart from necessary elements, it provides additional gems, such as user rewards, dripping content options, private lessons, and a grade book. Moreover, it supports various media types, from videos to audio, images, and Google Docs.
LearnPress is a plugin that allows you to build a simple online course for free. However, if you want to take advantage of more sophisticated features, you need to buy add-ons. Nevertheless, this solution means you don't have to pay a recurring yearly fee just for using the plugin. With LearnPress, you can assign homework, offer student certificates and gamify courses. You also get access to a wide choice of payment gateways.
Sensei is an extension for WooCommerce that integrates seamlessly with WordPress and doesn't require coding knowledge. Sensei supports almost all WP themes and lets you create complex quizzes and beautiful lessons with added interactive elements, task lists, and flashcards.
Once you select a plugin that fulfills all your requirements, follow its documentation, videos, or available guidelines to set it up. Some steps, like installation, creation of relevant pages, and customization, will be common to all of them.
Polishing content and design
Think of the content you wish to include – not only the written parts of the course but also assignments, to-do lists, exams, games, videos, and audio files. In fact, the bigger the choice of materials, the better. Customers learn in different ways and will surely appreciate the chance to use their preferred method of acquiring knowledge. Once your content is prepared, give the design the final touch, create a test course to ensure that your settings work well, and try out all the features. Testing is a crucial step you will need to take several times throughout setting up the LMS site to ensure that no errors hinder the user's experience.
Integrating e-commerce solutions
Most of the plugins integrate well with e-commerce tools. Nevertheless, you still have some decisions to make concerning pricing, course availability frequency, trial offers, sales, and access expiration. But, don't worry, it is not as scary as it looks, as long you plan ahead and consider all the options.
Getting feedback
Did you go through all the steps in the setup down to the website launch? Congratulations! Now, test the site once again and get ready to open the classes. One of the things that will be crucial in creating a successful course is listening to the students' feedback and adapting the structure and design accordingly. No one is more objective than the people you address with your educational content. So use all possible means of communication to understand how you could further improve your offer – social media platforms, forums on the LMS site, and feedback boxes enabled under each class. You can even send an email to your clients asking for reviews.
LMS site promotion
With so many courses available online, it will not be an easy task to make yours stand out from the crowd (unless the content your offer is genuinely niche and unique). But there are some methods you can try out to drive traffic to the LMS website:
Focus on SEO – optimize the site for search engines so that it shows high in the results every time someone looks for keywords related to your courses' content;
Promote your classes with ads;
Use email marketing to reach the audience;
Write outstanding articles – an engaging, knowledgeable blog will help you increase the conversion rate, as will…
…an impressive landing page that drives users to your offer, and…
…engaging content frequently posted on social media. Write, create, record, and let your material go viral. There is no better way to put your course out there.
Conclusion
It's not an easy task to develop a unique curriculum that will drive traffic to your website. But it's worth it – e-learning is here to stay, and it will become even more popular, gaining traction as one of the best tools to support business. With WordPress, the development of your LMS website becomes straightforward, so use what this CMS offers and present your courses to the world.
What can we do for you?
Talk to us about your project and let's start building it together!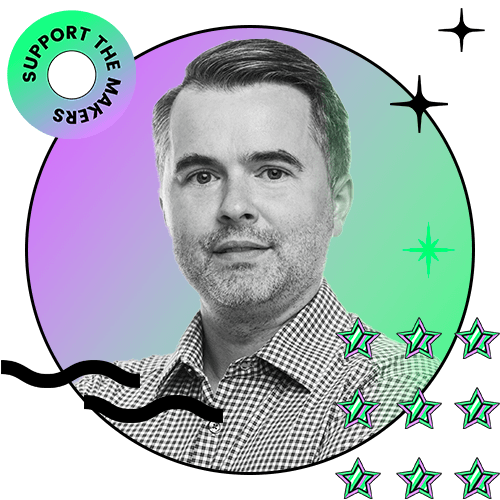 Maciej Kopczyński
Managing Partner, Develtio