Back to blog
How to create a multilingual WordPress website with WPML?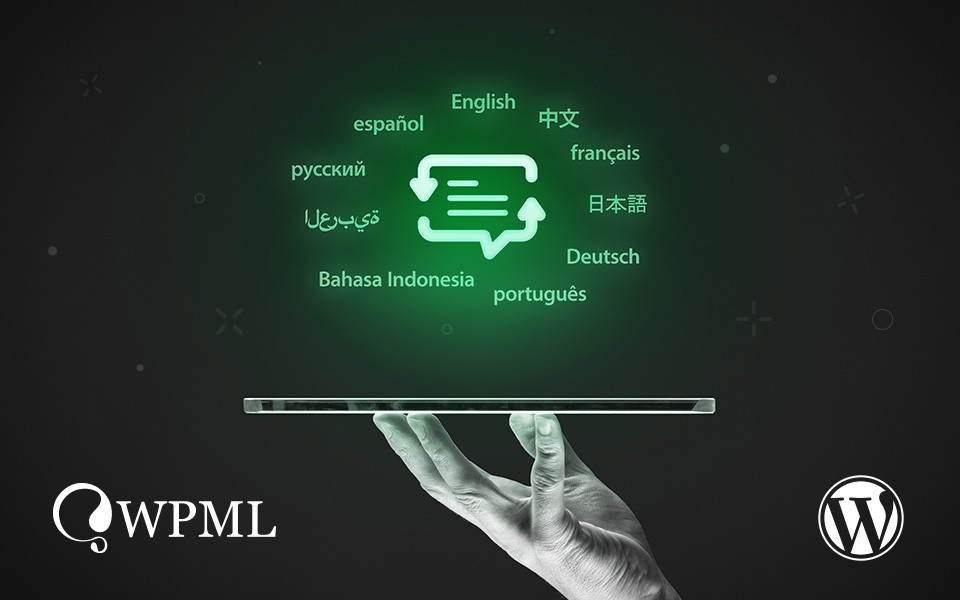 Congratulations! You created a website for your business. You probably chose English as the default language, right? You have a high chance of success with the right content and optimization. But it could be even higher if you build a multilingual WordPress website with the dedicated WPML plugin. We'll explain exactly what's hidden behind these four letters and why translating your content is worth your while.
Why do you need a WordPress multilingual plugin?
Did you know that only around 78% of the American population speaks English at home? This number may seem high, but consider this – there are more than 300 languages used in the US. 40 million inhabitants use Spanish. And that's only one country. You sure don't want to limit your business opportunities but rather widen your reach to an audience all over the world. To do that, you will need to translate content on your website.
With user experience becoming an increasingly important factor in your company's success, creating a multilingual site rather than just an option becomes a necessity. And if you want to argue that most websites don't meet this standard, I give you a counterargument – if you're in the minority, your chances of outperforming the competition grow.
Think of SEO – with every language, your site's findability level improves. Think of thousands of happy customers, feeling appreciation for your service, for the way you show the understanding of their needs and limitations.
Of course, creating a multilingual website is not easy. But, fortunately, WordPress offers translation plugins designed to make the process as smooth and painless as possible. In this article, we'll focus on one of them – the WordPress Multilingual Plugin (WPML).

But why WPML?
How do you decide which plugin is the best for building multilingual sites?
Sure, you could use a free tool, but remember that there is no such thing as "free lunch." The core plugin you receive will have limited features, available only if you agree to upgrade it to the paid version. It's a kind of "freemium model trap." WPML is a reasonably priced solution (more on that below) that provides something that every user and web developer yearns for – compatibility. Hundreds if not thousands of plugins and other WordPress products work with WPML making it a super-easy-to-integrate solution.
It's a tool that allows you to manage and assign work to professional translators (some automatic translation options based on services provided by Google or Microsoft are also included). The manual translation is another supported option if you feel confident and competent enough.
The interface is user-friendly, and the setup is pretty straightforward. Moreover, WPML makes you an owner of your translations, unlike many other alternative solutions out there. You're also in control of permalinks and meta information.
If we convinced you that you should at least give WPML a try, let's move on to the practicalities.
Creating multilingual WordPress websites with WPML
Maybe you already have an existing WordPress site and want to make it multilingual. Or, you could be building one from scratch. In that case, you first need to get a domain name (your site's unique address), sign up with a hosting provider, and set up your website. The next step is WordPress installation – do it either manually (if you're technically savvy) or choose a host that will allow you to automate this step. Once it's done, we're ready to move to the jest of the topic.
First step:
Choose a translation-ready theme
WordPress themes decide about the visual appearance of your site and its capabilities. For the smooth creation of a multilingual website, the theme of your choice should be compatible with the WPML plugin. You can find the adapted theme by going to the WordPress Theme Directory. Then, apply Feature Filter and select the box Translation Ready under the Features column to see the themes ready for translation. To limit the probability of encountering any problems, double-check the list of recommended WPML-compatible themes (you can browse by name, category, or compatibility status).
Check if your website is WPML-ready (or better yet, ask your developer to do it)
You can find details on requirements here, but to give you an idea – WPML won't run on your site unless the following conditions are fulfilled:
WordPress 4.7 or later
PHP 5.6 or above with memory of at least 128MB
MySQL 5.6 or above. Alternatively, you can use MariaDB 10.1 or greater.
Ability to create tables in your database
WordPress REST API enabled for WPML
Multibyte String extension if you want to use WPML String Translation
SimpleXML extension for using XLIFF files in WPML Translation Management.
The eval() PHP function enabled
The libxml PHP Module 2.7.8 or higher
You could be familiar with analyzing these requirements or rely on the professional help of someone with greater technological knowledge. Either way, don't skip this step.
Ok, the hardest part is over. Now, let's finally move on to the plugin.
Buy the WPML plugin
First, head to the WPML.org website and decide which version you prefer to buy. You can choose one of the proposed three:
Multilingual CMS – comprehensive option for complex websites
Multilingual Blog – intended for simple sites
Multilingual Agency – allows installing the plugin on many sites
The pricing varies, depending on your choice.

Install and activate the WordPress translation plugin
Log in to your WPML.org account and head to the Downloads.
Download the installer plugin.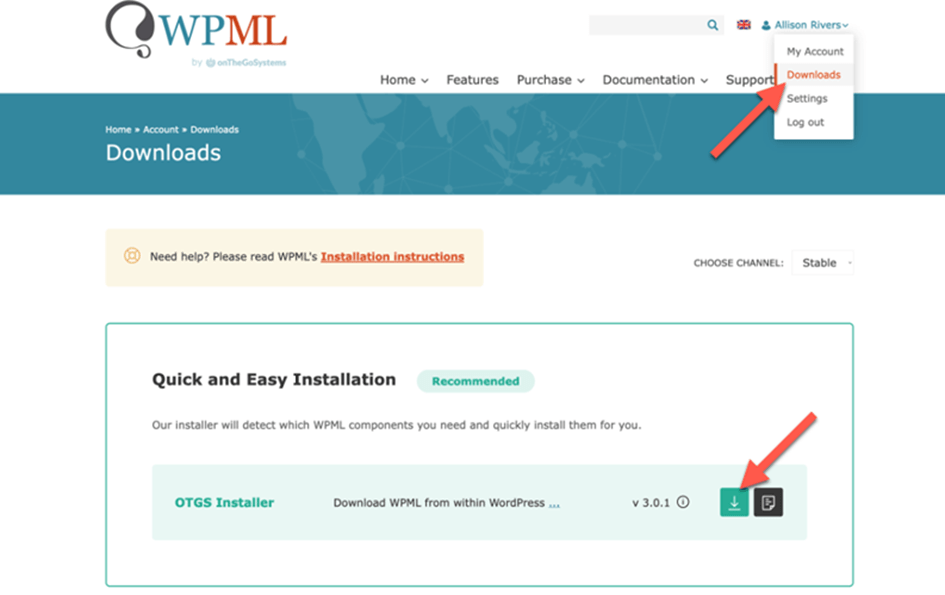 Go to Plugins –> Add new in the WordPress dashboard. Select the Upload Plugin, choose the relevant .zip file, Install and Activate. Once the installer is activated, the plugin needs to be registered – click Register WPML and Get a key for this site to generate one from your WPML account. Download the plugin, and don't forget to activate it. What you now have is the core WPML plugin. You can, however, install additional components. These are:
WPML String Translation (lets you translate static and user-generated texts)
WPML Media Translation (to use WordPress gallery in various languages)
WPML Sticky Links (to keep internal links from breaking)
WPML CMS Navigation (allows you to add drop-down menus, side-bar navigation, breadcrumbs, etc.)
Moreover, you can add compatibility plugins, such as WooCommerce Multilingual, Gravity Forms Multilingual, or Ninja Forms Multilingual, by going to Plugins –> Add new –> Commercial. You will see the list of components there. Choose the ones that your site will benefit from.
From then on, follow the WPML setup wizard.
The setup
Add multiple languages
First, set the default language (the primary language your content is available in), and then think of other ones you will need for your multilingual projects.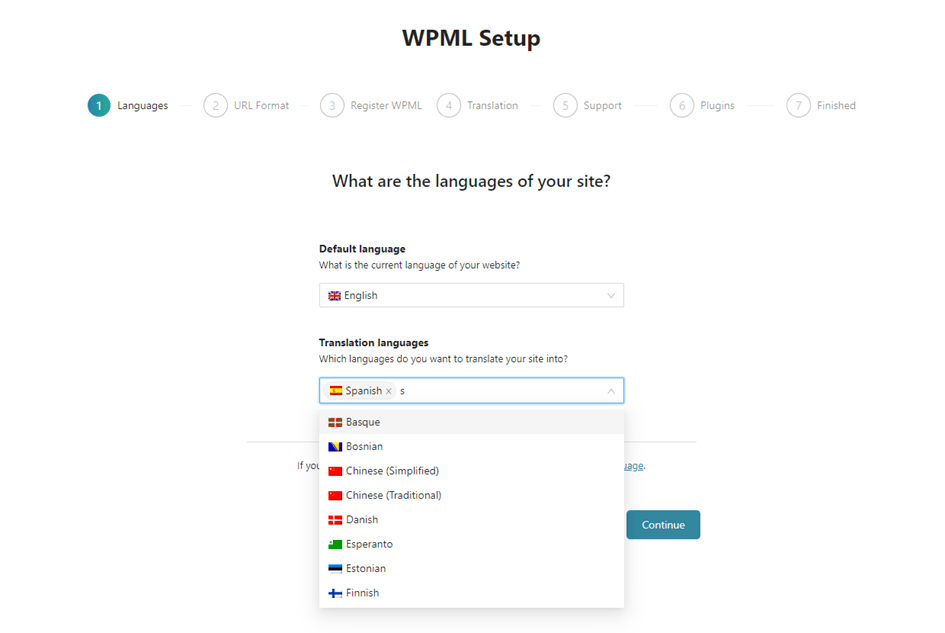 A WPML element will appear in your dashboard once the translation plugin is activated. Click on it to remove or add any other languages.
What you need next is the Language Switcher that will allow your site visitors to move between different translated versions of your website. They could do it by clicking on a row of flags or choosing from the drop-down menu – you will actually make a decision regarding this design detail and a few more. For example, do you want the flags to appear? Do you want the language choice to be displayed in the same language as the currently viewed page?
The decision about the settings of the language switcher is all yours, but it's not the last one. You still have to think of:
The language URL format and translation mode
When it comes to URL, you can choose between:
Different languages in directories – e.g., www.example.com or www.example.com/es/
A different domain per language – www.example.de
Language name added as a parameter – like www.example.com/?lang=fr
Translation mode lets you decide whether you want to translate everything or just some content on your multilingual website. If you choose Translate Everything – your existing content will be translated automatically once you finish the setup. If you wish, you can review the final result (and it's highly recommended).
Automatic translations may seem enticing, but beware that you will be relying on services such as Google Translate, Microsoft Azure Translator, and DeepL, so consider whether the speed of delivering the work is more important for you than quality. You will likely have to spend some time checking the output anyway.
Translate Some is a more flexible option. You are not only able to choose which WordPress content is being translated by also by whom – you can pick a translation agency, hire independent professionals, or, if you feel confident enough, do the work yourself. You can manage the process via the Translation Manager – more on that in a bit.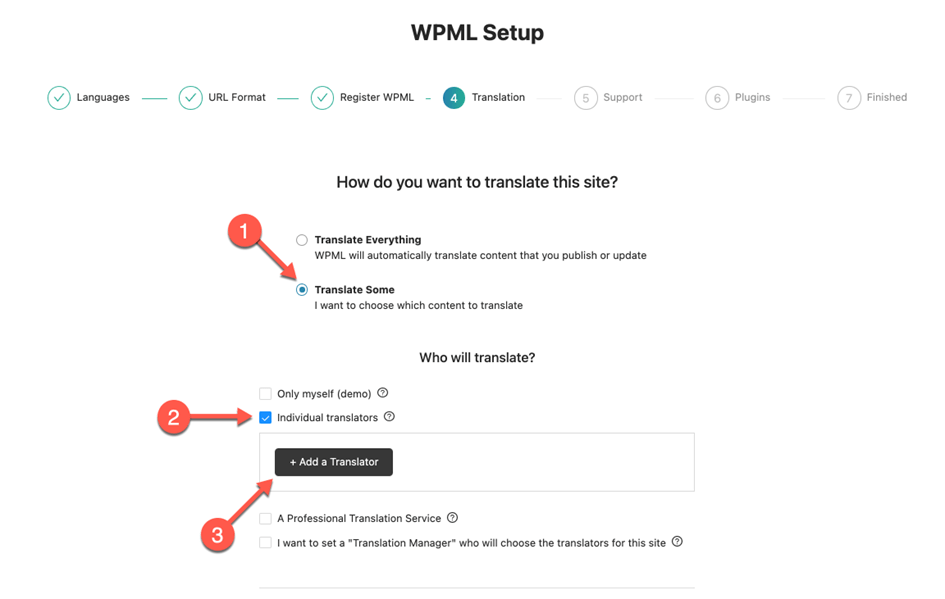 Translation Manager
Translation Manager is a tool that coordinates the processes for you – it lets you choose and add professional translation services (the price for their work is not included in the cost of this plugin) and send them the content.
Simply select the WordPress posts and pages that need to be translated and the relevant languages. Next, you will need to click on the Add selected content to translation basket, after which you will be taken to the e-commerce-like checkout page. Of course, you can always check the status and easily cancel the ordered jobs if you wish.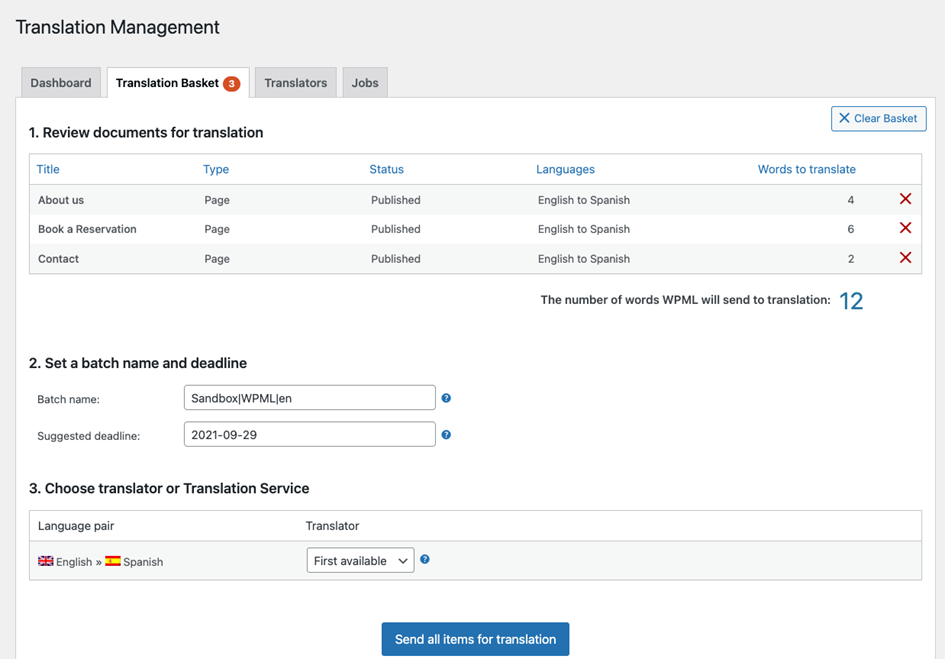 And there is more
Now you're all set up, so go for it – explore all the benefits of using WPML:
Adding multilingual content (in the Posts menu, you will see the output languages to choose from)
Translations of categories, tags, and other custom taxonomies
Translations of navigation menus
Using the themes and plugins localization page for relevant translations
Advanced Translation Editor option, including a glossary, spell checker, and translation memory
Multilingual SEO – translating slugs, meta, and titles, and optimizing your site for searches in different languages
Ability to translate media
Does it seem like a lot to handle? It's only because there are so many options you can choose from. Otherwise, the setup is pretty straightforward and the result – worth every bit of your initially invested time. Creating a multilingual WordPress site is an easy task with the right tool. Try it!
What can we do for you?
Talk to us about your project and let's start building it together!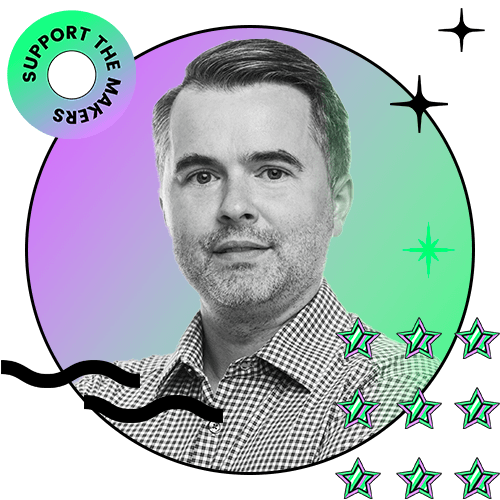 Maciej Kopczyński
Managing Partner, Develtio