Back to blog
How to choose the best custom software development company – comparison of best software development directories
Search for a great software developer is not a trivial issue. To create a digital product or service, you must invest significant capital and find an experienced, trustworthy vendor. Of course, thousands of software development companies are on the market, and the number is continuously growing. So how to choose the best one?
Try software development company directories
You can try checking the reviews on social media, turn to Linked In for recommendations, or use old-fashioned word-of-mouth. But why not browse online directories, where you can find ratings and comparisons of vendors that potentially match your needs? Such portals provide detailed reviews and information about suppliers and allow buyers to connect with them easily. As a result, they are a beneficial source of client information and an excellent lead-generation opportunity for service suppliers. Popular in fields such as e-commerce, software directories are also gaining momentum, and their number is rapidly growing.
Since the market is full of such websites, it's challenging to grasp which rating one can rely on. Below, we present a list of software development directories that, in our opinion, hold the highest value for clients.
What to look for when choosing the best software development company
Before you look into the presented portals, find out what you should pay attention to when browsing potential service suppliers. It's beneficial to understand what information is crucial when making decisions about the software company. A good directory will provide majority of the following data:
Number of reviews
Quality of reviews and testimonials
Rating (e.g., how many "stars" a company received)
Industry, niche, typically handled projects – experienced in the chosen field
Company description
Portfolio of previous projects
Location and markets that the company operates in
Available services
Average rate
Directories consider different factors and use complex algorithms when rating software companies. Many of them will also propose vendors to use the sponsorship opportunities, which influence how the given supplier is presented on the website. It's, therefore, helpful to understand how the portals review and rank various companies in their listings. Dive into our comparison of the most popular directories:
Clutch
Extract
Digitalogy
GoodFirms
AppFutura
Business of Apps
Sortlist
UpCity
Topdevelopers.co

Clutch is a top-rated global platform dedicated to facilitating the choice of the best service or business solution for your company. They believe verified customer feedback is based on data, case studies, and testimonials. All these resources can be found on Clutch.
The platform uses its Leaders Matrix to rank and map service providers. The matrix considers two factors: the Ability to Deliver (based on the reviews, market presence, and awards) and the Focus – meaning the firm's specialization. In addition, the company's location, social media activity, industry reputation, and innovative efforts are all taken into account, as is the type of clients they work with.
The reviews are gathered over the phone or through the in-depth form available online. With around 2 million visitors per month, Clutch established the benchmark for trustworthy software directories. According to a recent study, 65% of Clutch visitors get on their website from Google and Bing.
Develtio is one of the companies present and frequently reviewed on Clutch. We pride ourselves on receiving unanimously enthusiastic reviews from our clients. Check out our exceptional rating and score.
Clutch also offers marketing opportunities to build companies' brand awareness, such as the badge that directs visitors to the ranking on the platform, a widget, or the possibility to highlight reviews to include in the firms' ads.
Pros
User-friendly, filter-based directory search (you can sort by name, ranking, ratings, or number of reviews)
No sponsorship used in the verification process
Very detailed customer reviews
Transparent rating system based on complex, objective criteria
Cons
Reportedly doesn't always provide leads' contact information
Lengthy review process
The ranking system has to do primarily with the number of reviews, which makes it harder for smaller agencies with fewer clients
Pricing (for service providers)
A company listed in the directory may gain a sponsor's status. That means it will get a priority listing in the directory; however, its ratings and reviews will not be influenced by this paid option. For current pricing on sponsorship, please get in touch with the company.
Features
Blog on business and technology topics
Reports and surveys on tech, design, marketing, and business-related topics
Concierge service – a help of an expert in matching the prospective client with the right business partner
Reviews


Extract is a platform dedicated to B2B research and rating. It helps users find services matching their business and budget needs. Clients can browse various service categories, from the web and mobile development to software, game development, or design, and check the verified reviews and testimonials.
Clients' inquiries are based on the carefully analyzed submitted project requirements. The Extract team then shortlists development companies that fit the profile and the cost range defined by the customer. They also assist in sending inquiries to the top 5 providers to get the estimates quickly and efficiently.
Another way to shortlist IT companies is by browsing a directory. The platform provides an opportunity to send them a message via the form on the website. You can perform a search based on the company's skills, size, rate, or location. The profile, which you will see, as a result, is very comprehensive and includes information about the feedback from clients, services provided, client base location, technology, experience, and the industry focus.
The overall ranking is calculated using factors such as the firm's certifications, partnerships, project expertise, client feedback, cost-effectiveness, public likeness, social data, and company registration documents.
Pros
Focus on leading service providers – careful evaluation of interested suppliers
Directory information based on comprehensive data and multiple metrics
Possibility to manually shortlist or request support with shortlisting best-matching companies
Cons – none reported
Pricing (for service providers)
If you're interested in enlisting your company, please contact the platform for more information.
Features
Industry news and articles
Easy submission of a company for evaluation via LinkedIn
Reviews


Digitalogy is a free matchmaking platform that takes pride in connecting enterprises and business owners with the top 5% of screened, reviewed, and thoroughly vetted software development companies. Furthermore, they guarantee that the match for any business needs will be found within 72 hours. That's definitely an enticing, resource-saving promise.
Why are only the top 5% listed on the website? The reason is the strict but fair screening process, which starts with sending the application, after which the information about the company's expertise, clients, speed, reliability, etc., is collected. The company's skills are then evaluated based on LinkedIn and GitHub resources. Finally, thorough interviews with past customers are conducted, and the candidate is assigned a test dummy project.
The Digitalogy team applies a 120 point evaluation to find the best service supplies. They also use AI and machine learning-based solutions to connect customers with chosen business collaborators.
The matchmaking services are given a 9.3 rate of customer satisfaction. They are consultancy-based, which means that after providing the details about the project requirements, the customer is contacted by the expert, who will then hand-pick the best-matching developers.
Pros
Excellent customer support – an option to work with a Digitalogy Rep even after the software developers are hired
The thorough and strict vetting process
Customer advisor help with defining project needs, if necessary
Cons
Strict procedures lead to the lengthy verification process
Pricing (for service providers)
If you're interested in enlisting your company, please contact the platform for more information.
Features
Case studies available on demand
Tech blog with the possibility of submitting guest posts
An opportunity to offer referrals
Digitalogy Startup Lab program for startups who look for support in product development
Reviews



GoodFirms is a research-based review service that helps software buyers find the most suitable software companies.
Besides providing reviews, GoodFirms is also dedicated to creating a network of valuable companies and software solutions. It aids IT companies in gaining market share and improving visibility.
This ever-growing platform lists more than 6000 services and software, provides more than 9000 reviews and has conducted over 600 surveys for research purposes. The research makes this platform unique: it's performed in-house for the purpose of listing the companies, but also for reviews' authentication, identification of current trends and tactics in the IT domain, and delivery of industry statistics. Most importantly, GoodFirms uses a unique algorithm to evaluate each company's position in the market. Two components are considered: Core Competencies and 360 Performance Review based on established metrics, such as reviews, market presence, certifications, and awards.
The research process and review verification make the company rating more trustworthy and unbiased.
Pros
Charge per category, not per web page
Direct contact with the client to verify reviews
Videos are accepted
Trustworthy source using critical research
Secure, safe and confidential evaluation, and recommendation process
Cons
Reported problems with editing company details
Some issues with accessing customer support
Pricing (for service providers)
GoodFirms is free for companies looking to browse the directory and look for well-performing partners. However, for more advanced support and the help of a dedicated profile analyst, you need to pay $300 monthly.
Features
Access to the blog and research on market and business trends
Free ebooks available to entrepreneurs
Customer-based research
Reviews


Over 8000 companies listed, 40 thousand customers browse the suppliers' lists every month, and more than 1000 published reviews. With such impressive statistics, AppFutura is one of the most popular platforms connecting customers and service providers in the area of application development, but also web and software development, design, SEO, and marketing.
Developers' lists can be sorted by service category, company's location, popularity, or ranking. Each company profile provides comprehensive information that includes the firm's description, portfolio, clients list, team composition, contact details, and customer reviews. The latter are easy to upload for the clients; however, they are thoroughly verified, and the reviewer's identity must be confirmed using the LinkedIn profile. Companies are also encouraged to publish reviews already visible in other portals and directories.
Clients can easily choose the best provider by browsing the directory or posting a project on the platform. The AppFutura experts can support the selection of the most suited supplier.
Pros
Experts' support in choosing the best development companies
Secure payment management
A possibility to browse by projects
Detailed profile pages and a large number of reviews
Cons
Low traffic from the US
Paid options for customers
Pricing (for clients and service providers)
You can have your project listed for free, however you can also consider some specific paid options:

Service suppliers can create a company profile for free or invest is one of the sponsorship plans to improve their listing visibility. The prices start from $89.
Features
Testimonials about AppFutura
Blog with content dedicated to various industry categories
A discussion forum
Reviews

Business of Apps advertisers itself as much a software companies' directory as a news and data analytics provider for the mobile application business. Each company presented on the website is reviewed by the editorial team. The detailed profile includes the firm's description, key features and services, web data, info, rankings, and user reviews (including those posted on Clutch).
Over 500 app development providers, app marketers, and influencers already present on the platform are verified and evaluated by Business of Apps experts.
To facilitate the choice of the best app development company, the platform provides an opportunity to search for prospective business partners by type and service product. It also offers valuable information on selecting the best developers and what questions to ask them.
Business of Apps benefits visitors willing to learn about the mobile industry, providing them with news, insights, app market data, podcasts, reports, and guides.
Benefits
Rich informational content
Comprehensive analysis of each vendor's offering, client base, and online presence
Useful tips on choosing the best development company
Cons
Limited listing and number of reviews
Pricing (for service providers)
The vendor needs to contact the Business of Apps to get the app listed. The developer can connect through various touchpoints, such as marketplace sponsorship, dedicated email, webinars, posts, or podcasts. For detailed information, please contact the company.
Features
Includes the list of top app and mobile business-related conferences, events, and meetups
Downloadable 'Featured on Business of Apps' badge
App metrics, reports, and stats
Podcasts, news, and insights on the app market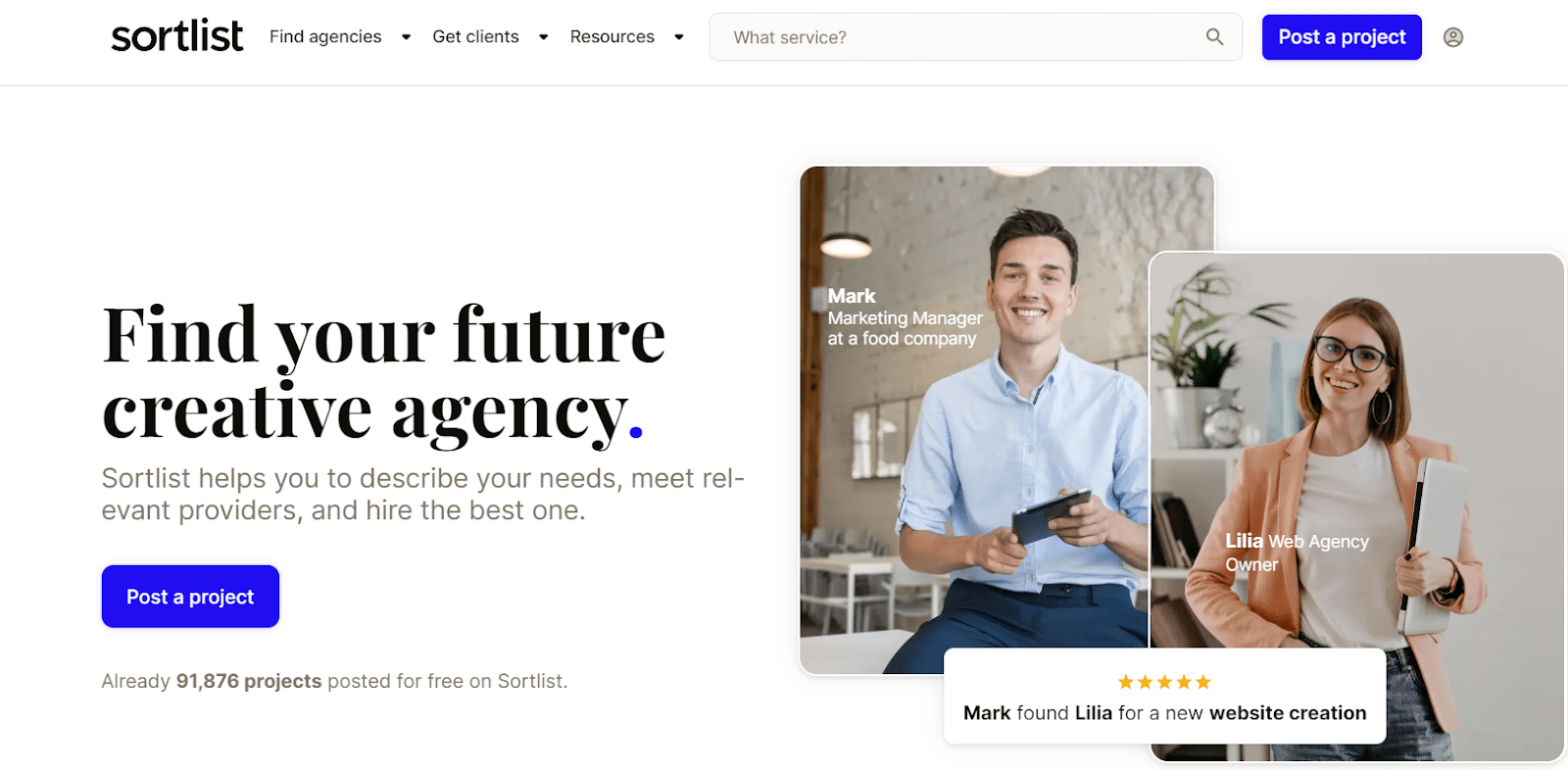 Sortlist is another example of a matchmaking platform where you can find experts from various fields – advertising, design, development, and marketing – based in 80 countries. This service aims to facilitate the search for companies that could address specific business and project needs. In addition, the team connects perfectly aligned clients and suppliers using AI.
If you're a client looking for a developer, you will be asked to answer some precise questions defining your project. Based on the brief, an algorithm will produce a list of 10 relevant agencies, which you can compare and then quickly contact by sending direct messages. The average client signing up to Sortlist is a mid-sized company with less than a hundred employees (but other firms are welcome). Clients can also browse the catalog of agencies or ask for free advice from the Sortlist industry expert.
The suppliers can create a profile, add previous works and define opportunities they would like to receive. The profile is adaptable, so if you decide that the received opportunities are not of interest, you can change your preferences. The possibility to interact directly through the platform is a welcome advantage. The Sortlist team organizes webinars with the agencies willing to enlist to get to know them better.
Pros
Accurate database of service providers
Possibility for the client to receive personalized advice
Easy listing process
AI-powered matching process
Cons
Issues with messages that are sometimes not visible or only visible after refreshing the page
Missing big agencies in the listing
Pricing (for service providers)
Agencies can enlist for free. For more visibility, they need to purchase a more advanced plan (see prices below)
Features
Clients' testimonials
Blog with expert articles on design, development, marketing, and advertising
Reviews


This platform allows businesses to connect with design, marketing, IT, or development service providers. Already 1,5 million companies visited UpCity to select a B2B partner. Disclaimer – The services listed so far are based in the US, Canada, the UK, and Australia.
The platform creators underline the importance of trust and transparency in the business-matching process. They use data and reviews to gather in-depth insights about each vendor. Fighting with fake reviews, they only accept some opinions they receive. They do not act on a 'pay-for-play' basis either; many suppliers receive a high position in the ranking without purchasing the paid plan.
UpCity has developed an algorithm that measures the credibility of providers. Based on the algorithm, the Recommendability Rating is created – an assessment of the provider compared to other, similar companies. The Rating is used for ranking purposes and allows for recommending the top suppliers locally and nationally.
Pros
Dedicated to providing only selected, verified reviews
Possibility for suppliers to increase traffic and visibility with certified partnership and sponsorship options
Organic search visibility measurement
Cons
Reported issues with sometimes unhelpful customer support
A large number of spam emails and phone calls received
Pricing (for service providers)
The free profile gives one list placement, essential visibility, a badge, and review widgets. Please get in touch with the company for information about the Certified or Sponsored partnership with more advanced features.
Features
Badges, reviews, and a very detailed customized supplier profile
B2B articles from UpCity experts
Blog on the trends in the digital world, as well as tips n lead generation, building credibility, and visibility
Reviews


Topdevelopers.co is more than a browsable directory. Like similar services listed in this article, it also provides clients with an opportunity for personalized guidance in finding a matching service supplier after customers send over project requirements.
The methodology for listing the most prominent web and app developers is based on each company's areas of expertise and unique skills. Here are the factors taken into consideration: time to deliver, market presence and penetration, social media following, a study of portfolio and quality of work, customer feedback, certifications, and honors.
Sorted by service category, rank, number of employees, or average hourly cost, the listed companies have an opportunity to present their descriptions, expertise, and portfolio. They can also be easily contacted directly through the button on the platform.
As a leader in research on IT companies, Topdevelopers.co regularly publishes press releases listing best-performing agencies and developers in various service categories, thus giving them even more visibility.
Pros
Research-based ratings based on multiple detailed metrics
A possibility to submit projects and request guidance in finding the right provider
Buyer's guides with detailed tips on choosing and hiring the best development company
Cons – none reported
Pricing (for service providers)
Companies can enlist for free with a basic profile and pay from $99/ month for the premium option, as well as between $299-5999 for page sponsorship to improve visibility in directories.
Features
Blog
Press Releases
Icons, badges, and logos
What can we do for you?
Talk to us about your project and let's start building it together!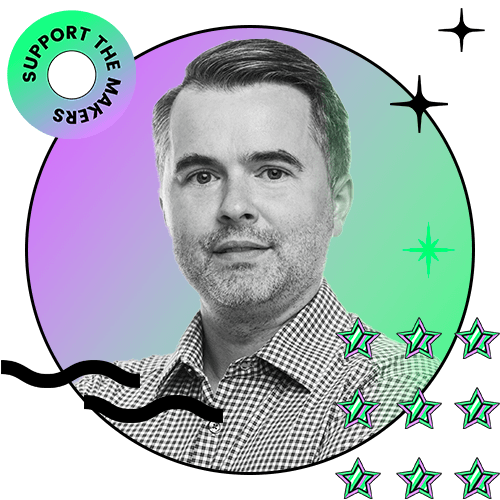 Maciej Kopczyński
Managing Partner, Develtio