Do you remember the time when every single element of a new website had to be separately coded? Do you recall how the process of building a static site could take weeks, months even? Yeah, me neither. The introduction of WordPress in 2003, the world's most popular Content Management System to date, has changed the Internet's landscape for good. People suddenly realized they don't need advanced coding skills (or a lot of money) to build and manage their own websites. Fast forward a few years, and today WordPress powers as much as 43% of the Internet. In the early years, the native WordPress page builder was enough for many. But its limited customization options prompted users to look for more advanced solutions. Alternatives started to emerge, and the rest is history – hundreds of WordPress page builder plugins are available nowadays, and the numbers are constantly rising. With so many options to choose from, it's easy to get confused. That is why we've come up with this article – read on to learn about the 7 most popular WordPress page builders in 2022.
Why use a WordPress page builder?
It's easy to start a website with WordPress. Once you install the WP client, you get to choose from a vast repository of themes. The problem is that it can be an extremely daunting task to customize your website's design with a native page editor if you don't possess any coding skills. In that case, drag & drop page builders are the way to go. They're much easier to use and allow you to preview the changes in real-time.
You can modify your website's layout by simply adding pre-made blocks, modules, and widgets. These elements can be freely moved around to make your WordPress website's design unique. The process itself is very intuitive and can actually be fun. It doesn't mean, though, that the drag & drop WordPress page builders are just a plaything for rookie designers. Professionals use it, too, as a competent site builder can significantly speed up the development of custom designs. Actually, the reasons for using WordPress page builders are aplenty:
No coding skills are required. This is by far the biggest one. You don't need to know HTML or CSS to build yourself a fully functional, aesthetically pleasing, and professional-looking site. All you need is a bit of creativity and a brilliant idea to start with. But you do have it already, don't you?
Tons of templates to choose from. If building from scratch is not your thing, you can also use hundreds of design templates bundled with every WordPress page builder. Using templates can keep you from making bad design decisions and save you a lot of time.
Boosted productivity. Creating a website, especially a custom coded from square one, is a time-consuming endeavor. WordPress page builders can speed up the process significantly, and the time-saving benefits are even more prominent for development companies working on several projects at once. More output in less time – who wouldn't want it?
Low maintenance requirements. Quality WordPress page builders are constantly updated and fixed by their creators, so you don't have to worry about new threats, bugs, or outdated web technology. You can focus on providing good content instead, as any website owner should.
Community support. WordPress is famous for its thriving, helpful community. The same, by extension, applies to WordPress page builders. The most popular ones are backed up by thousands of advanced users willing to share their experience and knowledge with others. Instead of getting in touch with support agents, you can ask a question on a community board and get your concern resolved in no time.
What are the best WordPress page builders?
Before choosing a WordPress page builder, you need to make sure your pick is compatible with your current WordPress theme. Any compatibility issues may force you to change the theme, which may cause further problems and pointlessly take up your precious time. Luckily, some page builders work with (more or less) all themes, so that's one less thing to worry about.
Bear in mind, though, that mobile responsiveness should also be taken into consideration. If you want your website to display seamlessly on all devices and screen sizes, make sure your page builder supports mobile preview.
Now that we know what to look for let's go straight to our selection of the 7 most popular WordPress page builders. The list is sorted in alphabetical order.

This cute little fella oozes confidence, doesn't he? But it's not only about his looks. Beaver Builder actually can deliver on his "WordPress site in minutes" promise, which made him such a popular choice. This plugin is one of the most beginner-friendly options available. It comes with:
live drag & drop interface – you can drop elements taken from the sidebar on your page and see the effects in an instant; you can also edit any page section by simply clicking on it
extensive library of customizable page modules: blocks, buttons, backgrounds, widgets, contact forms, sliders, and more
tens of pre-made layout templates
option to build your own custom modules
Beaver Builder is compatible with almost any WordPress theme and features a responsive design mode, allowing you to adjust your projected website to different screen sizes. The plugin has a free, Lite version, but it's there just to give you a taste. Only with Premium plans can you unlock the full potential of this excellent WordPress page builder. The pricing is rather steep, but you get your money's worth. And if you don't feel like paying for the Premium plans, you can expand the Lite version with the PowerPack Lite plugin add-on.

One of the youngest kids on WordPress page builders' block, Brizy can hold his own against more established competitors. Very fast and streamlined, this React-based page builder boasts an easy-to-use, modern interface with drag & drop functionality. What makes Brizy stand out from the pack is its global styling feature. It allows you to apply the changes you've made to any sub-page element across the whole website in an instant. This can save you a lot of time when going for a full-page redesign.
You can use Brizy without paying a penny, and its free features are enough to build a simple landing page, portfolio gallery, or even a small business website. The paid version gives you access to beautiful pre-made layouts and several advanced functionalities. Brizy's yearly plans are priced similar to Beaver Builder (which is not cheap), but you can go for a lifetime subscription with a reasonably valued one-off fee.

You won't find this one in WordPress's official plugin repository, although some add-ons for this builder are there. Fret not; Divi is an established and trustworthy WordPress page builder, universally acclaimed for its deep customization options. It comes with a rich (800+) library of visually enticing layouts, tens of content modules, drag & drop building, and true visual editing, allowing you to see the outcome of your design decisions in real-time. Divi can be a fantastic choice, especially for media-heavy websites. It offers a unique video slider with multiple videos displayed on a smooth, rotating carousel and an Audio Player module that allows you to embed audio files playable directly on the website.
Divi doesn't have a free/lite version, but you can try it for a limited time with no strings attached. Its yearly pricing plan (there's only one) is much more affordable than previous entries on this list, and you can get yourself Divi for life with a one-off payment. It's one of the most attractively priced WordPress page builders around and definitely worth trying.

Ok, we're at the big boy's table now. With over 5 million active installations, Elementor is the most popular WordPress page builder, period. And there are plenty of good reasons for its enormous prominence:
An impressive and constantly expanding library of blocks and widgets
Lightning-fast site creation process with Full Website Kits that allow users to build fully functional websites within minutes
Powerful mobile-preview mode with the ability to make changes within the same window
Beginner-friendly and feature-rich user interface
Script optimization and other advanced functionalities utilized by professional WordPress developers
Strong support from thriving online community
Elementor's popularity also stems from its free version being packed with enough features to build a fully functional website, even for a small company. And with the paid Pro version, Elementor becomes an ultimate all-in-one WordPress page builder almost unmatched for its power and flexibility. In terms of pricing, Elementor comes with four different yearly plans and doesn't offer a lifetime option. Top-tier plans are rather costly, but with the most expensive Agency Plan, you get as much as 1000 pro website activations. You can try Elementor Pro for free with a time-limited trial.

Built with speed and performance in mind, this powerful WordPress page builder is especially favored amongst WooCommerce users. It offers 200+ pre-built themes, 80+ different page blocks for displaying static and dynamic content, and countless integrations with email and other marketing tools. SeedProd also allows you to build your own themes and use them with other site-builders if needed. And as one would expect, it ticks all the boxes with a mobile preview feature, theme compatibility, and an easy-to-use drag & drop interface. You can't go wrong with SeedProd, especially considering its reasonable pricing and high performance. The free version of the plugin allows you to build landing, maintenance, and "coming soon" pages.

If you're looking for an affordable yet competent WordPress page builder, you could do much worse than with SiteOrigin Page Builder. It isn't easy to pinpoint any standout feature, but everything this plugin does, it does well. It's lightweight, and its functionality can be further expanded with additional tools provided by the developer. Like SeedProd, SiteOrigin integrates seamlessly with WooCommerce. Users appreciate its high speed and compatibility with all popular WordPress themes. SiteOrigin Page Builder can be used for free, with more advanced add-ons made available in an inexpensive premium version. Overall, a very solid and reasonably priced performer, SiteOrigin makes for an interesting choice for both beginners and professionals.

Despite being the last entry on our list, WPBakery is actually one of the top picks in terms of sheer popularity. Many widespread WordPress themes have been built with WPBakery in mind. The plugin boasts full compatibility with any WordPress theme and specifically excels at building elaborate, detailed layouts. WPBakery comes with one of the most extensive libraries of add-ons, giving its users an abundance of functionality and design options. Furthermore, WPBakery doesn't have yearly subscription plans; you buy it with a reasonable one-off payment and get premium support and updates for life.
Drag & Drop it like it's hot
That's it – our list of the 7 most popular WordPress page builders is done. Actually, we could've come up with 14 or even 21 entries easily, but we think the list above is more than enough to give you insight into the brimming world of page builders. All plugins listed above feature drag & drop functionality and can be easily used by website creators without coding knowledge. These page builders make for a great starting point if your company needs a functional and aesthetically pleasing website. But sometimes, a very specific functionality or design is required. In that case, even the best plugin will not suffice. Luckily, we're here for you. At Develtio, we can help you build the site you've always dreamt of. Drop us a line, and let's talk about your website needs.
What can we do for you?
Talk to us about your project and let's start building it together!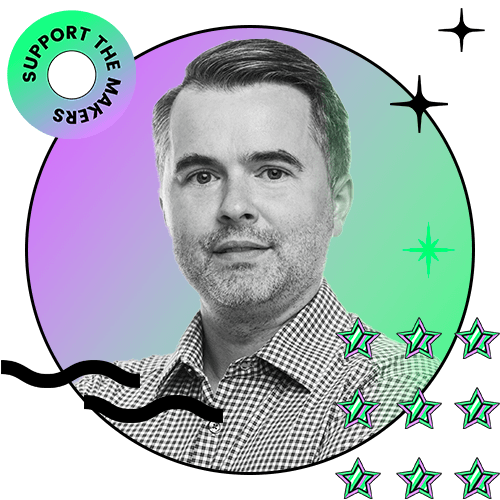 Maciej Kopczyński
Managing Partner, Develtio